Who's faster? Watch Peter Sagan race his grandma Joan in this hilarious video
The world champion's toughest race yet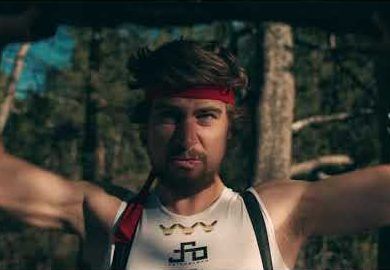 Promotional feature with Specialized Bikes (opens in new tab)
Peter Sagan might be the current reigning world champion and one of the fastest men on two wheels, but there's a new challenger in town – his granny Joan.
In these two hilarious videos, Specialized is celebrating the third generation of its Turbo electric bike by pitting Sagan and Joan in a hill climb competition on the mean, and very steep streets, of San Francisco.
The video starts by showing the 81-year old Joan riding her way around the city, enjoying the benefits that electric bikes can offer – varying levels of riding assistance. That's until Sagan - for reasons unknown sitting in a tent in the woods - spots her claiming to be the greatest cyclist in the world and challenges her to the race.
What follows is a Rocky-esque training montage of Sagan, but is it enough? The video below holds the result:
https://www.youtube.com/watch?v=sJETokbfnNI
Mike Sinyard, founder and CEO og Specialized said: "We're excited to introduce on the Tour de France this unusual product demo featuring two unlikely competitors. Will an electric bike help a Grandma beat the world's fastest cyclist in an uphill, head-to-head race? Let's see."
Whilst many cyclists might turn their noses up at the idea of a motor on a bike, this video demonstrates one the very real benefits of an electric bike; allowing those who might not be able to ride a standard bike to still enjoy the benefits of cycling.
Though the video does make a joke, it also raises the serious point that many people could benefit from the assistance in their day-to-day lives allowing them to gain vital exercise and run their errands.
You can book to test a Specialized E-bike today (opens in new tab)
"Electric bikes are levelling the playing field for the future of cycling. This spot shows that even a Grandma could give the champ a run for his money. Now imagine what it could do for those who just want to move around in an even more efficient way?" said Rich Silverstein, co-chairman and founder at Goodby, Silverstein & Partners, an avid biker himself.
Might we see Granny Joan find a spot on the Bora-Hansgrohe team? Only time will tell...
Thank you for reading 10 articles this month* Join now for unlimited access
Enjoy your first month for just £1 / $1 / €1
*Read 5 free articles per month without a subscription
Join now for unlimited access
Try first month for just £1 / $1 / €1