Pro chef's kitchen: Cannondale Drapac – Sean Fowler (video)
Sean Fowler has been at the forefront of nutrition in the pro peloton for nearly eight years, with the knowledge and stories to back it up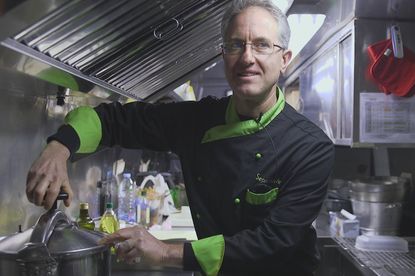 It is rare to see a married couple working together within professional sport - let alone cycling! But that is the case when it comes to the husband and wife chef team of Sean Fowler and Olga Belenka at Cannondale-Drapac.
Having owned a restaurant in Spain and offered the chance to cook for the team on a full time basis in 2008, it wasn't until the 2009 Tour de France in 2009 that Fowler decided to dip his toe into pro cycling nutrition and he hasn't looked back since.
>>> Pro chef's kitchen: Trek-Segafredo - Kim Rokkjaer (video)
Eight years later and Fowler's loyalty with the team is unwavering and has led to respect from riders and staff across the entire sport from his time in and around the pro peloton.
This familiarity of what cyclists require, to ensure that they not only fuel correctly but recover sufficiently hasn't led to any naivety on Fowler's part with some constantly progressive nutrition techniques.
Whether it be implementing a vegan diet to certain riders whilst still accessing the required nutrients to perform at the highest level or busting carbo-loading myths, Fowler is regularly adapting his cooking methods to the ever changing world of sports nutrition.
Thank you for reading 10 articles this month* Join now for unlimited access
Enjoy your first month for just £1 / $1 / €1
*Read 5 free articles per month without a subscription
Join now for unlimited access
Try first month for just £1 / $1 / €1
Paul Knott is a fitness and features writer, who has also presented Cycling Weekly videos as well as contributing to the print magazine as well as online articles. In 2020 he published his first book, The Official Tour de France Road Cycling Training Guide (Welbeck), a guide designed to help readers improve their cycling performance via cherrypicking from the strategies adopted by the pros.