Show us your scars #1: Geraint Thomas (video)
In the first episode of a new video series, Team Sky's Geraint Thomas tells you about his near-death experience in Australia in 2005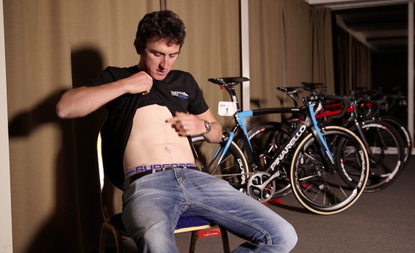 For every great moment, victory or even courageous loss in the life of a pro-cyclist, there's a story of the bumpy road to make it there, which more often than not, involves crashing.
Some crashes are more serious than others, and the pros, toughened by inevitability of hitting the deck in their risky occupation, carry the scars of a life spent in pursuit of glory on the bike.
>>> Exclusive interview: Team Sky's Geraint Thomas (video)
In the first episode of our 'Show us your scars' series, Team Sky's Geraint Thomas talks you the story of his most serious crash while out on a training ride in Australia in 2005. The then 19-year-old Welshman fell onto the stem stack on his bike after a piece of metal flicked into his front wheel, resulting in a ruptured spleen, a potentially life-threatening injury.
Thomas talks you through the incident and what it was like to return to racing afterwards, as well as some more recent scars he's acquired on the bike.
No one likes to think of anyone crashing or being hurt while out riding — but this video is a reminder that top riders like Thomas deal with danger with courage, mental strength… and plenty of humour.
Thank you for reading 20 articles this month* Join now for unlimited access
Enjoy your first month for just £1 / $1 / €1
*Read 5 free articles per month without a subscription
Join now for unlimited access
Try first month for just £1 / $1 / €1