1989 Tour de France stage four: Nijdam's late attack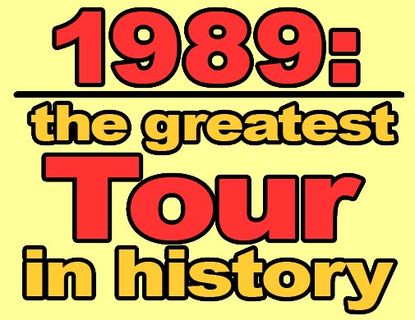 BOLDNESS PAYS FOR LONE STAR
Tuesday July 4, 1989

Liège-Wasquehal, 255km
Never mind the distance, never mind the nine sections of rough pavé in the last 65 kilometres which were expected to split the field, pure guile won this stage for Holland's Jelle Nijdam when the Tour crossed the border from Belgium into France.
As the whole pack swirled down the straight main road to the line, mopping up all would-be breakaways, Nijdam's Superconfex team-mate Gert Jakobs acted as false bait by shooting away on one side of the road. As the pack switched after him, carving a path for Jakobs' wheel, Nijdam exploded into action down the opposite gutter and was a free man.
The big Dutchman had scored his third Tour stage win, winning a stage last year, and taking the yellow jersey when he won the prologue in the 1987 Tour in Berlin.
Only three seconds behind him at Wasquehal was the Dane Jesper Skibby (TVM) heading in three escapees trying to get to his slipstream: Johan Museeuw (ADR), Jerome Simon (Z-Peugeot), and Soren Lilholt (Histor), only two seconds clear of the pack.
The main field thundered in with Miguel Indurain (Reynolds), outsprinting Joseph Lieckens (Hitachi) for sixth place. Ireland's Sean Kelly was 10th.
The whole grimy, dusty troop headed for the showers, most glad to be free of injury on the eve of their transfer across France to Brittany for the important individual time trial two days later.
Some, however, were not that fortunate, including Britain's Sean Yates (7-Eleven). He crashed with 30 kilometres to go on a stretch of pave, making the mistake of looking over his shoulder to see that his team leader Andy Hampsten was safe. Then he touched a wheel, went down and took Thierry Marie (Super-U), third overall, and Jan Siemons (TVM) with him.
All finished in the main pack of 120 riders, but Yates was left with a large bruise on the side of his left calf muscle. It must have severely reduced his chances of repeating his victory in the time trial at this stage last year, which ironically finished at Wasquehal.
Each stretch of pave was between one and two kilometres long, rough enough to give the illusion that Hell is for eternity.
So, a stage which had the potential to split the field for good failed to do so and the only significant change to the overall placings was that Lilholt cut back race leader Acacio Da Silva by 10 seconds, and now lay 14 seconds behind him.
It was a good day's racing, a favourable wind encouraging some attacking. After 59 kilometres, Pascal Poission (Toshiba) won the third-category climb of the Citadelle 30 seconds ahead of the field led by mountains leader Thierry Claveyrolat (RMO).
This spectacular, winding excursion provided relief from the arrow-straight route far along the banks of the industralised Meuse valley. After the three-kilometre climb over gentle cobbles to the summit at the ancient fortress 190 metres above the city of Namur, and the wide River Meuse below, a rapid descent returned them to clear main roads. They had some 130 kilometres to the first rough pave, 180 kilometres to the French border, and another 15 kilometres to the finish.
Undaunted by the trek ahead, Switzerland's Thomas Wegmuller (Domex-Weinmann) made a brutal attack which carried him clear at Binche, after 123 kilometres. Wegmuller roamed free for 83 kilometres, taking the sprint at Mons 17 kilometres later when his lead had grown to 45 seconds.
He gained a maximum lead of 2-30 at Baugnies (172km), but then the main field intensified the race. There remained one last thing for Wegmuller to achieve: reach the pave first.
By the skin of his teeth he rattled on to the rough granite blocks with a one-second advantage before the field, and the clouds of dust smothered him at last.
The third stretch was the roughest, dipping and broken and covered in black gravel scattered across the track. The route switched left, then right, the wind now splitting the field as expected. All the big names were in the front group, Laurent Fignon (Super-U) and Sean Kelly (PDM) both imposed their will and drove hard.
The race was close to its fastest schedule as former yellow jersey holder in the 1987 Tour, Martial Gayant (Toshiba) went clear with 45 kilometres and four stretches of pave to go.
Two others joined him: Frederico Echave (BH) and Bjarne Riis (Super-U). The trio battled to a 40-second lead with 20 seconds left. They could not hold out, Riis and Echave dropping back, leaving Gayant to fight on with 10 kilometres remaining.
Lilholt joined Gayant with five to go, but one kilometre later they were reeled in by their pack and the Superconfex machines took over. Jakobs laid a false trail, leaving Nijdam free to nail everyone by his powerful attack 1,500 metres out.
STAGE RESULT

1. Jelle Nijdam (Ned) Superconfex 6-13-58
2. Jesper Skibby (Den) TVM at 3secs
3. Johan Museeuw (Bel) ADR
4. Jérôme Simon (Fra) Z-Peugeot
5. Soren Lilholt (Den) Histor-Sigma all at st
OVERALL

1. Acacio Da Silva (Por) Carrera 17-16-37
2. Soren Lilholt (Den) Histor-Sigma at 14secs
3. Thierry Marie (Fra) Super-U at 1-57
4. Laurent Fignon (Fra) Super-U at 2-37
5. Pascal Simon (fra) Super-U at 2-48
MOUNTAINS

1. Thierry Claveyrolat (Fra) RMO 22pts
2. Jean-Claude Leclercq (Fra) Helvetia-La Suisse 16pts
3. Acacio Da Silva (Por) Carrera 8pts
POINTS

1. Soren Lilholt (Den) Histor-Sigma 74pts
2. Sean Kelly (Ire) PDM 69pts
3. Jesper Skibby (Den) TVM 60pts
CATCH SPRINTS

1. John Talen (Ned) Panasonic 34pts
2. Soren Lilholt (Den) Histor-Sigma 26pts
3. Stefano Zanatta (Ita) Chateau d'Ax 16pts
TEAM

1. Super U 51-57-13
2. PDM at 2-25
3. Superconfex at 2-38
NIJDAM – GIANT OF THE PELOTON
Wasquehal winner Jelle Nijdam is one of the big men of the bunch at six feet one, and 12 ½ stone, the ideal build for his specialty, the lone efforts which gave him a stage win at Lievin in last year's Tour as well as victory in the Amstel Gold Race.
A stage win was his goal from the start of the Tour, he declared.
"I set myself this target but without knowing which stage I could win. I had my chance when the break of three was caught at four kilometres from the finish. I went out of the bunch giving it all I had and trying to hold on to the end. In the stage the team worked well without any problems and I felt very strong all day. This year I had no luck in the classics. I only began to win in may with a stage in the Tour de l'Oise.
DA SILVA DEFENDS HIS LEAD
Portugal's first maillot jaune Acacio De Silva was another happy man in Wasquehal.
"It was very important for me to keep the yellow jersey. That will allow me to ride the time trial in yellow, and also to be last man off. It's a real honour," he said.
"I was afraid of this stage. To begin with, my team controlled the race and then on the pavé I kept on my guard all the time. Lilholt took a few seconds back in the bonus sprints, but I was never worried. He couldn't take the jersey off me during this stage."
TRANSFER SEASON
Delays beset what should have been a smooth transfer by air across Northern France for the 195 riders last Wednesday. The riders were due to fly out at 11am and be in the seaside town of Dinard within the hour, ready for lunch followed by some light training in readiness for the morrow's important time trial.
But one of the two planes booked to take them, a Super-Caravelle flying in from Paris, developed a technical problem en route from Orly airport to Lille and was forced to turn back. This left a smaller Boeing 727 which got eight of the 22 teams away at 11:45.
The ensuing delay for the other 14 teams did nothing for morale on the eve of such an important stage. Riders hate transfers even when they go smoothly.
Tour officials had airlines scanning the country for any available plane and insisted that the Super-Caravelle , if it could be made good, should get to Lille as soon as possible in case of any further delays. In the meantime, lunch was provided.
The only plane available in a hurry turned out to be a Fokker with 48 places and there were no prizes for guessing which teams were given the seats. The big hitters, Panasonic, RMO, ADR and Super-U, al concerned for their top men's peace of mind, boarded the plane. The remaining 10 teams got away an hour later on another 727 which had come from Toulouse. And so by 3pm the Tour de France riders had all arrived at last, but there was many a long face after this disruption.
It took up to eight hours for the rest of us to drive the 650 kilometres via Paris. And then it was business as usual, riders out riding, the press installed in another giant sports hall, previewing the 73-kilometre individual time trial which would start at 09.02 on Thursday morning. All eyes would be on Fignon, Mottet, Kelly and LeMond expected to challenge for the yellow jersey. But first away would be the injured Swiss rider Mauro Gianetti (Helvetia-La Suisse) who had crashed on the previous stage and broken two bones in his nose.
Gianetti, King of the Mountains in the Kellogg's Tour, who temporarily led the mountains classification when he was fastest up the 900-metre long climb in the Luxembourg Prologue at the start of the Tour, might now be an unsung hero, but he was determined not to give up. After his crash, he struggled in to finish 190th, losing 11-41 on stage winner Jelle Nijdam.
Another whose fortunes changed dramatically that day was Ireland's Martin Earley, PDM team mate to Sean Kelly. Earley finished in the third group of 47 men, placed 146th and losing 5-22 to the big 125-rider pack. So he plummeted from 25th overall to 127th.
As for the fallen hero Pedro Delgado, who made such a mess to his start in the Tour, first by being late for the Prologue and then getting dropped in the stage two team time trial, the 1988 Tour winner was creeping back up the classification. He finished in the main pack at Wasquehal, placed 70th, 12 places behind his rival Laurent Fignon. From being 184th at the start of stage four from Liège, Delgado moved up 50 places to 134th, but he still lay 7-20 behind Fignon.
Thank you for reading 20 articles this month* Join now for unlimited access
Enjoy your first month for just £1 / $1 / €1
*Read 5 free articles per month without a subscription
Join now for unlimited access
Try first month for just £1 / $1 / €1