Come and ride our CW5000 monthly Zwift events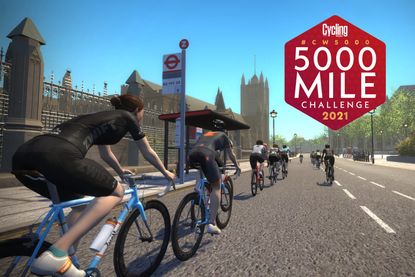 Join other CW5000 riders and CW editor Simon Richardson for a lunchtime ride around one of the Zwift worlds on the last Friday of each month.
With so many CW5000'ers logging miles on Zwift we've decided to start a monthly event. The private rides will take place on the last Friday of every month. We'll change the world in which we ride each month, but always keep to relatively flat routes, and a pace of around 2.5 w/kg.
Where possible we'll tie the rides in to a monthly challenge, but in the main it's a chance to ride with others from the group, catch up on each others progress toward the total mileage and see how people are getting on with the monthly challenges. You'll be allowed to join late, and of course you can leave the ride any time you need to.
Next CW5000 group ride
>>>> SIGN UP TO THE MAY RIDE HERE
What: CW5000 May ride-out
When: Friday, May 28. 12.30pm (UK time)
Where: Zwift, France
Route: Douce France
Leader: Simon Richardson
Time: 1.30hr
Pace: 2.5 w/kg
About the CW5000 May route
The May ride will be in France, on the Douce France route, and anti-clockwise ride around the upper section of Zwift's France map. The 0.4km Aqueduc KOM is the only climb of note on the predominantly flat route. There are three sprints in Douce France, the Ballon, Pavé and Marina sprints, spread out across the 24.1km route. Over that distance there is just 108m of elevation
>>> Sign up to the CW5000 and get inspired to ride throughout 2021
Future CW5000 monthly group rides
Click the links to sign up to the rides
May 28: France, Douce France
June 25: London, Greater London flats
July 30: Watopia, Beach Island loop
August 27: Yorkshire, Harrogate circuit reverse
September 24: France, Casse-Pattes
October 29: Japan, Three village loop
November 26: London, Greater London loop
December 31: Watopia, Tour of Fire and Ice
Although these are private CW5000 events (it won't appear on the Zwift companion app) you are welcome to invite any friends along to join the ride. If you don't currently have a Zwift account check their website as they often offer a 14-day free trial. This is what equipment you'll need to get set up.
Thank you for reading 20 articles this month* Join now for unlimited access
Enjoy your first month for just £1 / $1 / €1
*Read 5 free articles per month without a subscription
Join now for unlimited access
Try first month for just £1 / $1 / €1