Download your Cycling Weekly 2021 mileage chart
Never mind apps - the only way to log your miles is on a piece of paper stuck to your fridge door. Cyclists have been doing it for over one hundred years.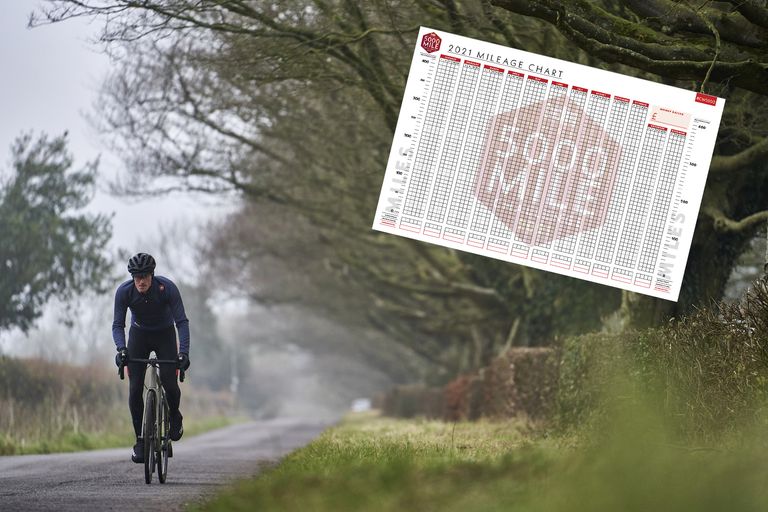 Cycling Weekly magazine has been printing the annual mileage chart since the early nineteenth century. Before Strava, there were GPS devices, before GPS there was cyclometers - or speedometers - and before them maps. Cyclists have always measured the distance they ride over the course of a calendar year and vowed to do more the next
>>>Sign up to the CW5000 challenge and start logging your miles.
For decades, Cycling's mileage chart, printed in the first issue of the year was one of the only ways to track your miles other than a standard diary. Readers of Cycling would send in their charts at the end of the year and throughout January the magazine would look at the riding of those who hit the big numbers, and those who pushed themselves to achieve more.
>>>>Download the mileage chart as a high res pdf here
Readers still send us their mileage charts, a practice that has been reborn through the CW5000, and there are many different ways to fill them in. Some use lines, others fill in all the squares and some use different colours. The sections at the bottom allow you to tally up your weekly total each month, add them together for a monthly total and a final section in red for your accumulative mileage through the year. Although most of us use Strava, Garmin Connect or any other site, there is something pleasing to have such a sheet stuck to the wall or fridge and instantly see your miles adding up through the year.
This year, as we've teamed up with Alzheimers Research UK we've added a 'money raised' box in the top right so people can flag the work they've put in for a good cause.
Just some of the mileage charts sent in by riders taking on the CW5000 in 2020
This year's mileage chart was printed in the January 7 issue of Cycling Weekly. You can subscribe to the magazine to ensure you never miss an issue and have it delivered direct to your door each week.
Thank you for reading 5 articles this month* Join now for unlimited access
Enjoy your first month for just £1 / $1 / €1
*Read 5 free articles per month without a subscription
Join now for unlimited access
Try first month for just £1 / $1 / €1
Editor of Cycling Weekly magazine, Simon has been working at the title since 2001. He fell in love with cycling when channel surfing in 1989 and happening across the greatest ever edition of the Tour de France. He's been a Greg LeMond fan ever since. He started racing in 1995 when moving to university in North Wales gave him more time to train and some amazing roads to train on. He raced domestically for several years, riding everything from Surrey leagues to time trials, track and even a few Premier Calendars. In 2000 he spent one season racing in Belgium with the Kingsnorth International Wheelers.
Since working for Cycling Weekly he has written product reviews, fitness features, pro interviews, race coverage and news. He has covered the Tour de France more times than he can remember along with two Olympic Games and many other international and UK domestic races. He can still be seen at his club's evening races through the summer but he still hasn't completed the CW5000 challenge!
SIMON IS CURRENTLY RIDING
Road bike: Pinarello K8S with Shimano Dura Ace
TT bike: Specialized Venge road bike with FFWD wheels and Easton Attack TT bars
Gravel bike: N/A
Training bike: Rourke custom hand made with Reynolds 853 steel