Jones and Shaw crowned 2017 Rapha Nocturne London Elite Criterium winners
An action-packed day of racing on the streets of the City of London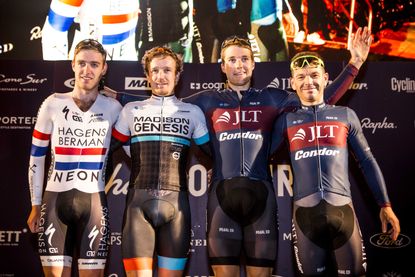 (Image credit: Sportsbeat/Roberto Payne)
JLT Condor's Brenton Jones was crowned 2017 men's elite criterium winner at the Rapha Nocturne London on Saturday night as Drops Cycling's Lucy Shaw emerged victorious in the women's event. Finishing in a time of 36:28.484, Jones led home a JLT one-two as teammate Graham Briggs crossed the line in second, 0.150 seconds behind. Third place on the podium was taken by 2014 winner Tobyn Horton of Madison Genesis, who finished 0.354 seconds behind the winner. Click here for the Elite Mens race reuslts.
In the women's elite criterium, Shaw took the title in a time of 36:52.997, 0.257 seconds ahead of Storey Racinu Neah Evans. Elizabeth-Jane Harris took third, crossing the line 0.28 seconds after her Storey Racing teammate. Click here for the JLT Womens race reuslts.
Briggs and Evans lead the Rapha Nocturne Series standings heading to the second leg in Copenhagen on August 19.
The men's and women's elite races concluded an action-packed day of racing in the City of London, with penny farthing, folding bike and fixed gear among the many races to take place in the shadow of the city's iconic St Paul's Cathedral.
Men's elite winner Jones said: "It was a race we wanted to win as a team. To win and get second with Graham Briggs is a great result.
"I started pretty far back and I didn't get to the top five until about a kilometre to go but I paced it smart, I kept my cool all race and knew when I needed to get to the front and got the job done in the end.
"My teammates rode really well at the front and kept a nice lead out for me in the finish."
Women's elite winner Shaw said: "I'm really happy with that. It was straight off from the go, I was on the back foot.
"My teammate bridged across and I sat tight for a bit. We formed a really good group together and I had a really good lead out from my teammates at the end, so I was pleased with that.
"I was confident that could do well, but I knew the competition was going to be really fierce."
The Rapha Nocturne London is part of a World Criterium Series with the next leg in Copenhagen, on August 19. For more information and to buy tickets go to www.raphanocturne.com.
Catherine McGuinness, Policy Chairman at the City of London Corporation, said: "We are proud to host an event of such magnitude in the Square Mile.
"The Rapha Nocturne not only brings together athletes but visitors from around the world, to the heart of London, in an impressive show of the diversity of the City of London."
Thank you for reading 10 articles this month* Join now for unlimited access
Enjoy your first month for just £1 / $1 / €1
*Read 5 free articles per month without a subscription
Join now for unlimited access
Try first month for just £1 / $1 / €1