Elite Fly water bottle and Vico carbon cage
Water bottles and their cages might be simple items - but if they don't work even the best kitted out rider can suffer - so a quality set up like this from Elite is essential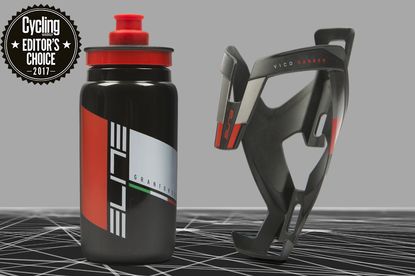 Get The Leadout Newsletter
The latest race content, interviews, features, reviews and expert buying guides, direct to your inbox!
Thank you for signing up to The Pick. You will receive a verification email shortly.
There was a problem. Please refresh the page and try again.
Consider the water bottle. It's not changed a lot since plastic replaced the old aluminium ones with a cork bung. But Elite has more reason than most to think about this humble vessel; it's makes up a substantial proportion of the brand's bread and butter. Add to this that no matter how competent a bottle is, it's useless without a cage, and you've got a very necessary pairing without which hydration is a chore.
Our favourite duo comes in the shape of Elite's Fly water bottle and Voco carbon cage - both making it to the Editor's Choice collection for 2017. Here's why...
If you are looking to shave precious grams off your pride and joy then the Elite Vico cages are a good way to do that, offering decent value against other lightweight carbon cages.
Italian brand Elite is one of the most established manufacturers of bottle cages and the Elite Vico Carbon is its latest lightweight offering. The problem with many featherweight bottle cages is that they sacrifice functionality and don't tend to grip bottles as well as their slightly heavier, stiffer counterparts.
If a bottle cage cannot grip a bottle securely then its whole reason for being becomes irrelevant. Fortunately the Elite Vico works well and was able to retain our bottles on the roughest Cotswold lanes and the short but nonetheless vicious stretch of cobbles next to Cycling Weekly HQ.
£24.99 is for many a lot of money to shell out on a bottle cage, but the Elite Vico still represents decent value when you compare it to competing products of a similar weight.
It looks cool too, although you will have to want black as that's the only colour option currently available.
There's one caveat though - for optimum performance, you really need to pair this cage with the Elite Fly bottle. But of course it's a superior choice, too.
For a start, a new injection-moulding process has allowed Elite to make the Fly's walls thinner. This makes the bottle easier to squeeze, so you get higher flow rates.
The Fly is thicker and more rigid around the top and the base – rigid enough not to flop around in a bottle cage. And the opening is wide so you can get drink powder and water in easily.
The stubby design also makes the Fly easier to access on smaller frames than a standard bottle. And the shoulder at the bottle's rim means that it stays in place well in Elite's bottle cages.
Coupled to its enhanced squeezability, the Fly has a new cap design. This features a wider nozzle made of soft rubber and with a larger aperture, which again leads to higher flow rates.
Your drink isn't prone to splashing fluid out of the bottle when in its cage. So you can ride with the cap open and grab a swig quickly without spraying your frame with sticky energy drink.
This is useful too, as the nozzle cap is attached to the outside of the bottle's lid. Until you know what to expect it's quite easy to pull it off the lid completely, with it ending up in your mouth.
The higher flow rate from the Elite Fly takes a bit of getting used to - but you quickly adapt to squeezing the bottle more gently and it's a huge benefit not having to fiddle with opening the cap.
The Fly's surface has an anti-slip coating, making it less likely that you'll drop it when drinking. The printing on the Elite Fly does seem a bit less resistant to wear than some though, so it looks scuffed quite quickly. Elite says that the Fly's plastic is BPA-free. And it's odourless and dishwasher safe, so you can give it a good clean.
Elite supplies 12 WorldTour teams with its bottles and is rolling out the Elite Fly to them this year. Dropped bottles can be dangerous in road races; Fabian Cancellara sat out a few races in 2012 having been floored by a stray bottle in a feed zone in that year's Tour of Flanders.
Many of Elite's bottles have safety caps that break off when dropped. This isn't the case with the Fly, though. Elite says that its lighter construction and higher flow rate make additional safety features unnecessary.
Another advantage of the thinner-walled construction: lighter weight. At 54 grams, the Fly is around 40 grams lighter than a standard 550ml bottle and is a cheap upgrade for the weight weenie.
The cage will set you back £24.99, and the bottle £5.99 - a small price to pay for hassle free hydration.
Thank you for reading 20 articles this month* Join now for unlimited access
Enjoy your first month for just £1 / $1 / €1
*Read 5 free articles per month without a subscription
Join now for unlimited access
Try first month for just £1 / $1 / €1
Get The Leadout Newsletter
The latest race content, interviews, features, reviews and expert buying guides, direct to your inbox!
Symon Lewis joined Cycling Weekly as an Editorial Assistant in 2010, he went on to become a Tech Writer in 2014 before being promoted to Tech Editor in 2015 before taking on a role managing Video and Tech in 2019. Lewis discovered cycling via Herne Hill Velodrome, where he was renowned for his prolific performances, and spent two years as a coach at the South London velodrome.