Ask a coach: 'How can I adapt my riding to get faster on gravel?'
Is your training sufficiently adapted to the differing demands?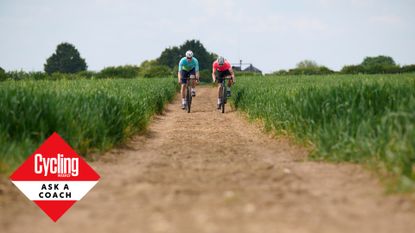 (Image credit: Future)
More and more of us are choosing to spend our time riding on gravel rather than on the road. There are obvious differences between gravel and road. Firstly, speeds tend to be lower on gravel, there is an obvious additional skill requirement, and there is a lot more rolling resistance.
If you are spending more and more time off-road, how can you best adapt your training? Cycling coach James Spragg picks out three key areas to focus on...
Sports scientist and coach James Spragg is one of the experts who will be answering your questions in Cycling Weekly's ASK A CYCLING COACH series which comes out every Wednesday. Working both in research and applied settings, he currently runs Intercept Performance Consultancy.
1. Skills training
The first thing you should look to include in your training is some skills work. Riding on gravel can be a lot more unpredictable than riding on the road. Having good bike handling skills is key to going quicker on gravel – if anyone doubts this I urge you to go back and watch Tom Pidcock descending as he went on to take a stunning solo victory at Strade Bianche. A good way to improve your skills is to pick a small technical circuit with lots of loose gravel and tight corners. Spend some time simply going around and around and feel your speed and confidence build as you go.
2. More aerobic work
Gravel riding is typically slower than road riding, this means you get less of an aerodynamic advantage when following another rider. This means that gravel is a lot more akin to riding solo than riding in a bunch. This typically means higher average powers and less explosive efforts. This can be replicated in your training.
For example, it may be beneficial to swap out some intervals for more tempo work. The caveat here is that every rider responds differently to training and therefore a blanket recommendation is never possible. However, training for more sustained efforts is certainly advisable.
3. Torque work
Slower speeds and more rolling resistance mean that the amount of torque you need to produce will likely be higher when riding on gravel compared to on the road. Adding strength intervals – periods of riding at low cadences – might be beneficial to improve torque production and improve gravel performance.
Be careful when doing this type of session, don't drop the cadence too low but do make sure you keep the power up.
Conclusion
While gravel and road are not too dissimilar there are differences. Addressing these differences in your cycling training plan will go towards helping you perform better off-road.
Thank you for reading 20 articles this month* Join now for unlimited access
Enjoy your first month for just £1 / $1 / €1
*Read 5 free articles per month without a subscription
Join now for unlimited access
Try first month for just £1 / $1 / €1