Matt Bottrill: My week in training
Combining a full-time job and the responsibilities of a young family with top-level sport isn't impossible. Matt Bottrill is the embodiment of how far you can go with a well-thought-out event-specific training plan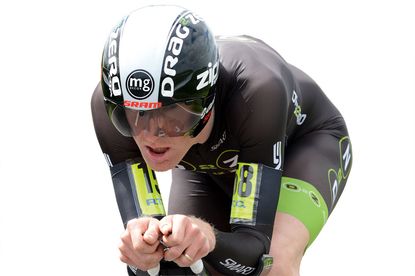 (Image credit: Andy Jones)
Get The Leadout Newsletter
The latest race content, interviews, features, reviews and expert buying guides, direct to your inbox!
Thank you for signing up to The Pick. You will receive a verification email shortly.
There was a problem. Please refresh the page and try again.
Want to know how the best riders in the world train? For each article in this long-running MY WEEK IN TRAINING series from Cycling Weekly's print edition, we sit down with an elite rider who talks us through a recent week of training in granular detail. This time it's the turn of Matt Bottrill...
When Matt Bottrill split Giro time trial winner Alex Dowsett and Team Sky's Ben Swift on the podium of the National Time Trial Championships last year, he earned the respect of every bike racer in the country. Bottrill works 40 hours a week as a postman, walking six miles per day, but he sees that as a positive. "It helps me keep fit," he says. Then with a young family waiting at home, time for training is tight. Bottrill addresses that with his coach Bob Tobin (of www.cyclepowermeters.com) by making sure every session counts. This is a typical Bottrill/Tobin training week for early 2014.
Monday
Two hours of level 2, pedalling at 90-100revs.
"I did this on my time trial bike and included a 20-minute power test (functional threshold power test) to check how my training has been going, and to reset my levels. I was really happy with the progress, and it's nice to see that I'm getting fitter."
Tuesday
Ninety minutes on the Wattbike at level 2, with 6 x 30-seconds maximal efforts.
"I've just been lucky enough to get sponsorship from Wattbike, so I've been using a Wattbike to improve my pedal stroke and imbalances between one leg and the other. The Wattbike also helps me control my efforts. It's great for these kinds of efforts. You can control everything without any traffic getting in the way or the chance of running out of road before the intervals ends."
CW says: The levels Bottrill talks about are his effort levels. He uses power and heart rate to determine them, and level 2 would be the equivalent of a medium intensity ride. The 'sweet-spot' Bottrill talks about later is just below his threshold pace — below one-hour time trial pace. At this time of year, Bottrill isn't doing extended efforts above sweet spot, but he still does some maximal efforts to maintain his top-end power.
Wednesday
Rest day
"I did 30 minutes of core work, and I managed to get a 20-minute power-nap before picking my daughter up from school."
Thursday
Ninety minutes split into 30 minutes of level 2, then 30 minutes of sweet-spot, and finally another 30 minutes of level 2.
"That was what was planned, but instead it ended up being the day from hell, with all our three children picking up a sickness bug, as well as my wife. It ended up being a rest day; well, a rest day as far as cycling was concerned"
CW says All plans need rest factored into them, so after two tough but controlled days, Bottrill had an easier day, although he still worked out by doing some core fitness training. Having a strong core is important to every cyclist. It's the platform that power is delivered from to the pedals, and the platform must be solid to maximise that power. However, a time triallist's core muscles have other forces to contend with when holding an aerodynamic position, while their upper body must remain as still as possible. They should train specifically to condition them to those forces.
Friday
Two hours of level 2 with a 30- minute block of sweet-spot in it.
"This was my day off work so it allowed me to find some extra time. I had planned 90 minutes of level 2 with the sprints, like I did on Tuesday. But I decided to ride longer and outside instead. This allowed me to take the twins with me. I tow them behind my bike in a giant Peapod trailer. The kids love being towed in it and it allows me to get my training done. It's a killer session though. I normally average around 15mph, and my legs are like jelly after!"
Saturday
Two hours on the time trial bike.
"I felt great for the first half, averaging just shy of 25mph. But with the last couple of days and everybody being sick, I hadn't eaten much due to not having much of an appetite. I really grovelled through the second hour, just wanting to get home, but I did complete the session."
CW says Combining family time with training time is a boon if you can do it, and towing twins for two hours, with 30 minutes at almost time trial pace, is a super-strength workout. Training is most effective when it's specific to one discipline. When you're riding a time trial bike, you're going to be using muscles in a slightly different way than other disciplines, and more force is thrown onto other areas of the body. Bottrill covers this by ensuring he trains on his time trial bike whenever he can. It also sounds like he took pride in completing the training too, even though he felt rough after doing it. Seeing things through and having raw pride like this, are common markers in top sportspeople and a lesson for all would-be coach potatoes.
Sunday
Scheduled to be a rest day.
"I got up at 5am, and pulled back the session I had missed out on. Again, the Wattbike allowed me to get the session done while it was dark and freezing outside. I did one hour at level 2, with 6 x 30-second maximal efforts. Then I got on with the rest of the day."
Bottrill is building up to what he hopes will be another good year, another year of keeping some of the best pro racers honest in time trials, and beating a fair few too. This was only one week in part of that build-up, but it shows the control, planning and specificity that Bottrill and his coach use to bring him to where he is now —an amateur racer who can hold his own against some of the world's best.
Adapting training to life Going with the flow
The best plans can be knocked off course a bit, but the key is not to let them get derailed completely. Adapt quickly, and keep pushing towards your goal, and above all don't panic.
This week, Bottrill's training was hit by family illness, but all he did was adapt the following day's training a little, and then fit in a variation of the missed session later in the week. Chances are this caused changes in the following week's training schedule, because a rest day was part lost this week. But so long as the changes are small readjustments to the intensity of the training load and duration, then it will be fine. Small is the important word here. Fitness progression is made through small increases in training load, so any alterations to the training programme, for whatever reason, should be small. Above all, never try to catch up by shoehorning two sessions into one.
This article was first published in the January 23 issue of Cycling Weekly.
Thank you for reading 20 articles this month* Join now for unlimited access
Enjoy your first month for just £1 / $1 / €1
*Read 5 free articles per month without a subscription
Join now for unlimited access
Try first month for just £1 / $1 / €1
Get The Leadout Newsletter
The latest race content, interviews, features, reviews and expert buying guides, direct to your inbox!
Founded in 1891, Cycling Weekly and its team of expert journalists brings cyclists in-depth reviews, extensive coverage of both professional and domestic racing, as well as fitness advice and 'brew a cuppa and put your feet up' features. Cycling Weekly serves its audience across a range of platforms, from good old-fashioned print to online journalism, and video.