How to stay hydrated during a Gran Fondo
Make sure you don't let hours of training go to waste by ensuring that hydration strategy is on point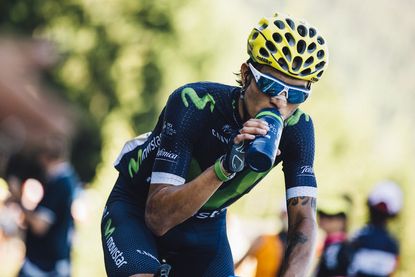 Riding a Gran Fondo can bring challenges that you may not have even contemplated when cycling on local terrain, with one of the main forgotten aspects being your hydration plan.
Hours of riding a bike in soaring temperatures without a focused hydration plan can play havoc with your pacing strategy and could lead to you fatiguing rapidly when you find yourself ascending some of the most iconic climbs in cycling.
>>>How to prepare for an overseas cycling event
Andy Blow, founder of Precision Hydration highlights the importance of not underestimating the conditions you may face.
"Whilst the weather can be fickle in the mountains, history suggests that you can probably expect it to be pretty hot in the South of France in mid-July," he says.
>>> How to avoid cramp when cycling
"Even at altitude up on the slopes of the Izoard, the average July daytime temperature is around 16 degrees C (60F) and during hotter days it can top 20 C (68 F)."
"Whilst this isn't super hot, if it's up at 20 C in the mountains, the valley riding could be sweltering and if that's the case hydration will be especially important to your performance."
Starting hydrated
One of the main nutrition issues that amateur riders trip up on and may even forget is staying hydrated during the days leading up the event itself.
Whether it be soaking up the scenery or subjecting yourself to a long car journey through mainland Europe to the start, preparation for the event should start days, not hours before the start.
"There can be a tendency to over-do the water intake, but it's not a wise idea to chug back gallons of plain water in the final 48 hours before the gun goes off," says Blow.
"You're not a camel and rather than storing excess water the most likely result is that you'll spend a lot of time peeing and washing out crucial electrolytes from your system."
This doesn't mean you should limit your hydration intake as this can have just as severe consequences to both your health and on bike performance,
"In order to start the race well hydrated (without running the risk of diluting your blood salt levels down) it's a good idea to pre-hydrate with a very strong electrolyte drink (such as Precision Hydration 1500, which contains about three times the amount of sodium of a standard sports drink)."
During the ride
The amount of fluid that you'll need to take on board will be dictated by a number of different factors, including the time spent on the bike, how much your stomach and gut can process per hour, your sweat and work rate, clothing choice and ambient temperature.
"All of these variables mean that means copying what other riders do is definitely not a good idea," Blow adds.
"Instead, spend some time to figure out the kind of range of fluid intake that works for you in various scenarios in training to dial in a strategy that'll benefit you."
"On the day of the race itself, it's a good idea to listen to your body and drink to thirst, whilst also putting into practice what you've learned in training. Bear in mind that it's a long day and that you can't afford to drink too little early on without dehydration becoming a potential issue several hours in."
"Most riders end up needing something in the range of 500ml to 1000ml of water with hypotonic electrolyte drinks (or electrolyte capsules) per hour. So, that's probably not a bad range within which to start your own experimentation to figure out what will work for you."
>>>Hot weather cycling: five tips to help you keep your cool
Drink to hydrate, eat to fuel
Juggling all the available energy sources that are available on the nutrition market can sometimes be confusing and lead to an over or under consumption of certain macronutrients. Blow acknowledges that keeping your nutrition simple is the best way to go.
"My main piece of advice is to look at what you're putting in your bottles for hydration rather than a source of significant calories or fuelling. Aim to get most of your calories from solid foods, gels, bars, fruits and whatever else you're carrying in your pockets or can pick up from the well-stocked aid stations en route."
>>> Can you blag your way around La Marmotte?
"By taking this approach to fuelling and hydration you maximise your chances of keeping optimally hydrated whilst keeping your stomach happy and getting enough energy into your body to see you right to the end of the course, even in the most extreme conditions."
The C word
Cramping is still somewhat of an unknown phenomenon despite a number of studies researching the reasons why it occurs and how to prevent it. Blow suggests that following these methods can at least reduce the risk of seizing up when it really matters,
"In a nutshell, if you get your electrolyte balance right by following the kind of hydration and fuelling strategy outlined above, you're far less likely to suffer the muscle cramps that are so often the cause of serious meltdowns."
Andy Blow has a degree in Sport and Exercise Science and was once the Team Sports Scientist for Benetton and Renault F1 teams. He founded Precision Hydration to help athletes solve their hydration issues and works with elite athletes such as former Tour De France Yellow Jersey holder Jan Bakelants.
Thank you for reading 10 articles this month* Join now for unlimited access
Enjoy your first month for just £1 / $1 / €1
*Read 5 free articles per month without a subscription
Join now for unlimited access
Try first month for just £1 / $1 / €1
Paul Knott is a fitness and features writer, who has also presented Cycling Weekly videos as well as contributing to the print magazine as well as online articles. In 2020 he published his first book, The Official Tour de France Road Cycling Training Guide (Welbeck), a guide designed to help readers improve their cycling performance via cherrypicking from the strategies adopted by the pros.