Pro cyclists could be wasting their time wearing ice vests while warming up, study suggests
A recent study explored methods of precooling in a demanding warm-up in trained male road cyclists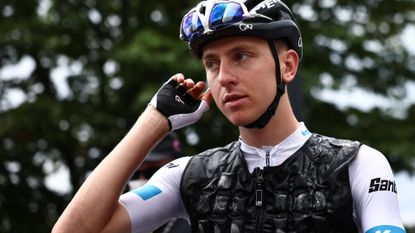 (Image credit: Getty Images - ANNE-CHRISTINE POUJOULAT )
Despite being so widely used by such a number of pro cyclists, it seems that the gains of ice vests might be so marginal as not to register - a recent study in the Public Library of Science peer-reviewed journal has found that ice vests have "no effect on performance" in trained male road cyclists, compared to simply going without.
The researchers did observe an increase of "thermal sensation" from the cyclists without vests, which was notably absent when ice-vests were used. This suggests that ice-vests do at least provide a "beneficial effect [on] thermal sensation" - even if that doesn't translate into a higher average speed over a 20-minute velodrome test.
The study
To investigate the effects of different cooling techniques, the researchers conducted their tests on the Caribbean island of Guadeloupe, French West Indies. The conditions were, predictably enough, hot and sticky - around 28°C (82°F) and 76% humidity.
The test consisted of a 20-minute test around a velodrome track, with the total distance and distance traveled per two minute block both being recorded as the markers of "cycling performance". Core body temperature and heart rate - along with the riders' perceptions of exertion, thermal comfort and thermal sensation - were also recorded.
The participants were all heat-acclimatized trained male road cyclists, so a representative sample, although the size of the study was small - totalling only seven. There were three 'test conditions' the cyclists were subjected to in the warm up ahead of each 20-minute test:
(1) A cooling vest soaked in ice water (ICE-VEST),
(2) A cooling vest soaked in ice menthol water (MEN-VEST),
(3) Without a vest (NO-VEST)
Taking the seven cyclists' results together, there was no statistically significant difference in the distance traveled over the 20-minutes between the three test conditions. There was also no significant difference in the cyclists' heart rates or their Rate of Perceived Exertion (RPE), either.
However, there was "an increase of the thermal sensation [in the] NO-VEST condition". This led the researchers to conclude that "other methods to improve performance of well-trained male cyclists in a velodrome during short distance time trials in hot and humid conditions should be considered."
Thank you for reading 20 articles this month* Join now for unlimited access
Enjoy your first month for just £1 / $1 / €1
*Read 5 free articles per month without a subscription
Join now for unlimited access
Try first month for just £1 / $1 / €1