Revisiting Île de Ré, France turned into the best family cycling holiday we've ever had
After team training camps, riding and racing and throughout the world, I had firmly thought that there wasn't anything left to tick off the cycling bucket list. Turns out I was wrong.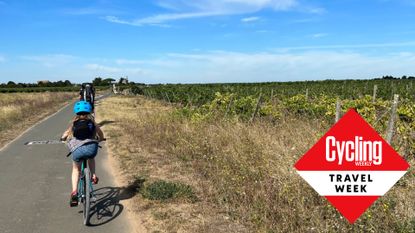 (Image credit: Future)
Get The Leadout Newsletter
The latest race content, interviews, features, reviews and expert buying guides, direct to your inbox!
Thank you for signing up to The Pick. You will receive a verification email shortly.
There was a problem. Please refresh the page and try again.
By far one of my best cycling achievements has been watching my daughter find a love of adventures by bike, and, as a family, we have Île de Ré thank.
It wasn't our first visit to the island, which is situated off the west coast of France, in the sheltered Bay of Biscay.
I'd visited the island before with just my daughter when she was much smaller, having stumbled upon the place while chasing the sun on a late September road trip. I had no idea that such a family cycling nirvana existed.
We had always planned to go back as a family, but Covid and life stuff happened, and suddenly five years intervened before we found ourselves once more on the small, almost traffic-free location.
The reason I was desperate to revisit wasn't just because it has almost guaranteed good weather and warm seas, thanks to it's sheltered position and the Gulf Stream that passes close to the coast, but also because cycling takes precedent over every other vehicle on Île de Ré.
That's not to say it wasn't without some trepidation.
When visiting Île de Ré as a three year old, my daughter was content to hop in a bike trailer with snacks or take a nap while I cycled us round the island.
Now the leggie just turned eight year old was suddenly aboard a bike she'd only ridden a couple of times, due to a sudden growth spurt requiring the next size up, and the prospect of riding between 16 and 24 kilometres, 10 and 15 miles, a day. It could have gone one of two ways.
Thankfully it went the best way, and she loved it.
From the moment we unfolded ourselves out of the car at the campsite and re-assembled her bike, she was off.
She'd clearly seen the number of kids independently riding around the campsite on their own bikes and decided to get a piece of the action.
Her first little solo venture was a ride down to the campsite swimming pool. This coincided with the first little 'chat' my partner had with me about letting my daughter just do it.
It's hard to let my mothering instincts go, watching the most precious thing in the world disappear round a corner on a bike dressed in just a swim suit and pair of crocs.
"But what if she comes off? If there's a car, a stone in the road...," I protested.
"But what if there's not," responded her level headed father.
So I agreed, if truly wanted to gift my daughter a love of bikes, I had to let her just go ride.
One of the biggest reasons for heading to the island was to show my daughter how much of a gift bike riding is.
With both her parents ex-bike racers, tales of cycling antics had already worn thin on eight year old ears, and her form of rebellion had been a reluctance to want to ride with us.
She'd learnt to pedal a bike on her own at about three, us parents had then probably got a bit overexcited and, as is her personality - she pushed back against most suggestions of riding bikes.
"That's what you two like to do, I don't have to like it too," she told us. Harsh, but fair.
However, on the days she was inclined to ride using her own initiative, I saw how much it clicked with her. Clearly there was a glowing ember of love for cycling within her, it just needed to be re-fuelled, which meant totally backing off and letting it ignite itself.
Which is why we were drawn back to Île de Ré as it's so safe for young riders. There's no dealing with fast cars or traffic, zero hills or cold wet weather. The exceptionally well-maintained and well-thought-out cycling infrastructure means that if there was ever a place to find cycling wings, this was it.
The island has transformed itself in to a cycling paradise thanks to 110km of dedicated cycle paths, on a completely flat terrain. Where vehicles and bikes do interact, bikes tend to have rights of way and cars or the free electric busses that ferry pedestrians around, are incredibly courteous.
My hope was by cycling total immersion that, like any repetitive practice, riding bikes would feel freeing and allow her to find the total joy in bikes as her parents have.
Across our two week stay our rides ranged from short visits to the closest swimming beach, just a couple of kilometres, a mile or so, away from where we were staying, to much longer distances to find the perfect paddle boarding locations.
Our local beach outings saw us skirt around the edge of our closest maritime town. As with the outskirts of most towns and villages across Île de Ré, bike routes intermingled with minimal open roads, but traffic is slow and almost non-existent so I had no worries of road safety.
Besides most of the journey is on traffic-free, sometimes cobbled, paths, that invite you to explore their twisting and turning routes. Flanked either side by tall white washed walls of villas and town houses with their brightly coloured shutters, whilst being waved along by the vast array of vivid flowers and towering self-seeded hollyhocks that seem to be emblematic of the island, it really is something out of a film set.
Generally, after a local beach jaunt, once the tide has turned to reveal the oyster beds at low water, we found ourselves pootling through the busy bustling fortified and very chic port of Saint-Martin-de-Ré, before heading out along the north coast in the direction of the furthest western point of land on Île de Ré.
Riding along you stumble upon honesty box stalls selling the local salt and honey, as well as fishing huts and shacks, owned by the oyster and mussel farmers. Here you can swap saddle for hammock or bar stall and leisurely partake in sampling the freshest sea food, accompanied by a cool glass of locally sourced wine or beer, watching the world cycle, or stroll, past while looking out to sea.
Our daughter isn't the biggest shellfish fan, but was always able to find enough options on the tapas style menus to be sated, and there's always a variety of soft drinks on offer.
It's tricky to decide how far along the coast to cycle, and exactly which of the bohemian style eateries to frequent. If you're holidaying without children, you could make a day of it, riding along the coast hugging bike path and stopping every few kilometres for another plate and cool glass of something.
With kids, it's almost inevitable that the call of the sea or pool is too strong, and after an hour or so, it's back on the bikes, heading off for another swim, before showers, dinner, and then a night wander back to the port for an ice cream, night market, or to enjoy fireworks and, most nights, live music performances on the harbour - all of which the French do exceptionally well.
Longer rides to the golden sand dune beaches on the south coast for a surf or paddleboard do require some basic map reading skills. We managed easily using just the free cycle route map, picked up at one of the many tourist offices or downloadable from the website, which displays all the island's cycle paths and distances.
Created from many disused railway lines, the entire island is connected by wide traffic-free routes that crisscross their way through pine forests, fields, wild moors, salt marshes, or hug the sandy coastlines and are all in very good or excellent condition.
These are often, by their nature, more exposed than the routes through the villages - which can be a blessing or a course depending on what sort of rider you are. Seeing a good distance ahead makes overtaking slower riders, or getting overtaken, smoother, but did sometimes require a little more motivational talk when the smallest rider in the group can see the road stretching out into the distance.
Thankfully there is little chance of getting lost and having to double back, making the longer rides even longer, as road side signage and road markings are excellent, reassuring you of your direction thanks to a handy route numbering system. This made it easy for even my daughter to take on the role as lead cyclist at times, which helped keep her interest up in sign spotting and shouting direction changes back to us.
The cycle route map is also really helpful for highlighting which beaches or villages to head to for different activities - we always tended to choose paddleboarding and swimming beaches, where there were also lifeguards on duty.
These can be popular with fellow holidaymakers, feeling busy at high tide when all beachgoers are squeezed in to a strip of sand at the top of the beach, but only once did we feel really packed in, and thankfully it coincided with the end of the day, so we were happy to deflate the paddleboard, pack up and ride back to the campsite.
We found these cross island adventures a greater test of endurance for our young cyclists. For my daughter, 10 kilometres in each direction was about long enough before the fun truly ran out for tired legs and mind.
It was on these rides however, that the making of a cyclist occurred in my daughter.
As with learning any skill, progression isn't linier. Even in these beautiful surroundings and great weather, I reassure you that not every ride was finished with a high five and heel clicking jump. There were moments of frustration for all of us.
After the novel ride out to a new surf beach wore off and the heat and exhaustion after being in the sea most of the day almost always set in, the prospect of riding back to camp seemed, at times, unsurmountable.
This was probably where we learnt most about riding as a mother and child together.
I learnt to understand that my child just needed to moan. The importance of just letting her know that I had heard her and knew how hard she was trying was often enough to soothe her sore legs. She didn't want me to stop the ride, or magic a car for a lift, she just wanted me to know that riding bikes can, at times, be really hard work.
And it really can.
It dawned on me that moaning about bike riding is as much of the pastime as actually riding the bikes is. There's not many group rides or races that I've been on when I or someone else hasn't grumbled at a climb or that the pace being hard to keep up with.
Could it be that my eight year old was slowly becoming a well-rounded cyclist?
For her it was the longer rides where, in an attempt to entertain herself over some of the longer stretches of bike paths, my daughter discovered that she could ride one handed, no footed, sit on the top tube, jump a speed bump and try a mixture of all while negotiating a 'slow down' barrier at a road crossing.
At times this required me riding out front where I was none the wiser as to the antics going on behind, while I gradually handed in my resignation to the fun police, stopped worrying about her losing control and crashing, and started to flow with her acquisition of bike riding skills.
When tiredness set it, she learnt to ride out of the wind, staying closer to the wheel of one of us than she's (or us for that matter) have ever been comfortable with before to catch a draft for a few miles.
By the end of the first week, she had even mastered the vital over the shoulder 'life saver check', whilst still riding in a straight line, when overtaking other riders - which of course was vital in assisting another new found cycling skill, a love of riding fast.
Until this moment I would have said some of the proudest moments of my cycling career had been winning certain races, riding a sketchy trail, or even hitting a PB, but none of it comes close to sitting on your eight year old daughter's wheel and looking behind to see that she's driving the train of 30 or so riders, none of who want to or can get past her.
Chatting over ice cream in the port later that night, we dissected the ride, talked animatedly over "that bit when" and "you know where you turn off and it goes through the woods", I realised that ember of love for bikes and riding was now not only alight, but burning brightly. This was riding bikes on her terms, without mum and dad telling her what to do. Self motivated and unashamed joyfulness of being on two wheels.
And that's why we all fell in love with Île de Ré.
Île de Ré: the island
The island of Île de Ré is connected to mainland France by an impressive bridge that spans 1.6 miles / 3 kilometres.
The nearest big city is La Rochelle, just over 300 miles/ 500km south west of Paris.
At 19 miles / 30 kilometres long and 3 miles / five kilometres wide, the island is made up of ten distinct 'communes', each with its own distinct character, ranging between opulent and chic, to bohemian and arty.
In total there are nearly 70 miles / 110 kilometres of cycling paths, which peak at just 19 meters.
For such a small place there is an extraordinary amount of places of interest to visit, including the historic fortifications and salt marshes, which still practice salt drying and gathering in traditional methods, as well as loads of water-based activities, such as surfing, windsurfing, kite surfing, paddleboarding and sailing.
If coffee, shopping and people watching is your thing, then a ride into the busier villages or ports, especially on market day, will be ensured to deliver.
Île de Ré: getting there
With family connections in the south of England, our best option was to sail overnight from Portsmouth to France. We chose Cherbourg as we have friends living en route that we wanted to visit. Ideally a crossing to St Marlo would take you further south. I also toyed with the idea of San Sebastian, before the cost ruled that out for us.
Eurotunnel is also an option, but does mean a longer drive from the terminal through France, which may well be preferable to one in England though.
If you were travelling lighter than us, or from outside the UK, it's easy flying or travelling by train to La Rochelle. With older children, assuming you bring your own bikes, you could even ride from the airport or station over the bridge. Alternatively arrange a transfer rather than hiring a car, as you'll find you won't touch it again once on the island.
Île de Ré: where to stay
We camped on the edge of the biggest port on the island, Saint-Martin-de-Ré.
This gave us access to the bustling cosmopolitan and chic night life, which is all family friendly but does require you to throw bedtimes out the window.
We often found ourselves heading out after 9pm to the ice cream bar in town, or watch a live band on the harbour, or take a mooch around the night market.
In general, the further you travel west the more natural and bohemian the island gets. Towns and villages follow more traditional French opening times and a felt less groomed and more rugged, but just as special.
Campsites are located across the island, with most offering the option of either pitching your own tent, or, as we did, glamp in an already erected safari-style tent which had our own kitchen.
Holiday homes are plentiful, and depending on your price bracket, can come with your own pool, and often bikes for visitors to use.
What there isn't many of are hotels. The tallest building on the island is the Phare des Baleines (Lighthouse of the Whales), which according to Île de Ré tourist board is one of the highest lighthouses of France at 57 meters high.
Hotels and B&B's therefore tend to be in a converted townhouse, or smaller low level buildings. This does mean that they are luxury multiple star accommodation options, so be prepared for matching price tags.
Île de Ré bikes: hire or not to hire bikes?
Taking our daughter's Isla bike was a non-negotiable. It was a new bike to her, but only in size, and having grown up on the brand of bikes, knew exactly how to handle it.
I'm sure if we had hunted around, we might have been able to secure the right size hire bike, but we knew that it was always going to be a compromise on the quality of bike, and we were keen to make her cycling holiday as enjoyable and easy as possible by making sure she had a great bike to ride, and thankfully, her bike fitted inside our estate car.
For us adults however, as with 90 per cent of visitors to Île de Ré, we had decided to hire two of the many Dutch-style shopping bikes from the campsite. We'd done the math for taking our own versus hiring bikes for two weeks, and the latter made way more sense.
There are obvious benefits to riding the practical bikes, which come with racks, baskets and built-in locks, they also lend themselves to being ridden in non-cycling-wear.
Hiring worked out the better option financially too.
Taking our own bikes would have added quite a bit onto the price of the ferry crossing, as well as the additional fuel that strapping them onto the car entails.
We had the security headache too, of worrying about our own bikes being on the car overnight as we took our time journeying down through France, adding overnight stays in each direction to break the journey up a bit.
If you decide hiring bikes are for you, especially in peak holiday season, book them as soon as you can after your travel and accommodation has been sorted. We witnessed numerous disappointed families being turned down at bike hire shops as all bikes had been pre-booked months in advanced for weeks at a time.
Île de Ré: bike practicalities
Parking your bikes at beaches and the busier ports can be tricky at peak times, but we were never totally out of luck, there always seems to be someone leaving as you arrive, and then it's a case of tessellating the bikes together to take up as little space as possible to allow more bikes to arrive.
At supermarkets and most villages its never a problem, just lookout for the 'no bike' parking signs and don't block access routes or houses.
In town centres, which are all pedestrianised, you are required to hop off your bike and push, which keeps everyone safe.
Most people do lock bikes, not from the fear of having it stolen - I've never felt in a more bike safe place in my life - but from the worry of riding off with the wrong one as almost everyone on the island hires bikes, which almost look exactly the same.
That said we did sandwich our daughter's own bike between ours as a nod towards an extra security measure - as we're from the UK we can't help but assume the worst when it comes to bike theft.
Île de Ré: serious cyclists wanting serious rides
While Île de Ré is blessed with miles of traffic-free cycling, anyone looking for a decent 'training ride' will probably be out of luck.
You might be able to go on a faster paced ride if you get up and out early, but you'll be contained to the same network of bike paths as cycling on the main roads is prohibited.
Another option, and this does depend where you are staying on the Island, could be to ride over the bridge and cranking out some miles on the mainland.
Alternatively, just enjoy a family holiday and watching your kids love for riding bikes grow. Taking some time out the cycling training plan won't harm you long-term, it might even do you some good. Building these riding foundations will give you all a wonderful pastime to enjoy together, and I promise you won't regret it.
Thank you for reading 20 articles this month* Join now for unlimited access
Enjoy your first month for just £1 / $1 / €1
*Read 5 free articles per month without a subscription
Join now for unlimited access
Try first month for just £1 / $1 / €1
Get The Leadout Newsletter
The latest race content, interviews, features, reviews and expert buying guides, direct to your inbox!
Hannah is Cycling Weekly's longest-serving tech writer, having started with the magazine back in 2011. She has covered all things technical for both print and digital over multiple seasons representing CW at spring Classics, and Grand Tours and all races in between.
Hannah was a successful road and track racer herself, competing in UCI races all over Europe as well as in China, Pakistan and New Zealand.
For fun, she's ridden LEJOG unaided, a lap of Majorca in a day, won a 24-hour mountain bike race and tackled famous mountain passes in the French Alps, Pyrenees, Dolomites and Himalayas.
She lives just outside the Peak District National Park near Manchester UK with her partner, daughter and a small but beautifully formed bike collection.