Strava data shows women restricted by daylight hours for exercise - but female Gen Z Brits prove more active than men
Global data reveals women 8% less likely to exercise outside post-sunset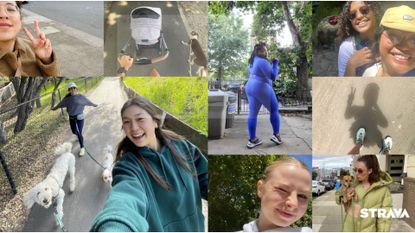 (Image credit: Strava)
Strava always makes a great source for interesting insights into our exercise habits, or, at least, into the self-selected group of people who choose to use that bright orange app for their exercise logging - which, to be fair, is most of us!
In this latest data dump, Strava can reveal that Gen Z women (those aged 18-29) in the UK logged 11 per cent more hours' physical activity than their male counterparts - and this is despite women, on average, dedicating 15 per cent less time to physical activity than men globally.
Overall, this shows there's still a long way to go before we reach gender parity for exercise - but some regions are closer than others. Women in Spain averaged 29 per cent less time exercising than men, in France it was 25 per cent, in Germany 16 per cent and in the UK the gap was just 6 per cent.
Sadly, this chimes with research conducted by This Girl Can, a campaign run by Sport England, which has highlighted an 'exercise enjoyment gap' between men and women. Three in 10 women have experienced harassment while exercising and, understandably, this is impacting their participation in exercise.
Nightfall exacerbates this. Chris Boardman, multiple Olympic and World track cycling champion, wrote an article last year on what men can do to help women feel safe exercising in the dark - and the fact that women don't feel safe exercising in the dark is borne out in Strava data.
Women are 23 per cent less likely to workout pre-sunrise and 8 per cent less likely to do so post-sunset, according to data Strava has collected globally.
Societal changes are slow ones, but it is at least heartening to see that Gen Z women are packing in more time training in their more limited windows. We may have a long way to go closing the gender parity gap for exercise, but this is a significant milestone.
We're currently celebrating Women's Week here on Cycling Weekly and are covering everything from the training tips guiding female professionals (and a growing number of amateurs) to inspirational stories of female empowerment. You can check out our main Women's Week hub page for everything that's going on over here.
Ahead of International Women's Day, Strava has expanded its Strive for More initiative pushing for equity in women's sports through a new global community challenge in partnership with the Hot Girl Walk movement.
For every challenge completion on the app, Strava will donate $4 up to $250,000 (over £200,000) to GRLS and the ONSIDE Fund - global initiatives by Women Win helping to build leadership skills and empowering girls to become better equipped to exercise their rights through sports and play.
Thank you for reading 20 articles this month* Join now for unlimited access
Enjoy your first month for just £1 / $1 / €1
*Read 5 free articles per month without a subscription
Join now for unlimited access
Try first month for just £1 / $1 / €1