How to build your personal roadmap to success
How do you draw your roadmap to success? Hannah Reynolds and Josephine Perry explain how to build your personal profile and turn self-knowledge into success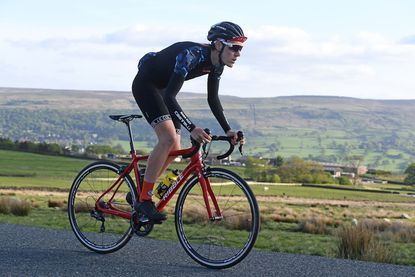 A roadmap to success is a well-worn but nonetheless useful analogy when setting cycling goals, implying two key questions.
The relatively easy first question, 'Where do I want to get to?' must be followed up with, 'How do I get there?'
And before you get started, you need to know where you are right now. What are your strengths and weaknesses, and how can you work on them? Which areas need working on, and how best to prioritise them? This is where performance profiling comes in.
>>> The hidden motor in your head: How mind training can make you ride faster
In this feature, we will explain how to identify your start point, and how to use your power and performance profiles to draw your roadmap to success. Performance profiling, developed by sport psychologists, examines your goal within the context of your strengths and weaknesses to construct a focused plan, entirely tailored to you.
It looks at the elements of cycling that cannot be captured by your power meter alone. That's not to say power data isn't vitally important. The key is combining qualitative psychological assessment and quantitative physiological data. Just remember: mind plus body equals maximum goal-setting power!
Measuring the immeasurable
Some areas of cycling performance — power, speed, heart rate — are simple to measure. In other areas, you can't assign numbers in the same way: motivation, form, raw potential. Performance profiling takes your goal and turns it into an actionable, focused plan.
Any cyclist who works with a sports psychologist will create a performance profile. It lets you flesh out your overall goal for the year and break it down into specific actions and processes. The profile states clearly what you need to incorporate into your training to reach your full potential. It turns your dream into a tangible plan. But it only works if you're honest with yourself: to turn a dream into reality takes hard work.
It's your plan, so it must be created by you. If you have a coach, getting them involved can help you understand each other better — you should agree on the areas most needing improvement.
Create your own performance profile
The first step is to decide on your goal. What do you want to achieve? Ideally the goal should be four to six months away so you have enough time to work on preparing for it but without it seeming so distant that it fails to excite you.
Next, ask yourself, what are the characteristics of the person (or people) who has achieved that goal. Think about the characteristics in terms of lifestyle and support, technical and tactical skills, physical preparation and fitness, logistical planning and psychological behaviours and tactics. Select two or three for each area, giving you 10-15 characteristics. Rate the importance of each characteristic on a scale of zero (not at all important) to 10 (extremely important), e.g. quality of sleep: 6.
Next look at where you are right now for each characteristic, rating yourself from zero to 10, e.g. quality of sleep: 3. Subtract this number from 10 and then multiply by the importance score; this gives you the discrepancy score, e.g. (10 – 3) x 6 = 42. The higher the discrepancy score, the more emphasis you need to place on that characteristic, as a big discrepancy represents big room for improvement. These are the areas you should address immediately, building the necessary processes and activities into your training.
If the discrepancy scores are high across the board, your goal may be better regarded as a longer-term objective. Perhaps for now you need to find something more achievable. Re-rating yourself every couple of months will help you identify the areas in which you are improving to refocus your efforts on the biggest remaining discrepancies.
What's your power profile?
A power meter used without data analysis is just a very expensive useless gadget. However, with applied knowledge, it can totally transform your riding. To develop your performance, your first job is to interpret your power curve or create a power profile. Though training zones are widely understood (if not always implemented), your power curve can be even more useful.
A power curve shows your capabilities across the key energy systems: your short explosive power up to 15 seconds; your capacity for two- to three-minute efforts, mainly dependent on your ability to produce energy anaerobically; and your aerobic capacity. You might be a sprinter, brilliant over 10 seconds but hopeless at sustaining a long effort, or you might be a climber whose peak power is puny but who can zip up a mountain. More likely, you are somewhere in between.
Different coaches or software packages may refer to power profiles in different ways, and in testing opt for slightly different durations of effort. Sufferfest, for example, uses four key metrics: Neuromuscular Power, Anaerobic Capacity, Maximal Aerobic Power and Functional Threshold Power — which it refers to as 4DP.
Mark Fenner is the founder and director of Today's Plan and FTPTraining. He believes that power profiles are crucial for riders to make the most of their talents and to assess their training over time.
"A power profile can help identify a rider's strengths and weaknesses and if necessary re-position their goals to bring the two into alignment."
Looking at your power profile before setting your goals will help you identify which events are right for you.
New company Crimson Performance offers a platform for physiological testing and presents the results in a unique way.
"The goal is to create an easier way for riders to adapt their training and racing in a way that is meaningful to them, says Crimson's Matt Hallam. The test identifies where you are gifted so you can target the right kind of events and races."
Crimson Performance identifies seven types of rider, using test results to place each rider into the appropriate category. It also uses data from domestic and international riders to grade your performance against the rest of the cycling world.
Identify your power profile
There are two key ways to identify your power profile: through testing or via analysis of accumulated data. In reality, most committed cyclists use both. Finding your power curve through accumulated data is easy, as whatever software platform you upload to will generate a power curve.
Power curves created by longitudinal data have a significant advantages over one-off tests.
"If you just test people in an indoor environment, some will be disillusioned by the results," says Fenner. "It would undermine their confidence and may hamper their subsequent performance."
Accumulation of data in real-world situations allows a fuller, deeper picture to build up. Fenner opts for this approach the majority of the time. "A year's worth of data will tell me everything I could have seen in a lab." Even so, he does use specific testing at set points, more frequently with new riders.
Testing requires you to make maximal efforts over set durations, establishing your benchmarks while using different energy systems. Interpreting the profile is a complex task. Fenner's software Today's Plan facilitates in-depth analysis, tracking personal bests at every point of the power curve. Riders can check back to see how their data compared at different times.
"As a coach, I can look at areas to work on and monitor the effectiveness of training interventions," says Fenner. Monitoring changes in the rider's power curve allows the coach to gauge the effectiveness of training.
This decision-making is slightly trickier for the individual rider without a coach. "A rider's confidence can be swayed with just one seed of doubt, and some self-coached riders find themselves leaping from one strategy to the next. It's important to remember that training adaptations take time," says Fenner.
Knowing how to achieve the desired result reduces this urge to keep trying different approaches.
A power profile helps you analyse and judge whether your goals are realistic, and that you are playing to your strengths.
A combination of periodic testing and regular progress assessment throughout the season ensures you remain faithful to your roadmap and on course for success.
James Ward
Age: 24
Current performance level: Rides at least 40 miles a day; not currently racing
Goal: Two-week tour of the Alps, self-supported
James Ward, an accountant from Leeds, has only been riding for four years but has managed to clock up 60,000 miles and so far this year is yet to have a day off the bike. His big goal for 2018 is a two-week, self-supported tour of the Alps, riding 800 miles over 14 major passes and climbing 100,000 feet. He'll be riding alone and carrying his tent, sleeping bag and kit. Ward is looking forward to the climbing, less so the camping.
- Performance profile For Ward's performance profile, we looked at each of the areas that would contribute towards his success, rating where he is currently and prioritising accordingly.
We subtracted each current score from 10 and multiplied by the level of importance to see where Ward can make the biggest difference. This profile highlighted that if he can focus on building up his core strength, learning to maintain and fix his bike, build up his resilience and develop techniques to stay calm, the benefits should be huge.
Ward says: "I'd covered a lot of the points in my head but chatting them through with someone else was really
very useful."
- Power curve
Using the Today's Plan software, Mark Fenner analysed Ward's power files.
"Ward's power drops off almost immediately, suggesting that this rider is not a sprinter," says Fenner.
"Power drops off in a linear fashion to the five-minute mark. This data would suggest a strong anaerobic capacity. Power then has a smaller drop between 10 and 20 minutes. By the end of the 20 minutes, the athlete's anaerobic contribution would have been used.
"This contribution helps the aerobic energy system fuel muscular contraction. A rider with a profile like this can often smash out a very good 10-mile time trial, but on longer time trials or longer climbs they cannot maintain the power, as their aerobic system is not developed enough to maintain that output. This type of rider could be a very good track pursuit rider. They are strongest with the 30-second to five-minute range."
- Profile Test: Crimson Performance tested Ward's peak power, three-minute power and 12-minute power, grading him across each to provide a profile.
- Results:
Hero Climber – Pick off the sprinters up a long hill or drag.
Endurance Road Rider — Only go into the red when necessary.
Novice Sprinter — Know who you are up against before hitting the gas!
Verdict: The Diesel Engine. Sneak away into an early breakaway, attack on long drags to the finish, and have a go at long, hilly time trials. Avoid bunch sprints!
- Ward says: These assessments are accurate and would be very useful to someone beginning with power training. I use power curves to monitor my progress over a season.
Jenni Millmore
Age: 31
Current performance level: Has been time trialling for two years; 25-mile PB 57.42
Goal: Set new 25-mile TT PB
Jenni Millmore began time trialling last year after her club Islington CC encouraged their female riders to join the London Women's Racing group. In her first race she won the road bike category, and by September she had achieved a 25-mile PB of 57.42, on a road bike with borrowed time-trial bars. This year she has invested in a TT bike and a power meter and is looking to set a new PB.
- Performance profile Millmore is fairly new to time trialling and found it hard to prioritise improvements, but the scores show there's room for improvement in certain areas. Her biggest gains will come from having the right bike and kit and getting a bike-fit to ensure she is not only aero on this new bike but also comfortable riding it. Technically, building up her cornering abilities after a recent crash will be helpful and increase her overall riding confidence. Finally, Millmore will really benefit from structuring her training, including more time for resting and recovery.
- Millmore says: "The process was really interesting, especially breaking down the aspects of getting faster. I am now devising how to improve the areas within my control."
Using the Today's Plan software, Mark Fenner analysed Millmore's power files.
"There is a near linear decline in power from a very modest peak of 550 watts to around 150 watts at three hours. As for [Ward], there is a marked plateau in power between five and 20 minutes, then a more linear drop again to three hours. The estimated threshold is around 220 watts, which is very good. This power curve suggests a degree of the 20-minute effort part is supplemented with a good contribution from the anaerobic system."
- Results:
Novice Sprinter — You can hold your own in a sprint, but know who you are up against before hitting the gas!
Balanced Anaerobic tank — You have a good amount of energy to play with when above max aerobic power.Max Aerobic power – Reasonably strong aerobic power; should be good all-rounder at TT, climbing and crits.
Verdict: The Diesel Engine. Try to sneak away into an early breakaway, attack on long drags to the finish and have a go at long, hilly TTs. Avoid bunch sprints!
- Millmore says:
I found this assessment interesting and useful. The next step for me is using online software to plan my training and to learn more about power.
Thank you for reading 20 articles this month* Join now for unlimited access
Enjoy your first month for just £1 / $1 / €1
*Read 5 free articles per month without a subscription
Join now for unlimited access
Try first month for just £1 / $1 / €1