Ride and race smarter: improve skills to stay safe in the bunch
As more cyclists have taken up road racing, the frequency of crashes has increased at an alarming rate. Louise Mahé assesses how to improve your skills to stay safe while riding in a bunch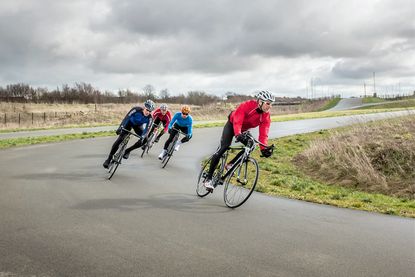 With the cycling boom over the past few years, there has been an influx of new riders into road racing. Many of these people have made the step up from sportives to racing. The two disciplines are very different, of course, and skills for bunch racing are often overlooked — despite the fact they are crucial to everyone's enjoyment and safety.
>>> Race warm-up: How to do it and why it's important (video)
Much coverage is given to the different types of fitness levels needed for racing and how best to train and prepare. Regular weekend riders are often fit enough to stay in contention during races, but without the necessary bunch skills or tactical understanding.
Being fit is not enough. Not having the requisite skills has a big impact on races, and as the popularity of racing has grown, the number of avoidable crashes at local level events has increased.
Although crashing is part and parcel of bike racing, many crashes are avoidable. Organisations are taking steps to reduce the likelihood of crashes caused by rider error by educating riders on bunch racing skills and etiquette.
Bunch skills
The biggest difference between sportives or club-runs and races is that, in the latter, riders reach far higher speeds while surrounded by others. You are not just riding in pairs, like you would on a club ride; there are riders behind you, in front, and on either side of you, often overlapping wheels.
>>> How to go faster by getting aero
Any move you make will have a knock-on effect through the bunch, so being confident and able to hold your line — even under pressure — is a much-needed skill. Even for those who have raced previously, it can take a little while to get back into the swing of racing in a big bunch. Taking it easy initially is key.
Overlapping wheels naturally occurs when riding in a bunch, but riders must remain aware that the person in front may move out. Riders in the bunch move around continuously as they strive to get near the front. Gentle bumping of hands and elbows inevitably occurs.
Staying relaxed is vital, as tensing up and braking hard may lead to losing control. Reading these natural ebbs and flows of the bunch is important to reduce excessive braking and keep the bunch safe.
While group riding, you shouldn't stare at the wheel ahead; keep your gaze ahead to see what riders in front are doing and where they are moving. A skilled racer predicts where the gaps and bunching up of riders will occur by watching carefully.
Though these skills are acquired through spending time riding in big bunches in races, you can prepare yourself and increase your confidence in other ways. Getting used to bumping shoulders with other riders, even leaning on them, can be practised while riding with a friend.
By enlisting the help of a willing ride buddy or two, you can get used to the hectic conditions within a jostling bunch. This will make you less likely to freak out and grab the brakes when something unexpected such as a touch of arms occurs. Sprinting for cafe signs is another very useful race-simulation exercise worth practising.
RaceSmart initiative
Many local weekend road races are held on open roads. Though riding competitively and pushing your limits is all part of the appeal of racing, sometimes this needs to be reined in to avoid crashes and accidents.
When racing on open roads, it's particularly important to take responsibility and ride in a manner that keeps yourself and other riders safe. The difference between pushing yourself to the limit in races and taking potentially dangerous risks can be a fine line.
>>> How to fuel for long distance rides
British Cycling has recognised the need for specific advice for those riding in competitive events, and last year launched a new awareness initiative for racing: RaceSmart. The campaign aims to educate riders on the minimum levels of etiquette and techniques needed to race on the road.
A series of videos explains the basic principles of racing etiquette, with 'how to' videos explaining different situations and scenarios that may occur during a race. RaceSmart encourages everyone to ride in a manner that will help protect the future of road racing in the UK. Accidents that result from riders making avoidable mistakes could lead to race cancellations where communities register complaints.
>>> How to get faster as you get older
This initiative is not just for novice racers. British Cycling highlights the need for experienced racers to pass on their knowledge to newcomers. Of course, racing can be confusing, and when riders begin shouting mid-race, it can be intimidating too.
An inexperienced racer may not understand what they've done wrong. It's far better to point out a rider's mistake calmly and help them understand, which will make them more receptive to criticism. Constructive criticism helps riders adapt and learn from their mistakes.
Race training
Some argue that just watching videos and reading resources is not enough to help educate riders. Learning theories doesn't necessarily help with making split-second decisions about how to react in a race situation. The best way to learn is through racing. How to react appropriately in a big group is best learned through riding and racing in a bunch. It is a Catch-22 situation: the skills needed to avoid crashing involve a certain element of risk-taking.
>>> How to use your brakes properly
One way of ensuring riders' bike handling and skills are sufficient to cope in races is to establish race accreditation. For weekday track leagues on indoor tracks (and on some outdoor tracks), you must have completed a track accreditation course. These are designed to keep all riders safe and reduce the risk of crashing.
Simple skills and track etiquette, such as riding shoulder to shoulder and looking before moving, are tested. These skills are drummed into riders until they become second nature.
However, road racing is more complicated; there are so many more factors involved. One local racing league has decided to help try and ensure the safety of those taking part in their events by introducing race-training sessions.
>>> Shopping tips for the best cycling nutrition (video)
After noticing an increase in crashes caused by poor riding, the Surrey League came up with this initiative to reduce the number of crashes caused by rider error.
Now every novice and fourth-category rider must attend two sessions before they are permitted to ride a Surrey League event, regardless of whether they have raced in previous years.
Training days are held on closed circuits across the South East region, with qualified British Cycling coaches and experienced riders on hand to give tips and advice.
>>> How to taper for a big event
The sessions aim to teach basic group riding as well as advanced skills needed in races. Skills taught include cornering, sprinting, attacking, holding a predictable line, being aware of riders around you, as well as working together in a breakaway.
Once two sessions have been completed, riders are given a card that they must present when signing-on. With the Surrey League providing racing for over 1,300 riders per year in over 150 races, improving the quality of racing plays a huge role in the safety of events.
Training sessions like these may be the answer to helping reduce crashes and rider errors. More regions offering similar sessions to novice riders could help ensure more UK racers are educated in how to avoid crashes and compete safely and effectively.
Glyn Durrant: Surrey League race director
Why did the Surrey League feel it was necessary to organise specific training sessions, and how have riders reacted to the compulsory sessions?
"We had been looking at ways to improve rider safety at our events for a number of years. After last season, the quality of riding got so bad that we felt we could no longer go on this way and put together these training days. We have introduced it to fourth-cats so far and are looking at ways to introduce it to third- and second-cats in the future.
>>> How far would you go to be a better cyclist?
"So far, 175 riders have completed the two required sessions and another 150 riders have completed their first session. The feedback has been very positive. Even riders who've raced for a few years said they learnt more in the first session than they'd ever learnt through racing. We have also had feedback from the first two fourth-cat-only series at Dunsfold Park that we have run this season. Riders have said they feel so much safer in the race than they have done before."
Charlotte Hayward
Charlotte Heywood is a novice racer who attended one of the Surrey League training events.
"We covered a massive array of things you would potentially need to be able to do properly in a race, from going round corners, getting used to bunch riding to race type scenarios. For a relative novice like me, it gave that experience of riding in a bigger group like you would have in a race. The race scenario exercises were fantastic and worked as a simulation of what a race might be like, making me more relaxed when it came to actually racing.
>>> Five dynamic exercises for cyclists (video)
"It gave me the initial confidence to actually go and race. Without that bunch riding practice, I wouldn't have felt comfortable being in a bunch. Doing the training definitely made me more relaxed and prepared for my first race.
"The sessions also gave me the opportunity to talk to other people who were getting into racing, which made me realise I wouldn't be the only one doing races as a novice. The advice from the coaches on which races would be good for beginners to enter and the various different course in the region was useful too."
Warming up, and why it's important
Thank you for reading 20 articles this month* Join now for unlimited access
Enjoy your first month for just £1 / $1 / €1
*Read 5 free articles per month without a subscription
Join now for unlimited access
Try first month for just £1 / $1 / €1