How to taper for a big event
Our guide talks about taking your foot off the gas as that century ride approaches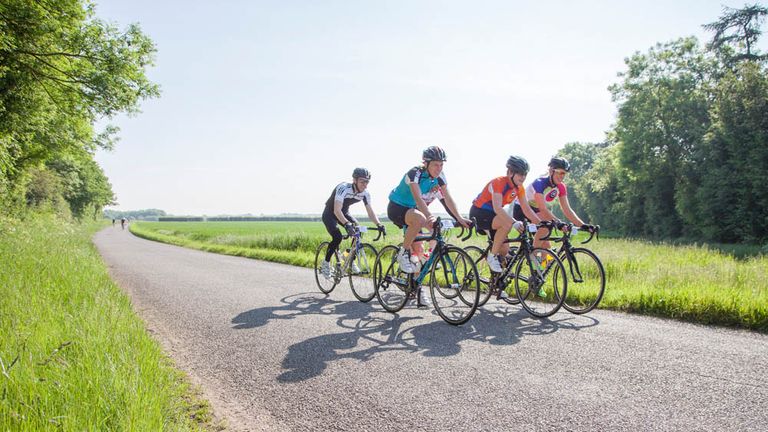 The art of tapering is underestimated, especially when you're targeting a big old ride this summer. Essentially, it involves spending a period of time before your event that allows you to maintain your fitness but lose fatigue. As Colin Batchelor of Total Cycle Coach (totalcyclecoach.com) explains: "The goal of any taper can be described with a simple equation: freshness, plus fitness, equals fun.
Our training plans for a century ride
But how best to work up to the serious mileage? Batchelor explains: "For a steady build-up, increase your weekend total by 10-15 miles a week, adding in some higher-intensity rides in the week."
"It's OK to keep some intensity in there to help support your development. But then as you are a week out, lose several of your midweek rides and drop your final weekend ride down to a couple of easy hours, if not less."
The key to your tapering period is to arrive at the event fresh enough to enjoy it, but without it feeling like an easy spin.
The essentials
Get into cycling, get fitter, or ride faster with our cycling training plans
>>> Tips for effective rest and recovery after cycling
Taper your training to lose fatigue
Build your mileage up gradually 
Drop your shorter rides first 
Start a taper two weeks out
It's simple stuff, but vital all the same. Get the balance of your training and recovery right and you'll finish the event with a smile on your face and start scouring the internet for the next one.
>>> Recover right: The three Rs of recovery
So assuming you've built up to 80-mile rides gradually, what should the nature of your taper be?
>>> Cycling Weekly's events guide
Of course, what you're naturally doing during this tapering period is aiding your recovery. Batchelor continues: "As you reduce your riding volume you gain more recovery time. That extra recovery time will help you shed fatigue.
Use your shorter training rides to put in some high-intensity efforts — these will help to develop your fitness more quickly.
Just as when you're beginning your training, it's important to make gradual changes to your training volume during a taper.
Key points
Start to taper your training when your century ride is about two weeks away. That way you won't be too relaxed by the time you line up for the ride.
Your final weekend ride should be no longer than two hours in duration, to ensure you're adequately recovered in time for the big one.
Words by Marc Abbott
This article first appeared in the April 30 edition of Cycling Weekly
"If you've been riding most days, adding in longer weekend rides as you go, then you could possibly be carrying a lot of fatigue," says Batchelor. "Depending on your athletic history I suggest starting a taper two weeks out, and gradually reducing your midweek and weekend riding volume.
Credit: Cycling Active
"But if you have too much recovery, for example a couple of weeks off before your century, then you will lose fitness and may struggle."
Even if you're incredibly time-poor, you can train for a century and incorporate an adequate taper with just one long weekend ride and a few others in the week.
"You can complete a century ride based on training that comprises a regular long weekend ride — no more than 80-85 miles — and a couple of midweek rides of around 60-90 minutes."
Asked what these rides should look like, he advises: "The midweek rides can be part of your commute even, and that weekend ride shouldn't be an all-at-one-pace plod — incorporate higher-intensity elements."