How to set a 10-mile time trial PB - experts reveal their top tips
Go faster than ever at the club 10 this summer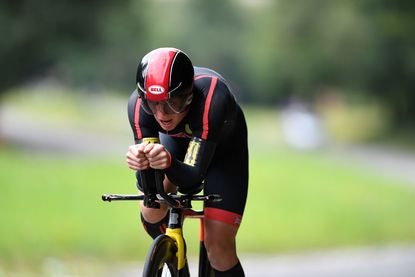 Ten miles is an iconic distance for British domestic time triallists. But how can you eke out every second possible this summer to set a new 10-mile PB?
"The key for any kind of training is to look at the demands of the event and then train specifically for them," says former national 10-mile record holder Matt Bottrill.
"It is about training above race pace. You need to look at doing four-minute Zone 5 efforts. That is how you are going to ride faster — not by practising 10-mile rides."
>>> Fabian Cancellara's top 11 time trial tips
Incorporating a couple of Zone 5 sessions into your weekly programme alongside a sweetspot session and a longer ride, ideally a club run, gives you the ideal training base for optimal 10-mile times. Bottrill emphasises the need to cover all these areas, as well as putting on the finishing touches.
"It's also about incorporating aerodynamics, looking at tri bars, aero helmets... Riding on tri bars, compared to riding on the drops, will save around two to four minutes depending on your original position. That's the key to getting faster;
it is not just one element in training — it's optimising speed, power and aerodynamics."
Watch: What are training zones?
Training and technique are evidently key factors, but you need to be mentally prepared too.
"Preparing and anticipating the pain and negative messages in advance is key," says Tom Hodgins from The Fitness Mindset.
"Training is a great time to rehearse pushing through the pain and putting long-term goals over immediate gratification — being able to maintain positivity in your head and manage the negative thoughts that come from the inner 'chimp'."
>>> The best time trial and triathlon bikes
A common psychological pitfall can be fear of the main event, perceiving the event as a threat rather than a challenge. This can have a severely negative affect on physiological performance.
"Cyclists who are able to put their long-term goals and priorities above short-term discomfort are more successful. Without a positive mindset and mental toughness, we won't reap the benefits of the physical efforts put in during months of training. Psychology and physical performance go hand in hand; neither should not be overlooked."
Top tips
Do: develop your core strength and flexibility, as manoeuvring into and holding an aerodynamic position on the bike is crucial to fast times. Working off the bike is crucial to achieving this.
Don't: forget to account for natural factors that can influence your performance such as ambient temperature, air pressure, wind direction and speed. Local knowledge should give you an advantage, so make sure you use it.
Do: analyse the course and highlight different aspects required for fast times. Pacing your ride may mean riding at an increased effort uphill and recovering very slightly on the downhill, rather than riding at a set wattage or effort level throughout.
Don't: despair if you fail to hit your target on your first attempt. Mastering the 10-mile TT requires practice. Why not ride one a month throughout the summer?
Essential points
Training above your threshold is crucial to improving your 10-mile time
Aerodynamic tweaks can prove very beneficial provided they don't surpass power losses
A strong psychological mindset helps defeat fear of the intense 10-mile effort
Thank you for reading 20 articles this month* Join now for unlimited access
Enjoy your first month for just £1 / $1 / €1
*Read 5 free articles per month without a subscription
Join now for unlimited access
Try first month for just £1 / $1 / €1