Five textbook mistakes to avoid when indoor training
Winter's fast approaching, so you will probably be reacquainted with your indoor bike trainer: here are the top five no-nos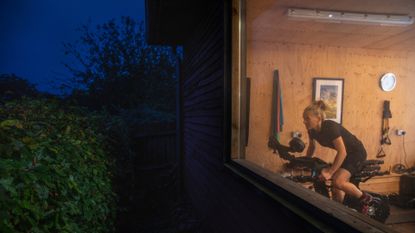 (Image credit: Future)
Get The Leadout Newsletter
The latest race content, interviews, features, reviews and expert buying guides, direct to your inbox!
Thank you for signing up to The Pick. You will receive a verification email shortly.
There was a problem. Please refresh the page and try again.
Turbo trainers: we love to hate them. But when the weather gets filthy then they're a necessary evil.
But seeing as you've forced yourself to get on the turbo, you may as well make the best of your time in the torture chamber, so just make sure you don't do any of these things.
Five mistakes to avoid when turbo training
1. Don't be a random thrasher
If you use the indoor bike trainer intelligently, it can be a seriously useful training tool. Rather than jumping on, giving it beans and hoping for the best, get a cycling training plan.
The secret of a plan is knowing where you are, where you'd like to be and how you're going to get there. An FTP test is the best starting point. Do a test then set a target.
A 10-15 per cent improvement in FTP is achievable over winter. To do that, you need a plan. Either get a coach or follow a training plan on one of the best indoor training apps for cycling, such as these stand-out training plans on Zwift.
2. Don't upset the neighbours
Indoor bike trainers can be loud. And guess what? The people in the flat downstairs probably aren't getting as much out of the session as you are.
Winding up the sound system to drown out the turbo whistle and roar isn't going to help much. Among the essentials you need to get started indoors (on a budget - or not) are trainer specific tires and training mats, and the best headphones for cycling with sound, as well as not training after 8pm, could all improve relationships with the neighbours.
Among the best smart turbo trainers there are a number of quieter models, in particular the Tacx Neo 2, that can allow those nearby to remain undisturbed while you train your heart out.
Splashing out on the top-of-the-line smart trainer might not be a great move if you're not sure you'll like the online turbo world.
But our advice is don't buy a indoor bike trainer that hasn't got smart in its name – it's old tech. You can get a really decent smart turbo at affordable rates these days – and even if you hate new style turbo training, you'll get a better resale value on one of the best cheap smart trainers than a dumb one.
We take a further look at the differences between cheap versus expensive turbo trainers here and discuss their impact on the experience of riding indoors.
3. Don't dismiss turbo training as "boring"
It used to be. Now it really isn't – or it doesn't need to be. You can do things like transfer your group ride or club chain gang indoors. You can race online in genuinely exciting, seriously competitive events on Zwift. You can find other people to ride with.
It all hugely increases both motivation and enjoyment. It involves some investment in the new tech toys for turbo training, but it's rewarding.
Don't forget: while you know fine well not to half wheel in real life, the same rules of the road, some of them unwritten, apply in the virtual world. Flying off the front in the neutralised section before the flag drops in an online race is not going to make you Mr Popular.
4. Don't go eyeballs out all the time
The best indoor cycling sessions for turbo training, by their very nature, are short and sharp. The temptation is to make every single one an hour of pure pain by winding the effort up to max and holding it there.
A couple of high intensity sessions (HIIT workouts) a week are beneficial, but rein it in now and again. If you're doing four or five turbo sessions a week, make half of them Zone 2 Endurance efforts.
This should feel around 3-4 on a scale of 1-10 or about 65% of HR max.
5. Don't get cooked
Probably the single biggest limitation to going hard on the turbo is over-heating. It's nearly always the reason that FTP test results inside are lower than test results outside.
If you base your winter training on an indoor FTP test that's too low, you're going to under-achieve.
A big fan that shifts a massive volume of air is essential to effective training indoors. Don't put the fan head-on – offset it a bit so air blows over the face and body.
The best indoor cycling clothing can also help keep you cool indoors, and also prevent saddle sores.
See that pool of sweat that's gathered just behind the front wheel and is even now slowly dripping off the top tube? That's liquid lost from your body. Condensation on the windows? That's liquid you've breathed out as you pant your way through that tough interval.
It's massively important to drink on the turbo – a litre an hour is not a bad place to start.
Thank you for reading 20 articles this month* Join now for unlimited access
Enjoy your first month for just £1 / $1 / €1
*Read 5 free articles per month without a subscription
Join now for unlimited access
Try first month for just £1 / $1 / €1
Get The Leadout Newsletter
The latest race content, interviews, features, reviews and expert buying guides, direct to your inbox!