How to look after your chamois
There's more than you think down there in your chamois — E. coli, salmonella and C. difficile, to name just three bacteria. We show you how to clean up without trashing your pricy duds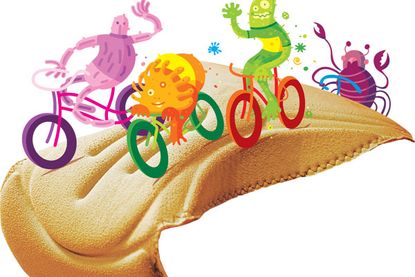 Top quality cycling kit that stretches, breathes and fits like a second skin is pricy, and these delicate and highly technological fabrics, like your chamois, need to be treated with respect if you are going to get long life from them.
Purveyors of your expensive Lycra have recommended a cool wash and mild detergent to keep your kit looking good but when you go to chuck your sweaty, stinking kit in the wash, is 30 degrees enough to keep it smelling fresh and, more importantly, bacteria free?
Hot or not?
When you're pedalling away, just like in any other sport, your sweat is absorbed into your shorts, which unfortunately makes it a perfect breeding ground for germs and various bacteria.
Proper hygiene with thorough washing in the nether regions and regular washing of your kit after every ride can help keep them at bay, but one of the issues with washing your beloved kit is that the hot wash required to eliminate these germs is not friendly to the fabric at all.
With a hot wash destroying the fabric as well as the germs stuck in the weave, and a cold wash not only being ineffective at eliminating these germs but also being particularly useless at removing any grime you might have on your kit, most cyclists are left with no option but to blast their kit in a hot wash if they want to get their kit hygienically clean.
Paul Ward from Paragon PE knows a thing or two about this conundrum having appeared on Dragons' Den with his range of superbug busting washing detergents.
Ward explains that the types of bacteria generally found in sports clothing include E. coli, salmonella, C. difficile and MRSA, with these bacteria coming from saliva, sweat and skin particles and also faecal matter, all of which can potentially get trapped in the weave of the clothing.
'Bacteria spores and fungi can live for months outside the body and under the right conditions start to multiply very quickly. Your cycling shorts are ideal breeding ground'
Despite sounding sinister, many of these bacteria live on our skin at all times and most of these are generally harmless, unless they enter the body and cause an infection. Staphylococcus aureus (SA) is a common bacteria that lives harmlessly on the skin and in the nose of around a third of healthy people.
However, if it gets in through a cut or abrasion it can lead to pimples, boils or more serious infections. MRSA is a particular type of SA that has developed resistance to several antibiotics.
Viruses such as influenza and norovirus can also be found on clothing through people coughing and/or wiping their noses with their clothing - all sounds a little icky, doesn't it?
Stop the rot
One protection for your immune system - and also your cycling kit - is Halo Sports Wash, which works at low temperatures. It has been scientifically proven to destroy superbugs including MRSA and C. difficile and is effective against listeria, salmonella, E. coli, H1N1, norovirus and fungus - so much so that it's used by the NHS.
Containing an ingredient called hygienilac, which has a kill rate of 99.9 per cent of the bacteria that most commonly cause food poisoning, it can thoroughly clean your clothes and all the bacteria trapped in the weave of the fabric, allowing clothing to breathe. As it works at low temperatures too, it can help your sports kit to last you a little longer.
After a ride you should always have a shower and sling your kit straight in the wash. However, for many of us who cycle to and from work it's not always that simple if we are without access to showers or fresh kit for the ride home.
Warm-up warning
If you are commuting then a good wash after your ride is essential even if that just means wet wipes or flannel. Drying out your shorts will make them more comfortable to put back on at the end of the day. However, if dried without washing as soon as the fabric warms up the bacteria can start to multiply.
This is another advantage to using a sports wash such as Halo, as hygienilac remains in the clothing and continues to work by stopping the bacteria's access to nutrients so they cannot grow and multiply. Good news if you need to put on the same shorts for the return journey, as this reduces the bacteria growth between morning and evening use, and the odour too.
If you don't have the luxury of a shower when you get to work then at least have a quick wash down. Liquid gel anti-bacterial products are great for your hands and can be used in other areas too. One great product for your kit bag or desk drawer is Byoshower.
'71 degrees is the water temperature needed to kill bacteria'
It's designed specifically for camping and sports, it doesn't require water but still cleans, helps prevent odours and provides long-lasting protection against germs and bacteria for more than eight hours - enough to get you through a working day.
Halo sports wash is available from www.germwarfare.co.uk Byoshower is available from www.byoshower.co.uk
Are you sitting correctly? Make sure the saddle suits you
Thank you for reading 10 articles this month* Join now for unlimited access
Enjoy your first month for just £1 / $1 / €1
*Read 5 free articles per month without a subscription
Join now for unlimited access
Try first month for just £1 / $1 / €1
Founded in 1891, Cycling Weekly and its team of expert journalists brings cyclists in-depth reviews, extensive coverage of both professional and domestic racing, as well as fitness advice and 'brew a cuppa and put your feet up' features. Cycling Weekly serves its audience across a range of platforms, from good old-fashioned print to online journalism, and video.