What can we learn from the mindsets of the pros? Tom Pidcock, Ashleigh Moolman-Pasio and others share their outlooks for success
Could your cycling benefit from an illuminating shift in thinking? Sports psychologist Dr Josephine Perry outlines 10 proven lightbulb moments – switches waiting to be flicked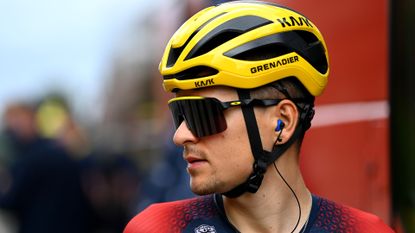 (Image credit: Getty Images / Tim de Waele)
Get The Leadout Newsletter
The latest race content, interviews, features, reviews and expert buying guides, direct to your inbox!
Thank you for signing up to The Pick. You will receive a verification email shortly.
There was a problem. Please refresh the page and try again.
Mind-altering lightbulb moments are rare in cycling, but when they come, they can change forever how we think about our habits and beliefs. Six-time Olympic champion Chris Hoy provided one of my all-time favourites when he talked about overcoming his debilitating nerves by learning to translate them from threat signals into a wellspring of excitement. In summing up this shift, he said: "I'm no longer anxious – I am adrenalised!"
That such changes are possible proves that there is no universal 'winning mindset' to be emulated or adopted wholesale. To be successful, we do not need to cut and paste a formula that tells us exactly how to be. Instead, we must pick and choose the techniques, tools and approaches that complement our character, temperament and routine – finding our own 'lightbulb moments' along the way.
Here are 10 to try for size – who knows, the right one might just flick the switch to take your riding to the next level.
1. Prioritise the process
As a sports psychologist, the hardest and most counter-intuitive message I give to athletes is that sometimes it is best not to try to win. We must train really hard, master new skills and develop great tactics – but it's making these elements more important than the potential outcome that makes you successful.
Admitting that the outcome is unknowable can feel frightening – 'But what if I don't win? Won't that mean failure?'. When your brain feels under threat, your body reacts viscerally (unsettled stomach, faster breathing, higher heart rate, tight muscles, tunnel vision, etc) and your performance takes a hit. If you focus instead on amassing mastery, developing skills and fitness, then you're more likely to stay in control. The extra headspace frees you to focus on tactics, making you much more likely to ride to your full potential.
It worked for me: Former national champion Steve Cummings, now sports director for Ineos-Grenadiers, shares an experience from his early days as a senior: "I was 18 and riding in the GB track team, and I got really caught up with the fear of failure. Working with [sports psychiatrist] Steve Peters, I realised that I had to own the fear if I was going to succeed and get selected. Sure, I might fail, but if I didn't try, someone else would definitely take my place. So every time I put my leg over my bike, it was all about giving 100% – and that became an obsession. My fear was no longer failing but not trying my best."
Steve Cumming's shared his 15 life lessons in staying ahead over here.
2. Repeat your mantra
A motivational mantra is used in tough moments on a ride or race when you come up against an obstacle, be it a gruelling climb, a lack of energy, getting dropped or feeling afraid. You repeat it over and over to remind you why you are putting yourself through this discomfort. An effective mantra is emotive, short, positive and powerful, and to resonate deeply it must be personal, so you can't steal mantras from the pros – though Jens Voigt's 'Shut up legs' does still appeal!
It worked for me: Antony Butcher, 33, from Ilkley, West Yorkshire, recently rode across the US to fundraise for a Multiple Sclerosis charity. "When cycling reached its toughest moments, when continuing seemed like a self-inflicted punishment, and the decision to ride passed from rational to irrational, I remembered my reason for riding – to raise funds to support people like my mum, living with MS." His mantra was: "Mum can't take a day off from being ill, so neither can I." It meant quitting was just not an option for him.
3. Soothe your inner critic
Sometimes it seems that your kind, encouraging words to yourself are drowned out by the loudness of the inner critic in your head. We all have one of these, and on bad bike days they can get loud – popping up to tell you everything you are doing wrong or could do better. When we learn how to calm that critical voice, we're better able to enjoy our riding.
It worked for me: Peter Rowland is 63 and rides in Gloucestershire. He found the best way to soothe his inner critic is to create a separation between his thoughts and his body. "I ask myself a simple question: 'How do you feel, apart from your thoughts?' I find it helps take me out of my head so I can just focus on another 20 minutes of riding, then another, until the critic dies down."
4. Be thankful
Gratitude is one of the unsung heroes of sports psychology. It can feel aspirational rather than essential and yet some riders have made it the core of their performance. It is a great way to shift perspective, as it can help you see talent as a gift rather than a pressure; turbo efforts as an investment rather than an irritation; and racing as a challenge rather than a threat. Also, the brain can't process gratitude and envy at the same time – which is incredibly helpful to know in a sport like cycling where comparing ourselves to others is a constant temptation. Being thankful is a shortcut to a more balanced, less toxic mindset.
It worked for me: Steve Cummings saw the benefits of gratitude when he raced for Team MTN-Qhubeka / Dimension Data. "We learnt to celebrate the small things – and there is a bigger lesson there. I have tried to bring this into our team, as it is important to celebrate and be thankful for the process."
5. Visualise what you want
Our brains are so adaptable that simply imagining a scenario is enough of a stimulus to build new neural connections that actually aid performance. We do still have to get on the bike and train, of course, but visualisation of success and skills is an effective supplement to the physical practice – without risking injury or additional fatigue. It helps familiarise us to what lies ahead.
It worked for me: Ashleigh Moolman-Pasio (SD Worx) recently took the overall victory at the Tour de Romandie Féminin, and on Stage 2 even out-kicked Annemiek van Vleuten. The South African used visualisation to do this. "With visualisation, you subconsciously process an event as if it is real or as though it's already happened. It helps you build confidence in yourself and enact the plan on the day. I had been visualising dropping Annemiek for the Tour de France and then it never happened, but I hung on to [the mental image] and then, in this race, when my body was screaming and hurting, really painful, believing I had done this before made a big difference."
6. Get aroused
All riders have an optimal level of arousal, similar to excitement, where they can extract their best performance. Either side of it – with too few nerves or too much anxiety – you fail to perform so well. Finding your personal arousal zone requires you to become intentionally conscious of how you feel before each event. Reflect afterwards how this impacted you, and when you spot positive correlations, think about the best things to incorporate in your pre-race routine.
It worked for me: Katie Krauska races for Femme40 Racing in the US and came into cycling after spending her teens elite-level sailing. It was while tackling her pre-race anxiety on the boat that she realised she needed to get into an optional zone of functioning – and brought this awareness over to her cycling. "A lot of my anxiety came from my expectations and trying to predict the future. I learnt to be really present and focused on what I was feeling in my body much more than on what my mind was telling me."
7. Tame your chimp
Psychologists have lots of different words to describe the system in our brain that scans for physical or psychological threats and generates an often unhelpful physiological response. Officially it is known as the amygdala but that isn't the snappiest term, so an alternative and very popular descriptor for it, coined by former British Cycling sport psychiatrist Professor Steve Peters, is 'the chimp'. It is a really neat way of helping riders identify those moments when it feels like an irascible animal has hijacked their usually sensible, rational decision making capacity. Noting the 'chimp' is out becomes a shortcut to acknowledging we might be riding with our heart not our head and that we won't always make the best decisions in this state.
It worked for me: Steve Cummings used the chimp analogy when he was at Team Sky and uses it now in his role as DS at Ineos-Grenadiers. "In our team, the chimp model is used a lot between riders. It gives you a smile when you can say, 'That is not you – that is your chimp'." He remembers this coming into play when he rode at BMC with Cadel Evans. "Cadel is 90% chimp on a bike but you could sympathise because he was under pressure; he had won the Tour and it was the high bar he had set."
8. Design a world
Given you're reading CW, cycling is more than just a means of getting from A to B – it's a world in which we are immersed. This means you need your cycling environment to feel comfortable and safe. While you can't do much about the external dangers on the roads, you can seek out positive people who can help you to relax, learn and become a better rider.
It worked for me: Pro US cyclo-cross rider Corey Coogan Cisek worked with a sport psychologist when she was having difficulties within her coaching set-up. The 45-year-old had to face that it had become toxic and she needed to leave. "I had to rebuild my cycling community of people who would be there for me."
9. Embrace discomfort
The phrase "get comfortable with being uncomfortable" is a little cheesy but it describes well the approach we need if we are to push ourselves to realise our potential. If we don't fear discomfort and instead lean into it, the knowledge gained helps us reach our goals.
It worked for me: With 13 Paralympic golds to her name, Sarah Storey is something of a specialist in embracing discomfort. "I'm a bit masochistic. I don't mind feeling uncomfortable, it is part of the process. As a professional athlete, if you are not outside of your comfort zone, you are not doing it right."
10. Find your own path
Finally, we all have our own reason to ride. Knowing that reason and being able to stick to it is vital. However, this can be difficult within a team environment, as a rider may lose their sense of autonomy about how and where they ride. Recapturing that personal motivation can help you to get the best out of yourself.
It worked for me: Steve Cummings advised Tom Pidcock on attacking the Alpe d'Huez stage at this year's Tour. "When Tom and I discussed the possibility of his winning [Stage 12], he asked how. I turned it around and said it is up to you. I try to see it through their lens. It was his choice to go when he moved and it was bang-on."
Josephine Perry's book The 10 Pillars of Success covers the 10 psychological characteristics most associated with success in sport.
This full version of this article was published in the print edition of Cycling Weekly. Subscribe online and get the magazine delivered direct to your door every week.
Thank you for reading 20 articles this month* Join now for unlimited access
Enjoy your first month for just £1 / $1 / €1
*Read 5 free articles per month without a subscription
Join now for unlimited access
Try first month for just £1 / $1 / €1
Get The Leadout Newsletter
The latest race content, interviews, features, reviews and expert buying guides, direct to your inbox!
Dr Josephine Perry is a Chartered Sport and Exercise Psychologist whose purpose is to help people discover the metrics which matter most to them so they are able to accomplish more than they had previously believed possible. She integrates expertise in sport psychology and communications to support athletes, stage performers and business leaders to develop the approaches, mental skills and strategies which will help them achieve their ambitions. Josephine has written five books including Performing Under Pressure, The 10 Pillars of Success and I Can: The Teenage Athlete's Guide to Mental Fitness. For Cycling Weekly she tends to write about the psychological side of training and racing and how to manage mental health issues which may prevent brilliant performance. At last count she owned eight bikes and so is a passionate advocate of the idea that the ideal number of bikes to own is N+1.