1.4 million filled in, but no solution on the horizon: Join Cycling Weekly's war on potholes
The UK's crumbling roads are a serious hazard for every cyclist. Adam Becket investigates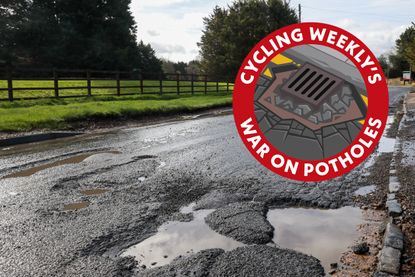 (Image credit: Getty Images)
Get The Leadout Newsletter
The latest race content, interviews, features, reviews and expert buying guides, direct to your inbox!
Thank you for signing up to The Pick. You will receive a verification email shortly.
There was a problem. Please refresh the page and try again.
While researching the UK's growing pothole problem, I didn't expect another incident to occur, yet such is the terrible state of the roads, it did.
On the way home from a club ride in the middle of August, in good conditions, a rider in my group went over a pothole, and came down hard. There might have been no serious injuries, but still road rash to be soothed, and bike parts to be sourced.
"The rider in front warned of a pothole but I didn't manage to move in time so hit the side of it and my hands came off the bars, I came down on my right side and slid along the road for about 25 metres," my ride buddy Rich Thomas explains. "I also took out the rider behind me who rode into the back of me and went over their handlebars.
"I suffered road rash and grazing to my right shin, thigh, arse and elbow. I did about £250 worth of damage to the bike and about the same again in kit. The accident could have been a lot worse if the car behind hadn't reacted quickly or if we had been travelling any faster."
It could have been much worse. During 2017-2021 in Great Britain, 118 bike riders were killed or seriously injured due to a defective road surface, with six killed. These are just the official statistics from the Department of Transport; the reality of minor, all-too-common accidents hiding in plain sight.
Look at the state of British roads and those numbers are not surprising. There are 22,600 miles of roads classed as RED (poor overall condition), according to the Asphalt Industry Alliance (AIA) Annual Local Authority Road Maintenance (ALARM) survey, which 75% of local authorities in England and Wales responded to. In 2022 1.4 million potholes were filled in, and yet it is still a problem that is not going away.
I'm sure we have all had experiences with them, stories that we can whip out at a moment's notice. There was the time I cycled over a pothole at about 50km/h, casually blowing out both my tyres; somehow I managed to skid, on my two flats, to a stop.
As Thomas pointed out, it isn't just the physical cost from poor road surfaces that impact cyclists, but the material cost too, at a time when few can afford the repairs needed. A puncture there, a broken road bike wheel here, it quickly adds up.
This is what happened to Tom Portsmouth, an up and coming British rider on the Bingoal WB Development Team, when out riding in Surrey earlier this year.
"I wasn't paying enough attention to the road but also people were pointing them out early enough," he tells Cycling Weekly. "There were two on this particular ride that I just absolutely clattered into. The first one, I got a puncture, then I broke the wheel on the second. They've now filled in the second one but the first one is still there."
"They were particularly bad at the end of the spring when we'd had that rain and that period was very bad. As that weather system settled down, they have sorted out. Thankfully, there have been some improvements. Still, there's quite a few massive ones around. And they just keep appearing once they fill them in. They are a temporary job."
Cash strapped
It does not have to be this way. Anyone who has ridden in another country knows the road can be smooth, even somewhere with more inclement weather than the UK.
What's the problem? The short answer is money. Speaking to people across local government, the biggest issue that comes up is the continued impact of the austerity measures imposed by successive Conservative governments since 2010.
Roads and potholes are clearly a problem that councils and unitary authorities want to be on top of; they are one of the clearest signs that a body is doing its job, along with collecting its bins on time.
However, they are just one of many key services that have to be provided. It's easy to rage at a council for not fixing a known pothole, but that council might be struggling to provide its social care. There are tough choices to be made.
Average highway maintenance budgets across England and Wales increased by 4.5% to £25.8m per authority in 2022, according to the ALARM survey, but this does not keep pace with the impacts of rising inflation and in fact represents a cut in real terms.
In fact, the shortfall in road maintenance budgets in England and Wales is £1.30bn. The ALARM survey asked its respondents to estimate how much it would cost to address the effects of the legacy of shortfalls in budgets and bring their road networks up to scratch, and the figure was £14.02bn, or £106.0m per local authority. It means a maintenance backlog of £68,254 per mile of local road in England and Wales.
Even with the money, it would take 11 years to get roads up to an acceptable condition, according to the AIA's research. It is a problem that the government is aware of. An extra £200m a year was put into a "pothole fund" in this year's budget, on top of the £500m already given to local authorities a year by central government to tackle the issue. It is, however, barely scratching the surface of the problem.
"It's a fraction of the amount local authorities have reported over decades that they need to keep their networks to target conditions, let alone tackle the backlog of carriageway repairs," the AIA's Rick Green said at the time.
"The chancellor is right to recognise that potholes on our local roads are a curse, but the key thing is they are not inevitable, they are the symptom of a network underfunded for many years.
"Unlike other transport networks, there is no visible long-term investment plan for local roads and without one, road users won't see any real improvement in structural conditions on the roads they use every day and on which all other locally provided services rely."
Weather is also to blame, with climate change bringing more difficulties. A wet, cold winter is a disaster for the road network, and the difference between this and increasingly hot summers creates havoc on the tarmac.
"The combined impacts are more acute on evolved and often less well maintained – and therefore less resilient – roads, where water can penetrate existing cracks or defects, leading to the formation of potholes and, in time, undermine the entire structure of the road," the ALARM survey says.
Cyclists suffer
It is cyclists that have to often bear the brunt of Britain's crumbling roads. An SUV might glide over a fissure in the road that could see a bike rider thrown off, a puncture suffered, or at the very least be forced to swerve. Swerving can be as bad as going through it, think of the unsighted driver.
The road surface always seems at its worst at the edges, where a cyclist would normally ride, to allow motor traffic to pass safely.
A close pass from a car might force you onto a crack in the road, or you might encounter a grate or a piece of manhole cover that you simply have to ride over.
It isn't just everyday cyclists which the potholes impact, either. The state of Glasgow city centre's road surfaces was a talking point at the recent World Championships in Scotland.
Segregated bike lanes are a whole different issue, with funding not given for repairs to these, the limited funding being for the roadway only. It's 'here's your bike infrastructure, good luck'. If you needed any more proof of the UK's "cycling revolution" being all talk and not action, then it might just be this.
In a country with high inflation, consistently high and increasing food bank use, housing issues and a health service seemingly constantly in crisis, one might think that potholes are a lesser symptom of national decline.
However potholes are important as a bellwether for a state that is faltering or unable to look after itself, and a problem for us all.
Action Points: Cycling Weekly's war on potholes
We want to get you involved in putting pressure on the UK authorities to deliver the quality roads we all deserve. Some of that might be by writing to your council or MP but also just reporting the perilous state of the UK roads will help push it up the agenda.
Here's our three goals:
- Double the volume of potholes reported through the fillthathole.org.uk website to over 1,000 a month.
- Get all political parties to put vulnerable road users at the heart of their road strategy and maintenance decisions.
- Get all political parties to commit to reversing the decline in local roads funding
This is just the beginning, not the end, of this campaign - keep your eyes peeled for interviews with politicians, first-person stories from those affected, and pieces on what is being done to tackle the problem.
If you have experienced an issue with potholes while out cycling, please email in to tell your story: cycling@futurenet.com
Thank you for reading 20 articles this month* Join now for unlimited access
Enjoy your first month for just £1 / $1 / €1
*Read 5 free articles per month without a subscription
Join now for unlimited access
Try first month for just £1 / $1 / €1
Get The Leadout Newsletter
The latest race content, interviews, features, reviews and expert buying guides, direct to your inbox!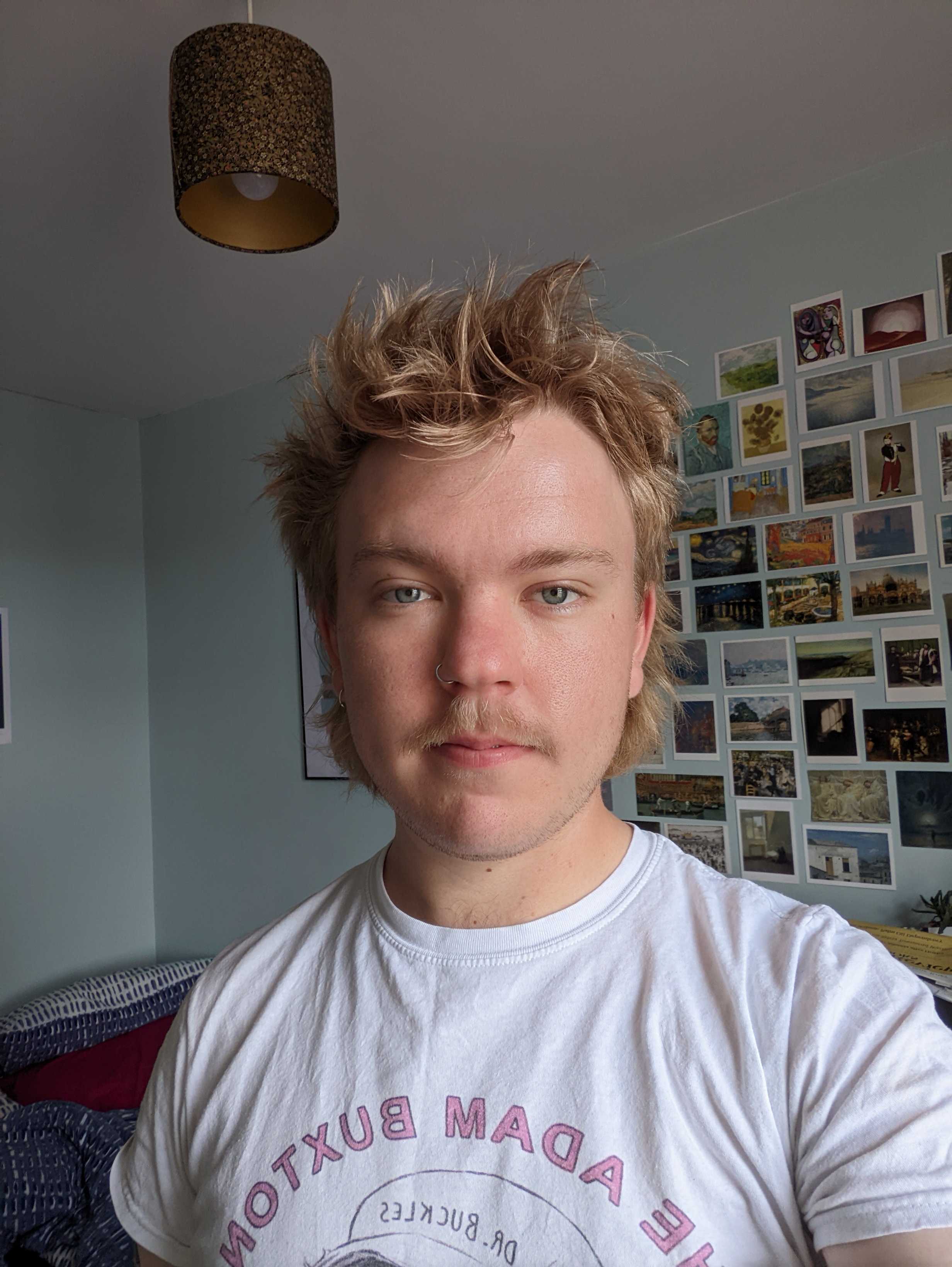 Senior news and features writer
Adam is Cycling Weekly's senior news and feature writer – his greatest love is road racing but as long as he is cycling on tarmac, he's happy. Before joining Cycling Weekly he spent two years writing for Procycling, where he interviewed riders and wrote about racing, speaking to people as varied as Demi Vollering to Philippe Gilbert. Before cycling took over his professional life, he covered ecclesiastical matters at the world's largest Anglican newspaper and politics at Business Insider. Don't ask how that is related to cycling.