A love letter to Shimano 105
There might be better groupsets, but why would I want them when I love my trusty 11-speed?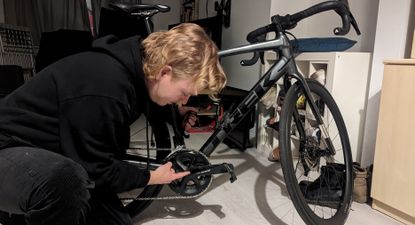 (Image credit: Getty Images)
This article is part of a series called 'A love letter to…', where Cycling Weekly writers pour praise on their favourite cycling items and share the personal connection they have with them.
The below content is unfiltered, authentic and has not been paid for.
At first, I baulked at this series, because the idea of saying I love an item that I bought seems like a ridiculous part of late capitalism. But I really do love my bike because it is everything for me, and I love the things that make my bike work.
One of those things, crucially, is my Shimano 105 groupset. Every bike has one, every bike needs one, but my bike has 105, 11-32T 11-speed, and that's all I'll ever need, and I love it.
Cycling is no longer a sport for peasants. The sport which emerged out of a simple mode of transport has become the new golf, an activity of business executives and urban professionals. With this, the very top bikes and gear have become out of reach for many.
While professional cyclists ride around with the very best equipment, with the best components that is but a pipe dream for the rest of us, who have to make do with the best thing that is affordable.
While athletes swan around using top-of-the-range Shimano Dura-Ace, and those with racing aspirations (or deep pockets) choose Ultegra, the real people amongst us choose 105. That's right, if you're a man/woman/person of the people, you should be riding 105. And not the new electronic one either, but the purely mechanical 11-speed version.
It is all you need for riding your road bike. While I have been wowed and impressed by bikes with Dura-Ace on, and excited by the possibilities of wireless shifting, the truth is, in my day-to-day bike riding, I need just 22 gears, controlled by a bit of wire, and that's about it.
105 never (well, hardly ever) fails. It provides everything for me whenever I need it, going up or down hill, wherever I am, in whatever the conditions. It never moans, or needs to be treated nicely, or demands charging at inopportune moments. If you clean it, and look after it, it will help you and your bike get to where you want to be. Simple. It's perfect for what I want.
There are weight-saving and performance benefits from more expensive groupsets, I get that. But seeing as I am not trying to break any land speed records, or win any races, 105 does me just fine, but it's more than that, it's everything I need. 105 would blow the mind of a rider from 40 years ago. I know there's a 12-speed version now, but I'm happy with my 11 cogs, thanks. That covers just about every pace I want to go at. It's a plucky groupset that punches above its weight (which is still not a lot, incidentally) it's still a great performance bit of kit.
Calling it the groupset of the people might be a bit tongue in cheek - it does cost £549 all in, for the mechanical 11-speed version - but that is so much less than Ultegra and Dura-Ace, and it's a great addition to my bike. I'm also claiming the ability to feel good about using a cheaper groupset to do the same riding as someone with a fancier one.
It has never let me down, and I trust it with my life for braking, and for providing me with the perfect gear when I need it. There was that one time I tried to change many gears while going up a 10% hill, my chain came off, and I hit the deck, but that was my fault, not that of my beloved groupset. Wireless shifting might have helped, but so would just a bit of thought, really.
Ultegra or Dura-Ace is essentially waving a flag saying that you've spent a lot on a bike, while using 105 is just normal, and great. It does the job really well, and doesn't attract unwanted attention. Exactly what I want. It's middle of the pack, but it can be used to be just as quick as the others.
It's hardy, too. My cassette did about 10,000km before it required being replaced, while the chain has lasted about 3,000km a time. It keeps going. Meanwhile, the front chain rings and the shifters, and the derailleurs, are still OK, plugging on. Why would I want to try anything different?
All of this is just to say, I feel good about riding 105. It is excellent, I don't need a better groupset, and all the time I feel like I'm a man of the people out and about on my bike, pretending cycling is still a peasant sport. Simple.
Thank you for reading 20 articles this month* Join now for unlimited access
Enjoy your first month for just £1 / $1 / €1
*Read 5 free articles per month without a subscription
Join now for unlimited access
Try first month for just £1 / $1 / €1