Addison Lee boss rants against London cyclists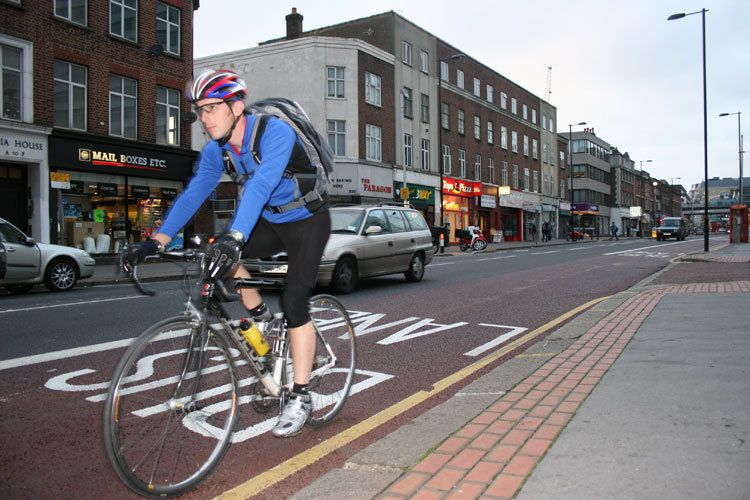 The boss of one of London's largest taxi firms, Addison Lee, has caused outrage among the capital's cyclists after he said that cyclists are putting themselves in danger and should pay up to ride on the city's roads.
John Griffin's comments came as part of an editorial written for the company's AddLib customer magazine. The piece has now spread across the internet as cyclists rail against his sentiments.
"Green party candidates and others are up in arms about what they see as the murder of cyclists on London roads," wrote Griffin.
"This summer the roads will be thick with bicycles. These cyclists are throwing themselves onto some of the most congested spaces in the world. They leap onto a vehicle which offers them no protection except a padded plastic hat.
"Should a motorist fail to observe a granny wobbling to avoid a pothole or a rain drain, then he is guilty of failing to anticipate that this was somebody on her maiden voyage into the abyss," continued Griffin. "The fact is he just didn't see her and however cautious, caring or alert he is, the influx of beginner cyclists is going to lead to an overall increase in accidents involving cyclists.
"The rest of us occupying this roadspace have had to undego extensive training. We are sitting inside a protected space with impact bars and air bags and paying extortionate amounts of taxes on our vehicle purchase, parking, servicing, insurance and road tax. It is time for us to say to cyclists 'You want to join our gang, get trained and pay up'."
Green Party London Assembly member and mayoral candidate Jenny Jones has called for a boycott of Addison Lee cabs in protest against Griffin's comments.
"These remarks demonstrate a shocking disregard for the lives and safety of London's growing number of cyclists and road users in general," said Jones.
"To suggest that the victims of road traffic incidents only have themselves to blame is horrifically offensive to the families of those who have lost their lives or been injured on London's roads."
A cyclists 'die-in' flashmob protest outside Addison Lee's offices has been organised via Facebook for Monday April 23 at 6pm.
Griffin has been a the centre of controversy in the past week for telling his estimated 3,500 drivers to use London bus lanes. Currently, only bicycles, motorcycles, buses and black cabs can use the lanes. Any other user risks being fined, but Griffin has said that he'll gladly pay the fine of any Addison Lee driver that uses the lanes.
Griffin says that it is unfair that black cabs are allowed to use the lanes, but his private-hire taxis are not. He says that it is leading to loss of business as his cabs are held up in regular traffic.
The move has embarrassed Conservatives, and in particular Mayor of London Boris Johnson. Johnson has advised Transport for London to take legal action against Addison Lee. However, the taxi company assisted Johnson in his mayoral campaign by donating £25,000. The company has also donated £250,000 to the Conservatives in the past.
Cycle safety has been pushed high on the political agenda this spring after the Times newspaper started its Cities Fit for Cycling campaign. As a result, a three-hour cross-party parliamentary debate took place in February in an attempt to address cycle safety issues.
Related links
MPs turn out in force for parliamentary cycle safety debate