Alex Peters wins Les Ingman Memorial road race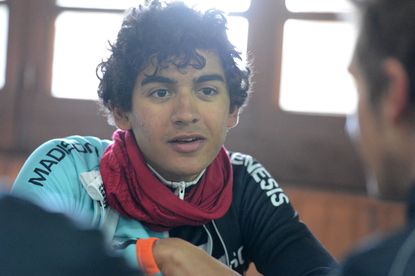 Alex Peters (Madison Genesis) secured a well-deserved victory in the Les Ingman Memorial, staged by Norwood Paragon CC at Bletchingley, Surrey, on Sunday.
Securing his first win of the season, the 19-year-old Stoke Newington-based rider crossed the line alone after attacking mid-race with Pedal Heaven RT's Chris McNamara.
But after one lap together Peters' pace proved too much for his rival, and he went on alone, crossing the line almost two minutes clear of his nearest rival, Ben Stockdale (Metaltek-Knights of Old), who was another two minutes ahead of team-mate Matt Pilkington in third.
Node 4-Giordana's New Zealand rider Dan Barry took victory in the Drummond Trophy in Scotland, crossing the line ahead of Team Raleigh's Evan Oliphant in a three-up gallop at the end of the 87-mile race around Strathaven.
The 25-year-old held off Scot Oliphant, having worked well with Node 4 team-mate Nathan Edmundson to stay clear. Node 4 also had Richard Hepworth placed fifth on their journey north of the border.
Ian Wilkinson (UK Youth) became the first rider to win two editions of the Rutland-Melton International CiCLE Classic at Oakham when he won the 2013 race on Sunday (see separate report for full details).
He took a sprint victory ahead of Madison-Genesis rival Ian Bibby, while Team Raleigh's Eric Berthou was third.
In Essex, 23-year-old Lloyd Chapman (Glendene CC) powered to victory in the Ken Wright Memorial Road Race at Peldon on Sunday.
He won in a four-rider sprint for the line, with CC Luton's Douglas Coleman second and Wayne Crombie (East London Velo) third.
In Derbyshire, Carl Dyson (Clay Cross RT) took a narrow victory from team-mate Alastair Hepworth in the latest round of the East Midlands Road Race League, promoted by Beeston RC on Sunday.
And in East Yorkshire, experience proved key for Julian Gromett (Squadra RT) who won the We Love Mountains Road Race at Walkington, holding off Langsett Cycles' James Allen for the win.
Team Leapfrog's Mark Dziobon proved victorious in the latest round of the CDNW Road Race League, staged at Wincham in Cheshire.
He won a three-up sprint finish to the 90-kilometre Ron Park Memorial, holding off Martyn Gordon (Champion System) for the win.
Read Cycling Weekly magazine on the day of release wherever you are in the world with our iPad and iPhone edition - International digital edition, UK digital edition. And if you like us, rate us!
Related links
Ian Wilkinson sprints to CiCLE Classic victory
Thank you for reading 20 articles this month* Join now for unlimited access
Enjoy your first month for just £1 / $1 / €1
*Read 5 free articles per month without a subscription
Join now for unlimited access
Try first month for just £1 / $1 / €1