Armstrong to feature at Edenbridge bonfire night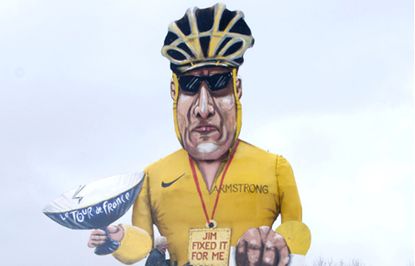 A giant effigy of Lance Armstrong will be burned in Edenbridge, Kent on Saturday as part November 5 bonfire night celebrations.
The Edenbridge Bonfire Society selected Armstrong in the wake of a damning U.S. Anti-Doping Agency report that saw the American stripped of his seven Tour de France titles.
The 31ft, steel-frame structure shows a caricature of Armstrong holding a poster that reads, "For sale, racing bike, no longer required" as well as a necklace reading "Jim fixed it for me", which is a reference to disgraced television identity Jimmy Savile.
"We had a shortlist which included Jimmy Savile but it was decided it would not be nice to use him as a lot of children attend the bonfire and they might start asking their parents questions," Society co-ordinator Charles Laver told The Telegraph.
"Then we had George Osborne but he hasn't really got a face that everyone knows and he's just a chap in a suit. We felt he would be a bit boring.
"We started to do Abu Hamza but then we decided we weren't entirely happy to do him, so Lance Armstrong came out of the woodwork.
"He's better because he's brighter... We're very pleased with it."
A 30ft Lance Armstrong in a field in Edenbridge, Kent. Picture Andrew Hassons / Rex Features
Thank you for reading 20 articles this month* Join now for unlimited access
Enjoy your first month for just £1 / $1 / €1
*Read 5 free articles per month without a subscription
Join now for unlimited access
Try first month for just £1 / $1 / €1