Barker's unexpected silver medal Worlds ride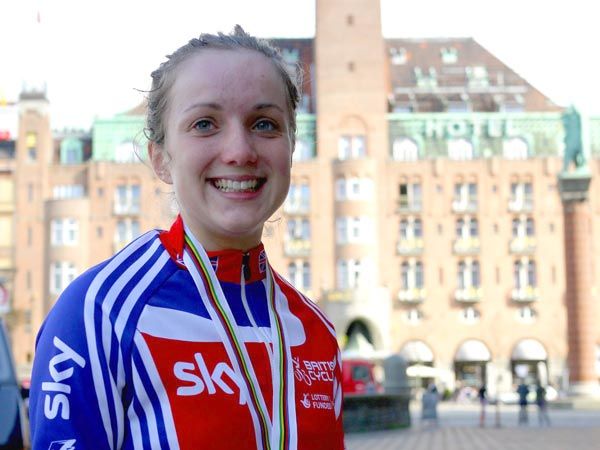 Elinor Barker from Wales won a silver medal in the junior time trial this morning. The attention was on Hannah Barnes to win Great Britain's first medal in the World Championships in Copenhagen, but 17-year-old Barker came through instead.


"I didn't expect to do that well," Barker told Cycling Weekly. "When I stopped and they told me I was the leader, I said, 'No, you're joking!' I thought I'd come 11th and there was a mix up."
Barnes won the gold medal in the event at the Commonwealth Youth Games earlier this month. A puncture on the slightly damp course today, however, slowed her down. Only 200 metres into the 13.9-kilometre event, she stopped to change her rear wheel.
Germany's Mieke Kröger watched it all from the hot seat. She set the time to beat, 19 minutes and 21.43 seconds, early in the day. It lasted until the final four riders raced to the finish line, including Barker, who took bronze at the Commonwealth Youth Games.
Barker was behind Kröger after the first check at 6.7 kilometres, but pulled back time towards the finish line.
"She really squeezed it on in the back part of the ride," said British coach, Matt Winston. "That's where she comes to life. She's a really strong bike rider and can really dig in and hurt herself."
Her time, 19 minutes and 20.47 seconds, pushed down Kröger to second and put her in the hot seat. Only Australian Jessica Allen rode faster, winning her first rainbow jersey with a time 1.84 seconds faster.
Barnes placed 19th, at 20-32.87.
"I didn't really feel that much pressure, really," said Barker. "Hannah is the time trialist, most of the focus was on her. I felt relaxed."
Barker and Barnes will team up with two other British women for the road race on Friday.
Related links
Barker takes silver for GB in Worlds junior TT
Road World Championships 2011: Cycling Weekly's coverage index