Barry: Pro cycling needs to be restructured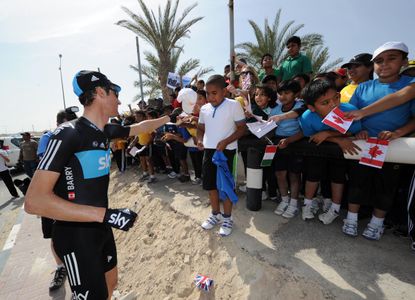 Former Sky cyclist, Michael Barry suggested a cycling league may make the sport safer and help eliminate doping. A week after his testimony in the Lance Armstrong investigation became public and he admitted he doped, he outlined problems that exist in the cycling's structure.
"Pro cycling needs to be restructured," Barry wrote in the NY Times. "Cycling must follow the long-established pattern of most pro sports, developing a league in which teams are stable and sustainable and where all profits are shared."
Several top players in cycling have discussed creating a league in the last year. Bloomberg News reported on September 30 that Gifted Group Ltd tried to strike a deal with the Union Cycliste Internationale (UCI) for a 10-race series. Part of the proposal would be a television package that would allow teams a stake, something Jonathan Vaughters pushed for in his role as head of the International Association of Professional Cycling teams (AIGCP). Vaughters said this year that he was trying to work with the Giro d'Italia organiser to give teams a share of the TV revenues.
"Pro teams, which are financed with sponsorship and do not share in television rights, are a liability," Barry wrote. "Their existence is dependent on victories and results points maintained by UCI. Teams that do not continue to build points lose their position in the WorldTour, the elite group of teams allowed to race in the top events like the Tour de France. Sponsors' money swiftly disappears.
"The continual pressure to perform and to survive results in poor judgment and bad advice. When teams and riders are always in survival mode, ethical lines are easily crossed."
Barry explained that many times he continued racing with broken bones and pointed to cyclists going ahead, encouraged by their sports directors, with concussions. The pressure to survive and not return home a failure, he said, led some to dope.
In his testimony with the US Anti-Doping Agency (USADA), Barry said, "I used EPO and testosterone off and on from 2003 until 2006." He wrote in the NY times, he raced clean for the last six years, including 2010 to 2012 with Sky.
"The cyclists' health and futures are still not always a priority," Barry continued. "Most of us are away from home for roughly 200 days a year and race 90 days. ... To tolerate the races and the lifestyle, far too many riders rely on addictive sleeping pills and painkillers that are permitted but extremely strong. Team doctors hand them out without considering the long-term effects."
A league, he suggested would make teams less reliant on a points system.
"Continually battling one another for rankings points, we have little solidarity. Cyclists give in to the power above, because if we speak too loudly, we risk losing our tenuous jobs. ... So we follow the line and feed the culture that will eventually be our ruin."
Related links
Former Armstrong team-mate Barry: Doping had become epidemic
Hincapie admits to doping during career
USADA publishes details of Armstrong doping case file
Thank you for reading 20 articles this month* Join now for unlimited access
Enjoy your first month for just £1 / $1 / €1
*Read 5 free articles per month without a subscription
Join now for unlimited access
Try first month for just £1 / $1 / €1