Battling the elements: Extreme cold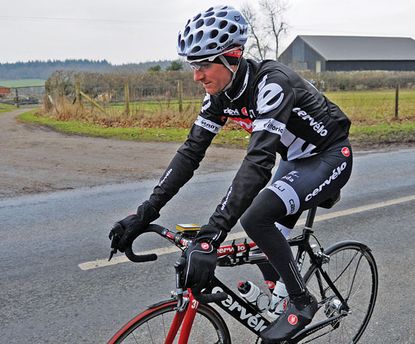 Get The Leadout Newsletter
The latest race content, interviews, features, reviews and expert buying guides, direct to your inbox!
Thank you for signing up to The Pick. You will receive a verification email shortly.
There was a problem. Please refresh the page and try again.
It's been a tough winter for cyclists all over the country. Turbo trainers have been revved up to meltdown, and alternative forms of exercise pursued to maintain fitness, but that's no bad thing at the back end of each year. Now though, if you want some summer cycling fitness, it's time to try and get outside and ride.
Not every day. You should continue doing quality, short duration training sessions on the turbo. And continuing a weight training programme, circuit training and/or running isn't going to do you any harm, even if you have to continue right into the spring. Ideally, though, there should be at least one day a week when you get out on the roads.
Ice is a no-no. Bikes don't work on it, and you will crash. If there is ice about you need to continue with your indoor alternatives, or maybe an off-road run on grippy surfaces or an off-road ride. Alternatively, you could restrict your riding to roads you know
are ice-free.
Road strip
You'd be amazed how many pro riders do just that. When he's back in Oslo, Team Sky's Edvald Boasson-Hagen says: "I use the same strip of urban de-iced roads. I ride an old cyclo-cross bike with knobbly tyres, and when I get bored with the road I take to the fields for a bit."
When it was snowy and icy last winter Raleigh's Dan Fleeman used a loop of main roads close to his Lichfield home. "It wasn't fun, and you had to be careful with all the traffic, but I got my rides in. And when it got tough I just thought about the warm weather training camp I'd got coming up," he says.
On a very cold day it's best to delay your start time to let the salt get to grips with the ice, and also to let the sun rise and its warming effect do its work. Setting off at 11am still gives you scope for a three or four-hour ride before the sun's strength drops and ice starts to win again.
So if you pick your days, pick the right roads and the right time, it's possible to get out even while the mercury hovers around zero. But if you don't wear the right clothes you'll soon end up shivering, back inside again.
Hot dresser
There's some great cold weather cycling kit on the market these days, but there is also some tried and tested cycling lore that's worth knowing that will make cycling in extreme cold not only possible but even pleasurable.
The trick is not to overdress, because that causes excessive sweating and can leave you dehydrated and chilled. Your basic extreme cold kit should begin with a winter-weight long sleeved base layer made from a wicking material, so even if you sweat your skin will stay dry.
Either your base, mid or outer layer should have an extra high collar to protect your throat. Alternatively you can wear a scarf or Buff round your neck that can be pulled up over your face as and when needed.
Put bib-tights on over the base-layer, because bibs protect your lumbar region, preventing back problems that can occur if the muscles there get cold. Foot stirrups on bibs prevent them riding up. Use winter-weight thermal Roubaix bibs, not thin Lycra-only ones. Avoid those with thick padding or stiff Windstopper material around the knees as it can put uncomfortable pressure on your kneecap.
Cold feet are a common problem. Thermal socks should be worn but make sure there is room to wiggle your toes as a tight shoe can restrict blood flow. An old but still effective trick is to wrap cling-film or foil around your feet if you suffer from cold feet or the roads are wet.
We've also found that SealSkinz waterproof cycling socks make excellent warm overshoes if you cut a cleat hole in them, performing better that way than as socks inside your shoes. Neoprene overshoes offer insulation when the roads are wet. Consider switching to off-road pedals and winter mountain bike boots. And that's your bottom half sorted.
Mix and match
In cold weather a good winter jacket over a thermal base layer is enough but in extreme cold an extra mid-layer, such as a long-sleeved racing jersey or second base layer can help. It's the combination of these and your outer layer/jacket that allows you to fine-tune your clothing according to the temperature.
There are many different weights of outer layer, from really thick ones for extreme cold to thin ones for cool days. To a lesser extent the same logic applies to mid-layers. Work out a temperature gradient for combining your tops, from thick outer layer, thick mid-layer and thick base layer for the coldest days, down to thin outer, thin mid and thick base for less cold winter days. Then mix and match them to the conditions that day.
Some riders generate more heat than others; those with more muscle, for example, will have a higher metabolic rate and produce more heat when exercising. Also consider the type of ride you are doing; you'll feel the cold more on a steady or easy day than on a ride when you are pushing yourself hard. A quick trick is to see how chilly you feel when stood outside for a minute or two: if you don't feel a little bit on the cool side you may be over-dressed and will become too hot as soon as you start riding. On the other hand, if you are already shivering you need to find more to wear.
For your head, wear a cap, skull-cap or headband under your helmet. Beware of things that cover your ears on busy roads. You need to hear the traffic, and it's rarely so cold that your ears don't warm up after a while. Just cover the top of your ears, allowing some air contact with your ear-drums so you can hear.
Keep an eye on wind chill.
If it's cold and windy that effectively lowers the temperature - take a thin windproof shell in your back pocket in case it gets colder or you need to stop. And you don't win medals for shivering miserably along the road if it proves too cold. Go back home and do a quick blast on the turbo trainer. It won't stay cold for ever, we hope.
WET WEATHER RULES: DOS AND DON'TS
DO
■ Do take a warm drink in your bottle. Adding fresh juice to your normal drink mixed with hot water makes a palatable winter concoction.
■ Do go outside and feel what conditions are like before you finish getting dressed.
■ Do take a mobile phone and money in case conditions deteriorate and you need help.
■ Do wear a bright top layer so others can see you.
■ Do make sure all your spares, like spare inner tube, are sound and your pump works.
■ Do buy the best gloves and overshoes you can afford. It's your hands and feet that will bear the brunt of the cold.
■ Do invest in a range of base layers.
■ Do ride for a bit before deciding it's too cold. Cold ears and hands warm up once you get going.
■ Do replace thermal socks regularly as washing tends to reduce their effectiveness.
DON'T
■ Don't ride on ice.
■ Don't do a ride outdoors just because your training programme says you should.
■ Don't ride on the road in extreme cold early in the morning or at night.
■ Don't stay out for hours on end. Go faster instead and keep those legs spinning.
Top rider tips
Gabby Day, pro cyclo-cross rider and mountain biker says...
"Wear lots of good quality base layers. A windproof thermal jacket is always great. Keep your legs spinning more, because that helps generate heat. Wear good quality gloves and overshoes, make sure shoes aren't too tight so your feet can move a little to help circulation."
Dan Lloyd pro veteran of two Giros and the Tour de France says...
"For your hands, try wearing a very thin pair of gloves underneath your thick winter pair. I think it's quite important to keep the head warm, with either a skullcap or headband. If it gets really bad, I put on a skullcap and race cap under my helmet."
Thank you for reading 20 articles this month* Join now for unlimited access
Enjoy your first month for just £1 / $1 / €1
*Read 5 free articles per month without a subscription
Join now for unlimited access
Try first month for just £1 / $1 / €1
Get The Leadout Newsletter
The latest race content, interviews, features, reviews and expert buying guides, direct to your inbox!
Founded in 1891, Cycling Weekly and its team of expert journalists brings cyclists in-depth reviews, extensive coverage of both professional and domestic racing, as well as fitness advice and 'brew a cuppa and put your feet up' features. Cycling Weekly serves its audience across a range of platforms, from good old-fashioned print to online journalism, and video.