Big interview: Tejay van Garderen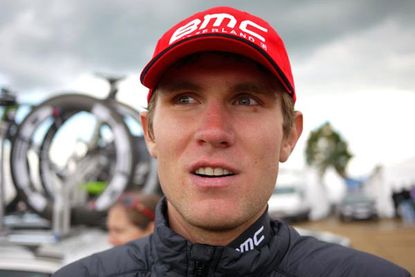 The Tejay van Garderen who showed up in Aspen, Colorado for the US Pro Cycling Challenge wasn't the same rider who lost the race by 21 seconds last year and 17 seconds the year before.
This wasn't the guy who had curled up in a traumatized ball of angst at the finish of that first Vail time trial or the guy who mentally cracked under the relentless attacks by Garmin-Sharp and faded on the final day in Denver.
The van Garderen who admitted to losing sleep, stressing out and burning too much nervous energy -- that's all in the past. Call it what you will: stronger legs, experience, becoming a father, hardening the f--k up, taking leadership cues from a college basketball coach, check your box.
Point is, that guy doesn't exist anymore.
This time around, the BMC captain his rivals faced in Colorado was more confident, grounded, aggressive and secure in his role as a leader. He'd already proved that to his adversaries -- and more importantly, to himself -- in May by winning the Tour of California in convincing fashion.
Increases in power output, wattage at threshold, anaerobic capacity -- those come with painful, dedicated physical training. Developing the mental and emotional skills to lead a WorldTour squad to victory in a major stage race is generally a more complicated task.
It's more confidence to tell people what I want, what I expect of them," says van Garderen. "In the team meetings where before I might shut my mouth and listen to the director, now I feel I can have input and I think people are willing to listen.
Raising your voice and calling shots probably isn't easy on a team with strong egos like Taylor Phinney or Philippe Gilbert or experienced champions such as Cadel Evans and the now-retired George Hincapie.
"The hardest part was more the mental side, the thought of failure. You think you're gonna let the team down and all their work is for nothing," says van Garderen. "The hardest part for me was to block those thoughts from my mind. Just say, 'this is the plan, this is what we're gonna do,' You don't' think of the failure. You only think of the immediate task."
The task was putting a disappointing Tour de France behind him and building on the success in California. While Garmin's young Aussie Lachlan Morton took the jersey on stage two over Independence and Hossier Pass, both above 11,500 feet, it was a rainy, high speed descent off Bachelor Gulch that put van Garderen in yellow.
Working with Colombian climber Janier Acevedo of the domestic Jamis - Hagens Berman team, the BMC leader dropped Tom Danielson with a Nibali-style demonstration of descending skills. "The time I gained on Danielson that day, I think it was 19 seconds, but it was such a big psychological blow to him that it set the tone for the rest of the race."
A year ago Garmin's aggro tactics had thrown BMC off balance. Now, it was Jonathan Vaughter's squad trying to figure out the tactical game. "Personally I think it would have been smarter for Garmin to use Morton differently.
He made a hard tempo. he blew and he was gone," said van Garderen. "If he had saved himself a little bit then they could have done a 1-2 attack. That would have made it harder for me. But I had one less guy to deal with and my focus was Tom."
Tejay [right] with Garmin's Andrew Talansky
The next day in the 16.1 kilometer Vail time trial, Van Garderen eliminated Danielson and erased any last doubts he was by far the strongest man in the race. After Garmin's Andrew Talansky threw down a dominant time, the "hardest" he'd ever ridden, van Garderen still beat him by four seconds.
Confused TV coverage initially called Talansky the winner, then loser, throwing the rider nicknamed Pitbull into an obscenity laced tirade not suitable for impressionable young cycling fans.
Taking leadership
Van Garderen took the leadership role again, saying he understood Talansky's frustration but "At the same time the sport should have more class than that. If it's true what he was saying with all the profanity, you know, that would be very disappointing. I'd expect better from him and from his team." There was statesman in that response and a strong sense of confidence.
A daredevil descent in the rain, a crushing win in an uphill TT, and firm control of a powerful team -- the new van Garderen certainly looked unbeatable. After five stages, he had a lead of 1:42 on everyone not wearing a BMC jersey -- his teammate Mathias Frank holding second at 1:30 back.
Maybe that's just bike racing but then again, maybe that's college basketball. Van Garderen has been reading a book by John Wooden, the famous UCLA coach whose teams won ten national championships. The passage that stuck with him was on leadership: "He'd always figured out who the special players were because in pressure situations in the final quarter with a tight score, those players were the ones who wanted the ball," says van Garderen.
"Some people -- even if they're more talented players -- they're too afraid of messing up so they pass the ball. In pressure situations like a summit finish or a time trial, those are the moments that you have the opportunity to actually see how good you are."
Tejay in the young leaders jersey [left] chats to 2012 Tour de France winner Wiggins
It's clear that message resonates with a hugely talented rider who's still only 26 and building self-belief race by race. "This sport is such a slow progression -- you slowly get better and better and comfortable in a leadership role," says van Garderen. "Then when the crunch time happens in a race, sometimes you kinda get too nervous and you block your own legs. Now I'm learning you shouldn't see that as a chance to fail."
Van Garderen wrapped up Colorado in Vail and simply had to tranquillo his way to Denver while Peter Sagan (Cannondale) won a third and fourth stage. No nerves, no stress, no sleepless night wishing he hadn't said the wrong thing.
In his role as captain, he's learned not to give his rivals an advantage on the road or in the media. Two years ago in Colorado, he'd taken the leaders' jersey from a nearly hypothermic Levi Leipheimer on a wet, dangerous descent into Aspen. In the post-stage press conference, van Garderen joked about having "more balls" than the veteran. It was a slip of the tongue that kept him up that night and might have cost him the entire race.
"Bottom line: you don't want to say anything that gives your competitor an edge over you. I was a second year pro and Levi was an Olympic medalist and Tour podium finisher. Definitely, it stressed me out to have him pissed off and it motivated him. That's just not a good thing."
Don't expect van Garderen to turn dull and conservative just because the spotlight keeps getting brighter. "I think people still get a sense of who I am. I just don't put on this fake media persona. You can still laugh and joke. It's just made me be more respectful of my competitors while still being myself."
With his overall victories in California and Colorado, the attention naturally turns to that country with the pretty chateaux and torturous, leg-ripping grand tour. After an impressive 5th on GC last year, van Garderen then experienced what he might hopefully call a beneficial disaster.
"I got pretty down after the first couple of days in the Pyrenees, losing all that time. That whole second week I was floundering around like 'what am I doing here?' It was hard to stay focused on the task. But then in the third week, I kinda dug myself out of that, got myself psyched up and motivated. It was a lesson to me that even if things don't go perfectly to plan, you still have to keep that mental edge."
He'll also need to rocket up the Alps and Pyrenees even faster. "I gotta improve my climbing. I think my time trialing is pretty much on par with where it should be to be a tour contender," admits van Garderen. "I consider myself a good climber but when I looked at what Froome and Quintana did this year, there's definitely another level there."
Given that Cadel Evans has already declared his focus is the next Giro d'Italia, BMC will be prepared to ride for van Garderen from Yorkshire, England to Paris, France. What's perhaps unexpected is how well-defined his views are on taking that role.
"I want to be thought of as a leader that elevates the people around me. I've worked with a couple of riders who were maybe a little insecure in their leadership. If someone else was riding strong they'd actually want to push them down and make sure they kept their leadership spot," says van Garderen.
"The kind of leader I want to be is one who's maybe not always the strongest guy but the one who's able to elevate everyone around him -- to raise the bar, the standard on what's expected."
Would the old Tejay van Garderen have issued that kind of self-assured proclamation? Impossible to answer because everybody here in the Rocky Mountains of Colorado knows that guy doesn't exist anymore.
US Pro Cycling Challenge. How's the race?
In three years there have been four winners of the US Pro Cycling Challenge: Levi Leipheimer, Christian Vande Velde, Tejay van Garderen and Shaun Hunter.
Hunter doesn't ride for a WorldTour team -- he's the CEO of the 2.HC stage race in Colorado. Hunter has watched the event explode out of the gate with massive crowds, dynamic stages and high profile Tour winners like Sky's Chris Froome making the trip over.
On attendance figures alone, the race jumped to prominence. "The grand tours, California and Colorado are probably top five in the world in terms of crowds," says Hunter. "What we see in Colorado is comparable to a lot of the stages in France and Italy."
The race benefits from the spectacular Rocky Mountain scenery, resort-quality lodging for riders and superb timing on the UCI calendar. One overseas ticket sets up the Tour of Utah, Colorado, the new Tour of Alberta and one day races in Montreal and Quebec. "Our calendar spot is perfect on a number of fronts," admits Hunter.
Colorado has already become a big draw for European riders. "If you look at results this year, only three of the top ten were Americans. We're seeing more of the ProTour teams coming early and scooting the route," says Hunter. "We want this to be the must-win race before the World Championships."
Hunter has the fan base and resources to create an iconic event. "It takes a deep financial commitment from the private sector for these races to be successful. This is a long tern build, a five year road to break even," explains Hunter. "Knock on wood, we'll get a little smarter and bigger every year. Our best years are ahead of us."
You can read the original article in the November issue of Cycle Sport. Read Cycle Sport magazine on the day of release where ever you are in the world International digital edition, UK digital edition. And if you like us, rate us!
Thank you for reading 10 articles this month* Join now for unlimited access
Enjoy your first month for just £1 / $1 / €1
*Read 5 free articles per month without a subscription
Join now for unlimited access
Try first month for just £1 / $1 / €1
Founded in 1891, Cycling Weekly and its team of expert journalists brings cyclists in-depth reviews, extensive coverage of both professional and domestic racing, as well as fitness advice and 'brew a cuppa and put your feet up' features. Cycling Weekly serves its audience across a range of platforms, from good old-fashioned print to online journalism, and video.