Bike thief posing as railway employee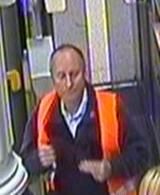 A repeat thief is targetting bikes left at railway stations in the north-east - and he's managed to get away with almost £2,000 of bicycles so far because he disguises himself as a member of railway staff.
Speaking to BBC Newcastle, British Transport Police's chief inspector Derek O'Mara said: "The majority of the bikes that have been stolen have been secured in bike racks and the suspect has had to use bolt croppers to remove the locks to steal the bike. We've got him linked to four incidents and the value of the bikes that he has stolen is nearly £2,000.
"The first time this guy came to our notice was the May 4 at Hull Paragon station and he again then came to our attention on August 10 at Newcastle station and then September 11 at Middlesborough Station. The most recent was September 12 at Selby station. So you can see this guy travels round the whole of the north-east.
"They guy is white. He's described as 45 to 50, proportionate build, with bald receding hair and he always wears an orange hi-viz waistcoat over a dark fleece and dark trousers. He does clearly look like a rail conductor or a member of rail staff.
"We are working closely with cycle shops in the area and we are monitoring online sales closely. I'm just surprised that he hasn't been identified but we need to catch him soon, because he is becoming our number one target for cycle theft."
To see some very detailed pictures of the suspect visit: http://t.co/XnCjwesv
Thank you for reading 5 articles this month* Join now for unlimited access
Enjoy your first month for just £1 / $1 / €1
*Read 5 free articles per month without a subscription
Join now for unlimited access
Try first month for just £1 / $1 / €1