Body fairings facing ban by time trialling governing body
Outcry at national championships has led to a proposal to ban body fairings in time trials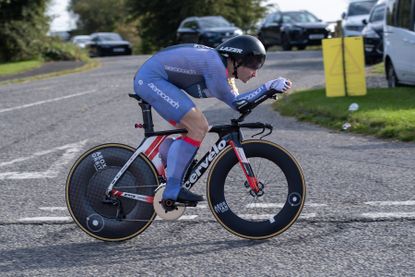 (Image credit: Kimroy Photography)
Cycling Time Trials will vote on whether to ban body fairings at its upcoming AGM, after they were seen in significant numbers at this year's National 10-mile Championship.
On-body fairings of various guises were worn by a significant number of riders at the event, including winner Josh Charlton and silver medallist Richard Bussell. It served to train a spotlight on the issue that has led to time trialling's South District Council putting forward a proposal to be voted on at CTT's December AGM.
The proposal was conceived by Dr Bryce Dyer, a committee member on South DC and deputy head of department of design and engineering at Bournemouth University, and who also sits on one of CTT's working groups.
It proposes that clothing should conform to the body without fairings, devices or padding which alters the aerodynamic profile of the rider. Additionally, they should not be able to wear drinking bladders or storage items on the front of the body for events of 30 miles or less.
It's a simple rule which Dyer concedes may not be totally foolproof, but should deter all but those most determined to get around it.
The CTT is run by volunteers, he points out, "so you've got to keep it reasonably simple. So there will be loopholes with what I'm suggesting, but I think it will do enough to scare people away from it for the time being."
The appearance of the fairings in numbers at the National 10 saw the issue being discussed at length online, with the general consensus being against, rather than for them.
Silver medallist Bussell rides for the Aerocoach team, headed up by aero expert Dr Xavier Disley. Disley says Bussell's ostentatious display of fairing tech was fully intended to draw attention to the issue, with the idea of getting it outlawed.
"I think that body fairings shouldn't be allowed," said Disley. "The rules need changing and we wanted to do something that would trigger that change. Now, it seems like what's happened."
He argues that the widespread use of body fairings could be very unhelpful for a branch of the sport that is already battling with low entry numbers.
"If you turn up to a bike race and the guy next to you is dressed up like a transformer, are you going to feel like you're in the right place?" he says.
Thank you for reading 20 articles this month* Join now for unlimited access
Enjoy your first month for just £1 / $1 / €1
*Read 5 free articles per month without a subscription
Join now for unlimited access
Try first month for just £1 / $1 / €1