Bradley Wiggins's Trentino mechanical mishap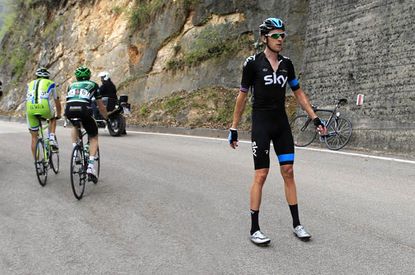 Bradley Wiggins was left standing in the middle of the road on the final, decisive climb of the 2013 Giro del Trentino, after suffering a mechanical problem with his bike at the worst possible moment.
Prior to climbing off his bike on the 14-kilometre ascent of Sega di Ala, the Sky leader could be seen looking down at his gears, losing pace and then spinning quickly to regain contact with the lead group containing rivals Vincenzo Nibali (Astana), Cadel Evans (BMC Racing) and Mauro Santambrogio (Vini Fantini) among others.
Wiggins then pulled over to the middle of the road, dismounted and shoved his bike in disgust across the tarmac towards a wall. His frustration after a week of hard riding was barely contained. Rather than the misfiring machine falling to the floor, it gracefully glided across the road and softly parked itself against the wall, upright.
It added a moment of light relief to what would spell the end of Wiggins' hope of climbing onto the top step of the Trentino podium. As the 2012 Tour de France winner waited for a replacement Pinarello from the Sky team car, Nibali and company continued up the road.
It wasn't clear what the exact nature of the problem was with Wiggins' bike - with speculation that it may have been a complication with his electronic gears.
Not happy: Wiggins is left in the road waiting for a new bike
When he mounted his replacement bike, Wiggins attempted to regain contact with his rivals. But with the gradient rearing up, it was a big ask. Just as he was about to catch up with the Nibali group, the Italian Grand Tour contender put in an attack to take the stage win and the overall race victory.
It means that Wiggins goes into the Giro d'Italia on May 4 without having claimed an individual victory this season - a very marked contrast to his all-conquering build-up to his 2012 Tour de France victory that saw him win Paris-Nice, the Tour of Romandie and Criterium du Dauphine. His single victory this year has been a collective Sky team time trial win, earlier on stage 1b of Trentino.
Wiggins himself has previously pointed out that he has been working on his explosive climbing in training rather than racing in his preparations for the Giro. It's a shame that we were deprived of a Wiggins attack on the Sega di Ala.
Sky were keen to downplay the episode on Trentino's final day, preferring to focus on Wiggins' effort to try and regain contact with Nibali and to look ahead to Wiggins' main objective, the Giro d'Italia.
"It was some bad luck there for Brad on the climb," said Sky directeur sportif Marcus Ljungqvist. "He was almost back to the lead group when Nibali attacked. That was always going to happen and you really can't afford to give the top guys any time. In the end he expended a lot of energy but it's just one of those things. It was a great effort.
"We need to focus on the good things from this race and that is two stage wins and some good work and form building ahead of the Giro. With some rest for a few guys we will be ready for May."
It was a great effort by Wiggins, and fifth in a tough race which once again featured no individual time trial - Wiggins hasn't ridden one since the London 2012 Olympic Games - is a solid result.
It was also a great effort, and astute tactics by Nibali to attack when he did to take the win. Wiggins' mishap simply postpones the spectacle of a Nibali-Wiggins showdown as both riders hit peak form in May.
Related links
Vincenzo Nibali wins Giro del Trentino as Wiggins suffers mechanical
Wiggins working on explosive climbing ahead of Giro
Read Cycling Weekly magazine on the day of release wherever you are in the world with our iPad and iPhone edition - International digital edition, UK digital edition. And if you like us, rate us!
Thank you for reading 20 articles this month* Join now for unlimited access
Enjoy your first month for just £1 / $1 / €1
*Read 5 free articles per month without a subscription
Join now for unlimited access
Try first month for just £1 / $1 / €1