Brexit led to 25% drop in sales, says bike storage company founder
Cycloc founder Andrew Lang said government support has been insufficient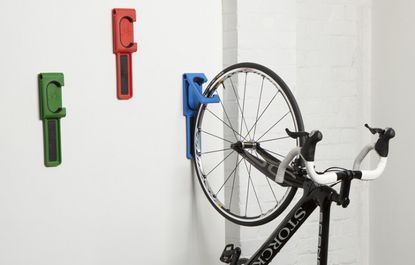 (Image credit: Merlin cycles)
The founder of bicycle storage company Cycloc (opens in new tab) has said that the impact of Brexit on his business led to a 25% drop in sales.
The company, which has designed custom wall-mounted storage solutions for customers including Mark Cavendish, has witnessed a £100,000 drop in revenues since new rules were put in place in January 2021.
In an interview published today in The Guardian (opens in new tab), founder Andrew Lang said half of the company's business previously came from the EU, but with declining sales, he's finding it "very difficult to be positive".
"It is very disappointing," he said. "One of the things that is quite disappointing about this whole process is that from the outset, we made an active decision to manufacture in the UK.
"We've remained faithful to that and it feels as though the UK government hasn't necessarily helped us."
In March 2021, the government launched a 'Brexit Support Fund' for smaller businesses, offering grants of up to £2,000 to help them adapt to new customs processes.
For Cycloc, the impact was much more valuable. Head of operations Clare Lowe said that, as a result of new trading rules, EU distributors ceased placing orders, citing the high costs of shipping and customs clearance.
"To say the Brexit process was gritty is an understatement," Lowe added. The company built a separate warehouse in the Netherlands to serve EU customers, she explained, but had to close it within 12 months because it "wasn't covering its costs".
Cycloc isn't the only British cycling brand to come into difficulty in recent months. At the start of this year, women's clothing company VeloVixen was forced into liquidation. Speaking to Cycling Weekly, founder Phil Bingham listed "a combination of energy prices, inflation, doom and gloom amongst consumers and cost of living" as crucial factors that led to the brand's closure.
"It's like any other small business in the cycling world," Bingham continued. "At the moment, I don't know if there is any business within cycling that isn't feeling the pinch."
Last week, London-based clothing brand Milltag became the second British cycling apparel company to enter liquidation this year.
Thank you for reading 10 articles this month* Join now for unlimited access
Enjoy your first month for just £1 / $1 / €1
*Read 5 free articles per month without a subscription
Join now for unlimited access
Try first month for just £1 / $1 / €1
Tom is one of Cycling Weekly's news and features writers. In 2020, he started The TT Podcast, covering both the men's and women's pelotons and featuring a number of British riders.
An enthusiastic cyclist himself, Tom likes it most when the road goes uphill and actively seeks out double-figure gradients on his rides.
He's also fluent in French and Spanish and holds a master's degree in International Journalism.