British cycling clothing brand enters liquidation as cost of living crisis bites
VeloVixen co-founder Phil Bingham says multitude of factors caused his brand to cease trading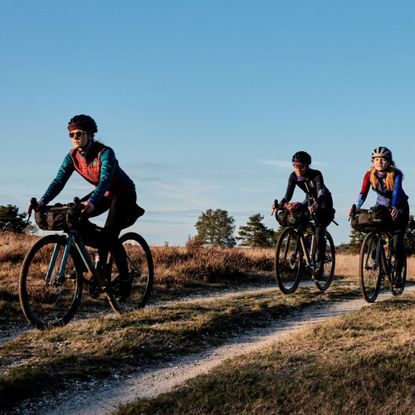 (Image credit: VeloVixen)
VeloVixen, a premium cycling apparel brand for women based in the UK, has been forced to enter liquidation after "feeling the pinch" in recent months.
In a statement shared on their website, the brand confirmed that they had entered liquidation and subsequently ceased trading.
Based near Oxford, VeloVixen launched in 2012, riding the wave of an increase in cycling popularity after the success of the London Olympics. Sadly, after a period of 11 years the brand is no more after what co-founder Phil Bingham described as "adverse forces" had conspired against it.
Speaking to Cycling Weekly, Bingham explained that like any other small family owned business in the cycling world, VeloVixen is at the centre of a "perfect storm" which ultimately has now led to its demise.
"It's like any other small business in the cycling world. At the moment, I don't know if there is any business within cycling that isn't feeling the pinch," Bingham said.
"I think we can genuinely say that this is all the forces at once conspiring against us. It's a combination of energy prices, inflation, doom and gloom amongst consumers and cost of living."
Bingham explained that during a difficult Christmas period VeloVixen's returns rose to new highs. Furthermore, he feels that the demand for cycling clothing has dipped since the high points of the global pandemic.
"I think there was a bit of pent up demand leftover from Covid, although if you were selling anything that wasn't absolutely necessary recently, you were going to struggle," he said. "Consumer behaviour has also changed radically. Returns rates for the first time went above 25%, and that's never happened before. In the early days it would be 10 to 15%, and 15% was worrying."
'DAVID VERSUS GOLIATH'
"We've always been a small team, so it's always been a bit David versus Goliath for us. People out there have these ever increasing expectations of instant delivery, free returns and free postage. At one point we had six people working with us, so its probably appeared to the outside world like we were a much bigger setup," he added.
With the cost of living crisis affecting much of the population, Bingham explained to CW that it was really noticeable this festive period that consumers simply did not have the same amount of disposable cash that they once did. Rising prices across various sectors has also meant that luxury items are no longer considered important commodities.
"I think the short term we've seen is consumers adjusting to higher prices. We've seen from everything going on at the moment that people simply do not have much disposable cash at the moment," Bingham explained. "If you're thinking 'do I spend £100 on a nice cycling jersey? Or do I stick that on my heating bill?' understandable to people, it's discretionary buying a fancy cycling kit, it's not the right moment to be adding to that necessarily really."
In the initial statement announcing the brand's demise, VeloVixen acknowledged that some customers and suppliers stood to lose out financially. Bingham reiterated to Cycling Weekly that he feels "absolutely rubbish" about that part of the fallout from their liquidation.
"There of course will be people who lose out financially from this. There will be suppliers who lose out and some customers who won't be able to get their returns refunded," he said. "We of course feel absolutely rubbish about that."
"We had plans that if the sales around Christmas had been anything like we had hoped, we would have certainly had the budget to be able to certainly cover the customers, but it just hasn't worked out that way."
Bingham revealed that he hopes the VeloVixen name can continue in some form, with other parties interested in taking on the name in the future.
"We're having discussions with one or two parties about taking on the name, because the brand itself is very strong," he said. "There has to be a place for it in some form, whether that it's picked up by a bigger firm. If anybody wants to reach out to us about it, we're open to entering discussions."
Thank you for reading 10 articles this month* Join now for unlimited access
Enjoy your first month for just £1 / $1 / €1
*Read 5 free articles per month without a subscription
Join now for unlimited access
Try first month for just £1 / $1 / €1
Tom is a News and Features Writer at Cycling Weekly, and previously worked in communications at Oxford Brookes University. Alongside his day job, prior to starting with the team, he wrote a variety of different pieces as a contributor to a cycling website, Casquettes and Bidons, which included interviews with up and coming British riders.