Camden defends use of cycle lane segregation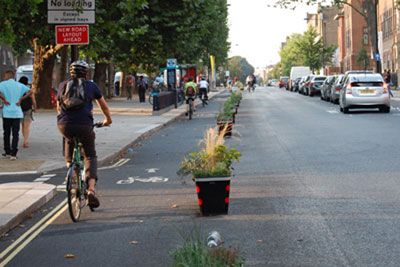 Get The Leadout Newsletter
The latest race content, interviews, features, reviews and expert buying guides, direct to your inbox!
Thank you for signing up to The Pick. You will receive a verification email shortly.
There was a problem. Please refresh the page and try again.
Camden cyclists and its Council have defended the borough's pioneering armadillo-and-planter segregated cycle lanes a success, despite damage to the infrastructure caused by motor traffic.
The comments come in response to a letter to the Camden New Journal from a cyclist branding the route a 'failure' after several planters and armadillos were knocked by parking and passing motor vehicles.
The 'light segregation' on Royal College Street, which could be seen replicated across the country, was 80% cheaper than traditional kerbs to install, and has seen a 49% increase in cyclists and traffic speed reductions of up to 21%.
In his letter to the Camden New Journal, Rob Cole said: "As someone who has been using this cycle lane for many years, every day, I have been saddened to see how quickly motor vehicles have ruined this new lay-out.
"As a cyclist I have had a number of near-collisions on the southbound lane in the past few months as this new design hosts car parking, with motorists and couriers with packages rapidly decanting into the cycle lane without checking for oncoming cyclists."
However, this interpretation was disputed by members of Camden Cyclists. Cyclist Josh Hillman said: "It is a joy to use and I believe it to be one of the best stretches of cycle lane in London. I have noticed the damage to the planters and armadillos but this is clearly down to idiotic drivers rather than poor design."
Jean Dollimore, Joint Co-ordinator of Camden Cyclists, said: "The reality is that the damage was caused by careless drivers and Rob Cole jumped to a conclusion and pronounced the new cycling scheme in Royal College Street a failure.
"He also mentions contention between cyclists and people getting out of cars - when the parking is moved out a bit (by end of January), this problem should go away," she added.
Where cars have reversed into planters along parking bays Camden Council will install flexible bollards, while moving parking bays to create a 500mm buffer zone between cars and the bike lane.
Cllr Phil Jones, Cabinet Member for Sustainability, Transport, and Planning, said: "Clearly new approaches require a certain amount of refinement and adaptation and our designers and engineers have learnt much about light segregation and driver behaviour which can be applied elsewhere."
"Despite these issues the project has clearly shown that light segregation is an effective approach to protecting cyclists from traffic and one that can help to make cycling safer and more attractive. We firmly believe that this approach is a model that would allow a network of cycle routes to be relatively quickly installed in London and elsewhere in the UK at low cost.
"We are continuing to monitor the impact of the project on cycling and the initial results are very encouraging. Cycling has been undergoing a renaissance over recent years and in Camden we have seen a significant increase in the number of people who are choosing to cycle, with a 70% rise over the last six years. We need to address this increase with infrastructure which can respond to this growth quickly and encourages and supports people to cycle in a safe and enjoyable environment."
Related links
Segregated cycle lanes using planters and armadillos could spread across Britain
Thank you for reading 20 articles this month* Join now for unlimited access
Enjoy your first month for just £1 / $1 / €1
*Read 5 free articles per month without a subscription
Join now for unlimited access
Try first month for just £1 / $1 / €1
Get The Leadout Newsletter
The latest race content, interviews, features, reviews and expert buying guides, direct to your inbox!