'I had moments of hatred towards cycling' - Chloé Dygert on her horrific crash, heart surgery and lofty goals
Healthy and back to racing, the US National Champion eyes a new Individual Pursuit record, track and road World titles, a Classics campaign and Olympic success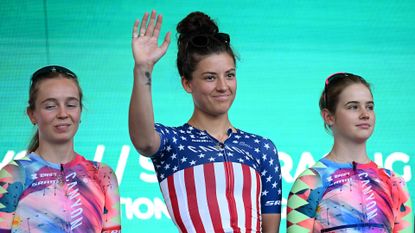 (Image credit: Getty Images)
Get The Leadout Newsletter
The latest race content, interviews, features, reviews and expert buying guides, direct to your inbox!
Thank you for signing up to The Pick. You will receive a verification email shortly.
There was a problem. Please refresh the page and try again.
After two years of career-threatening injuries and illnesses, American cycling star Choé Dygert is back to racing and currently enjoying one hell of a comeback season.
The newly crowned U.S. national time trial and road racing champion spoke to Cycling Weekly after Stage 7 of the Giro Donne —a hilly stage won by race leader Annemiek van Vleuten (Movistar)— where Dygert is making her grand tour debut.
The 26-year-old rider had a rough start to the race, sustaining minor injuries in a crash in the opening time trial, which was started in torrential downpours and was later canceled. She went on to a podium finish on stage three behind powerhouses Lorena Wiebes and Marianne Vos. Not a fan of stage races, Dygert said she's now focused on nursing her injuries and using the nine-day race as a training opportunity.
"This is the longest I've been on the bike continuously for racing. Stage racing has never really been my favorite thing, but it's really good training and a good opportunity to be a teammate for the rest of the girls," she said.
An Indiana native, Dygert burst onto the cycling scene in 2015, winning the junior time trial and road racing titles at the 2015 UCI Road World Championships. She then made a blistering start to her elite career, amassing seven gold medals at the UCI Track Cycling World Championships, a silver medal at the 2016 Olympic Games in the team pursuit, and the Worlds time trial title at the 2019 UCI Road World Championships.
But her rising star came to a screeching halt with a horrific crash at the 2020 UCI Road World Championships, which saw her flip over the guard rails during the time trial, sustaining a severe leg injury in the process.
The seasons that followed have been marred with health complications, including an Epstein-Barr infection and a surgery-requiring heart condition. Finally healthy and cleared to race, Dygert returned to competition this season in stellar form, earning multiple podium finishes at La Vuelta Femenina and Vuelta a Burgos, as well as a win at the RideLondon Classique. She entered the U.S. national championships as a top contender and delivered in style, winning both the time trial and road racing titles and punching her ticket to the World Championships in Glasgow in the process.
Ambitious and driven as always, Dygert has her eyes set on some lofty goals ahead, yet the career-threatening injuries appear to have given her some pause as well, allowing her to take in her accomplishments this season.
"I guess I never really thought how much it would mean to me to wear the [Stars and Stripes] jersey and to be in those colors," she said, despite now having three elite national titles and eight elite world titles to her name.
"I feel so proud. Obviously, a [world champion's] jersey is nice too, but it's just absolutely amazing to be in this jersey, and then when I'm climbing or when I'm going slow enough that I can hear people on the side of the road go 'Oh Miss America,' or 'Captain America'... it's just very special. It's something that will be on my sleeve for the rest of my career."
The Comeback Journey
Dygert is no stranger to injuries and has made her way back, often stronger, on numerous occasions. But she also knows that injury can end a career. Her athletic endeavors in her youth —basketball and track and field— were both ended due to injuries and after several surgeries on her leg following the 2020 crash, the future wasn't looking bright.
"It was hard…there were times where my life didn't matter to me anymore," Dygert recalled. "The pain that I had until I had this last surgery, I never thought I was going to be okay again; I never thought I was going to be at the top level again."
"I've pretty much quit every sport that I've ever done because of injury. Cycling has been the one thing that I haven't stopped."
Dygert shared that she had "moments of pure hatred towards the sport" and deliberated retiring, but she's just not ready to quit just yet. She's got more to give, more medals and titles to win.
"As much as I don't agree with all the injuries that I have and everything, I still continue because it is all part of God's plan," she said.
Today, her left thigh bears an impressive scar and remains smaller than the right. It also remains painful.
"I still have pain when I start to compensate; like right now, my back is hurting. Or my leg will start to seize up, and the muscles start to spasm. I just take it day by day and continue therapy on it," she explained.
In the midst of her recovery, Dygert also dealt with an Epstein-Barr infection and a heart condition called Supraventricular tachycardia (SVT), which saw her get ablation surgery in November. SVT causes an irregularly fast or erratic heartbeat and increases the risk of heart failure. Dygert shared that when her heart was triggered, her heart rate would shoot up to 210-220 beats per minute and just stay there.
"The surgery helped, but I'm still dealing with it. There are times, still when I race that it feels like it wants to trigger. It's a scare for me because if it does happen during a race and in an important moment, I would have to stop and let it calm down because that's playing with my life at that point," she said.
But, all things considered, Dygert says she feels healthy and is grateful to be back.
"I've been trying to come back for three years now, and I feel like this has been the first successful try. I'm really thankful and happy. I'm still not at 100 percent, but I'm healthy, and I'm racing, and I'm looking forward to the end of the World Championships to see where my fitness is."
World records and the cobbled Classics and the Olympics –oh my!
Dygert told Cycling Weekly that the Giro will be her only grand tour for the time being. Thus, she will not be showing off her Stars and Stripes jersey at the Tour de France Femmes later this month. Instead, she'll be focusing on the UCI Track World Championships in Glasgow, where she's aiming to best her own Individual Pursuit world record.
In 2020, Dygert completed the 3,000-meter event in 3 minutes,16.937 seconds. This year she's hoping to break the 3:10 mark with a dream of going below 3:05.
Why 3:05? "Because the junior men's record is 3:0, so obviously, I want to try to break that," she said. "But if I get under 3:10, I'll be satisfied."
In Glasgow, Dygert will also try to reclaim the time trial title and compete in the road race. From there, she hopes for a healthy winter followed by, surprisingly, a Spring Classics campaign.
"Flanders and Roubaix are super iconic, but I obviously want to try all of 'em," said an enthusiastic Dygert, whose European home away from home is in Belgium. Of course, with the Olympics, I have to be realistic in which races I can actually do."
Dygert frequently rides the cobbles in training and seems unfazed by the technical aspects of Classics racing.
"I think it's just a power thing at the end of the day. And if you have the strength to be able to ride over those things, then I think it will be a little bit easier," she said.
Once seen as a pure-time trialist and pursuit racer, Dygert appears to be transitioning. She's proven that she can sprint, hang on the climbs, and you'd certainly be sorry if you'd let her escape off the front. When asked how she'd classify herself as a rider, Dygert said she's still learning.
"I would still call myself a time trialist, but we'll learn as we go — like finding out I can kind of sprint, kind of climb. I'm always trying to better myself, but I also don't want to lose my time trialing strength," she commented. "At the end of the day, the Olympics is the goal. The time trial is the goal."
With that said, Dygert admitted that she was tempted by the emergence of a gravel world championships.
"You know, when Pauline [Ferrand-Prevot] last year was going after four world titles, I actually considered doing gravel Worlds just to try it. But I don't want to risk losing a title somewhere else because I'm being greedy. I want to stick to what I am physically capable of right now," she said. "And that is recovery and my comeback."
Thank you for reading 20 articles this month* Join now for unlimited access
Enjoy your first month for just £1 / $1 / €1
*Read 5 free articles per month without a subscription
Join now for unlimited access
Try first month for just £1 / $1 / €1
Get The Leadout Newsletter
The latest race content, interviews, features, reviews and expert buying guides, direct to your inbox!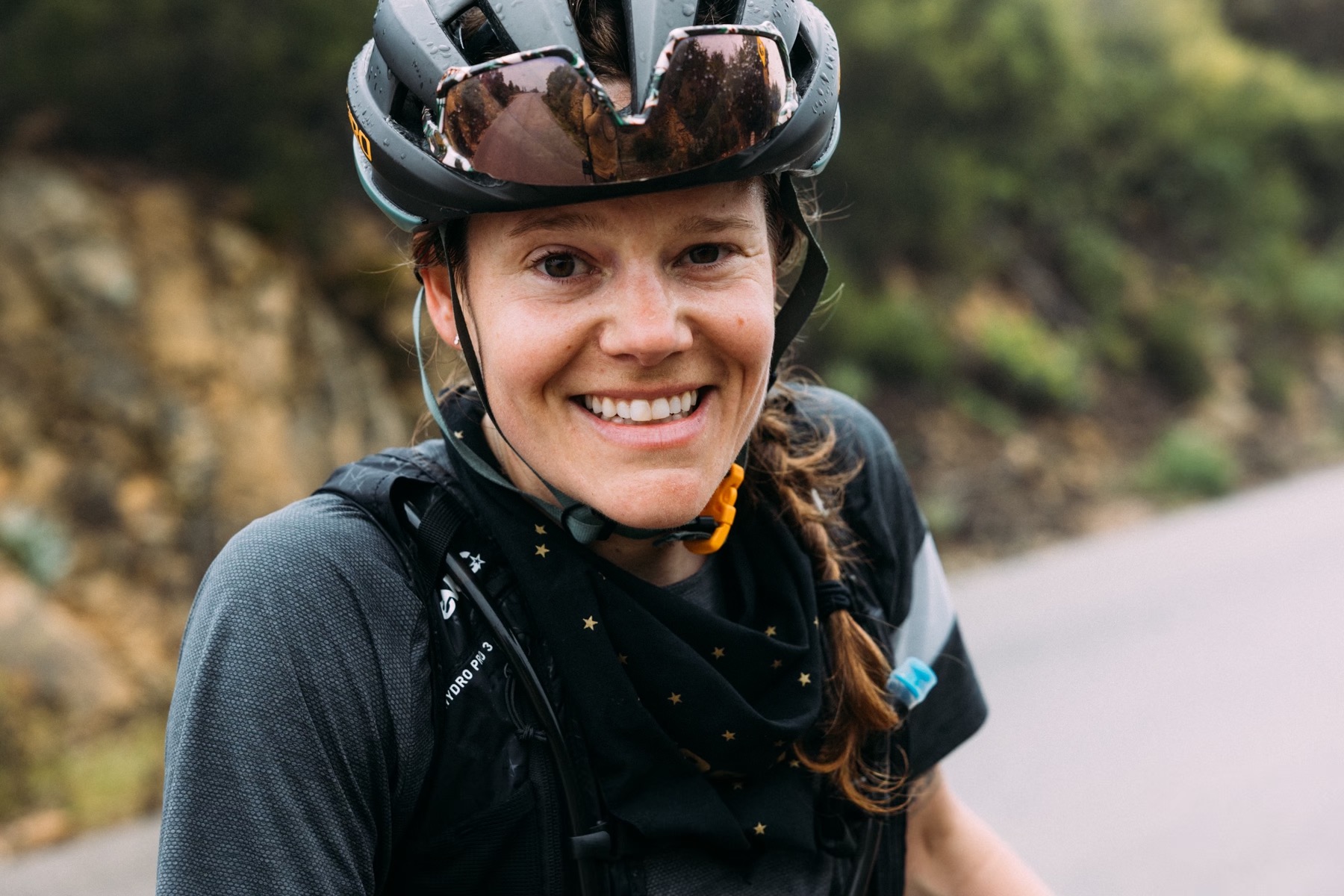 Cycling Weekly's North American Editor, Anne-Marije Rook is old school. She holds a degree in journalism and started out as a newspaper reporter — in print! She can even be seen bringing a pen and notepad to the press conference.
Originally from The Netherlands, she grew up a bike commuter and didn't find bike racing until her early twenties when living in Seattle, Washington. Strengthened by the many miles spent darting around Seattle's hilly streets on a steel single speed, Rook's progression in the sport was a quick one. As she competed at the elite level, her journalism career followed, and soon she became a full-time cycling journalist. She's now been a cycling journalist for 11 years.