Cobo fears final stage attacks from Froome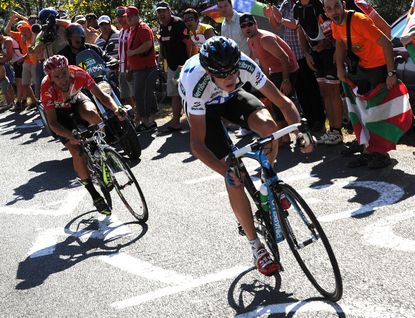 The Vuelta a Espana held its usual winner's press conference on the evening of the second last stage, but there was no traditional round of applause for Juan Jose Cobo as the 2011 winner - and Cobo himself refused to declare himself as the 2011 champion.
With just 13 seconds separating the Spaniard and Sky's Chris Froome and a maximum of 36 bonus seconds on offer on Sunday, Cobo still believes that Froome could - just - turn things around on Sunday's last stage, a flat 95 kilometre run into Madrid.
"Mathematically it's still possible that I lose," the Geox rider said, "and Froome has every right to keep on going for the sprints and the bonus seconds right up until the end."
"It's too close to call and I'm not going to say I've won yet. Today was a big step, I'm closer than ever, and I'd love to have the usual celebrations tomorrow during the stage."
"But it's not going to happen. There are two sprints on the stage and the final one, too. It's not over yet."
Stage 20 saw a minor controversy erupt after the organisers announced late on that they had made a last-minute switch of a hot spot sprint - with six, four and two seconds on offer - to 16 kilometres from the line. The riders knew about the change, but it was not clear when or why the the change had been made, with Spanish TV commentators only finding out it was happening with about 10 kilometres to go during an interview with a clearly annoyed Geox sports director.
In the end, though, the switch did not benefit Froome, who attacked too early, going for a banner which turned out to be the one indicating 20 kilometres to the finish. He admitted afterwards that he had made a mistake.
"They told me over the radio the sprint was going to happen soon and when I saw a banner round a corner, I went for it, but I messed it up," Froome said.
Had it worked out, Froome would have taken four seconds back on Cobo - breakaway Carlos Barredo (Rabobank) had already got the six second bonus for first but it didn't work out.
"We'll keep on fighting, but it's difficult to believe now it'll happen, though. Cobo has ridden very well and although we've heaped the pressure on him and the team have done brilliantly, once again he didn't crack."
Sky spent stage 20 with thoughts of Txema Gonzalez, the team assistant who died last year during the Tour of Spain from a bacterial infection, uppermost in their minds.
Vitoria was Gonzalez' hometown and his family visited Sky the previous evening in the team hotel in Bilbao and stayed with them during the stage, whilst his son travelled in a team car with sports director Servais Knaven.
"It's nice to be able to maintain that relationship and try and give his family as much support as possible," team principal Dave Brailsford told Cycling Weekly.
Related links
Vuelta a Espana 2011: Cycling Weekly's coverage index
Thank you for reading 20 articles this month* Join now for unlimited access
Enjoy your first month for just £1 / $1 / €1
*Read 5 free articles per month without a subscription
Join now for unlimited access
Try first month for just £1 / $1 / €1