Dr Hutch: The absurdity of doping excuses
This week Dr Hutch underlines the absurdity of the excuses made by the world's fastest drug cheats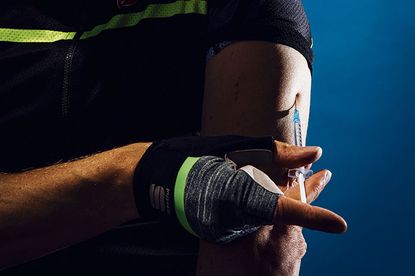 (Image credit: chris catchpole)
In all the excitement running into the Vuelta a España, you may have missed some charmingly old-school news. A dope-control sample provided by Spanish veteran and 2008 Olympic road race champion Samuel Sánchez disclosed the presence of an illegal human growth hormone. He's denied any wrongdoing, and requested the testing of the B-sample.
This used to be what cycling was about. Dope tests, B-samples, and Googling pharmaceutical websites to check impossible spellings. A typical reporter at the Tour de France used to spend the race's rest days like a coiled spring, waiting to pile into a car and race to the site of the latest denial of wrongdoing.
>>> Dr. Hutch: The impossibility of bike cleaning
It was a simple time. Cycling was clean, except when it wasn't. You could tell when it wasn't by trusting to the infallibility of dope testing, which was excellent for detecting a specific variety of cyclist known as a 'bad apple'. It has to be said that there were rather a lot of bad apples.
But otherwise? "No fire without smoke," everyone used to reassure themselves, as we strapped on our gas masks. We could pass a winter evening going through the year's results and sprinkling asterisks wherever appropriate, and feel that we had put the whole thing to bed for another year.
Catch me if you can
Which brings us to another quaint old feature of bike racing, which is to say Lance Armstrong. Last week was the fifth anniversary of him being disqualified from the seven Tours de France that, it turns out, he didn't win after all.
The big change that Armstrong introduced to cycling was not so much the English language, as a specific usage of the English language. The phrase "I've never failed a drugs test," used to mean more or less what it says. By the time Armstrong had finished with it, it was more often than not taken to mean, "You'll never catch me, flatfoot!"
Watch: Dr Hutch meets Steve Cummings
And with Armstrong, a great ambiguity swept over the whole area of doping. Our binary certainties were lost. First of all we lost all faith in the authorities to uncover who was doping and who was not — no one could have been more drug-assisted than Armstrong, yet the testers didn't nail him until (of all people!) Floyd Landis provided the personal testimony.
Crucially banning Armstrong had more to do with finding witnesses than with finding metabolites.
>>> Dr. Hutch: The unexpected confessions of Bernard
And then we lost all track of what even constituted doping. Where once we could decide what was doping by looking at the rules, now there is only a vague sliding scale of what we might call 'an inability to answer difficult questions'.
Questions about 'dodgy' coaches, about former team-mates, about where a rider trains and with whom.
It is only a matter of time before a beleaguered rider finds themselves facing a battery of microphones and saying, "I've never been unable to answer a difficult question," and the whole thing will shift onto an even higher plane of peculiarity.
Take therapeutic use exemptions for example. Once upon a time if you had one of these signed off by the authorities, then that was that. Then it became apparent that they were sometimes open to abuse. Then they became, all of them, a 'difficult question'. To the point where one rider at the Tour (Tim Wellens) declined a legal TUE and pulled out of the race instead.
Still, the woeful ambiguity has an entertainment value, as long as you're not a bike rider. You can make up your own minds about athletes now, based on rumour, innuendo, nationality, sense of humour and willingness to launch those oh-so-popular suicidal lone attacks with 100km to go.
Some say that it's high time the anti-doping authorities got back in control of the situation and stopped leaving it to the media and Twitter. But where would be the fun in that?
Thank you for reading 20 articles this month* Join now for unlimited access
Enjoy your first month for just £1 / $1 / €1
*Read 5 free articles per month without a subscription
Join now for unlimited access
Try first month for just £1 / $1 / €1