Dr. Hutch: contact lenses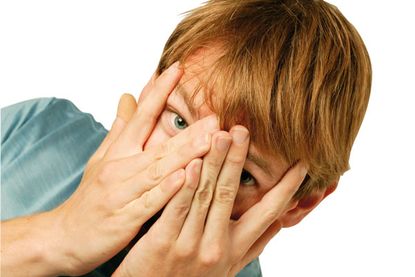 Get The Leadout Newsletter
The latest race content, interviews, features, reviews and expert buying guides, direct to your inbox!
Thank you for signing up to The Pick. You will receive a verification email shortly.
There was a problem. Please refresh the page and try again.
My cycling was visited by a fresh indignity last week. I wear contact lenses to deal with a form of short-sighted corkscrew astigmatism that left uncorrected would mean I could see round corners but only if the corner was very, very close.
As happens occasionally, a lens slipped. I did what I always do in these circumstances and stopped to use a mirror to slide it back onto the centre of my eyeball.
But the mirror in question wasn't mine. It was attached to the side of someone's Ford Focus. Using a wing-mirror to adjust a contact lens, you have to kneel by the car with your head against the window.
In an ideal world, I'd have ensured that the car was empty; specifically, that there wasn't a large, aggressive-looking man in the driver's seat. But, of course, I was half-blind at the time. The first I knew of him was when the window slid down and the vents of my helmet were seized by a grip like an eagle intent on taking me back to its nest.
Cycling is biased against the shortsighted. While pros with perfect vision attract admiration by wearing the most ludicrous-looking eyewear they can find (anyone remember David Millar's Oakley Over-the-Tops, which clipped over the top of his head like a giant claw?), those of us with no choice in the matter are locked in a perpetual struggle against a giant 20/20 conspiracy.
For instance, at a long, wet, miserable road race a few years ago, I was involved in a crash where I broke the coccyx of the rider in front with my face. That wasn't a riot of dignity to begin with, but it was exacerbated by losing my glasses.
I wasn't wearing contacts; these were prescription glasses. The team manager and I scrambled around on the verge looking for them for all of about 10 seconds before he decided I'd better get back on my bike and get chasing. I was fine getting back through the cars, because cars are quite big and they make a helpful noise to aid in their location. When I got to the small, silent, blurry shapes that constituted the riders, I was helpless. I crashed another three times in the remaining 60 miles.
It turned out the glasses hadn't been lost at all, but had been rammed upwards and slid under my helmet. This was quite obvious to everyone else, because the legs were sticking out down each side of my face. Not one person was kind enough to mention it. I assume they thought I was having fun.One of the problems with contact lenses is that any dust or grit that gets trapped underneath them results in agony, making sunglasses essential.
At a time trial championships, I discovered I'd forgotten them. I was reduced to running round the car park looking for someone with a spare pair. The only offer was from a rival's wife, who lent me a pair of knock-off women's Pradas of the enormous, Jacqueline Kennedy variety. I spent the race trying to stop the damn things sliding downwards and falling off by making the skin on my nose ripple upwards.
This is harder than it sounds. A week later, I found a discussion on a web-forum about why I was wearing them. The consensus was, "He must have tested them in a wind tunnel." It was quite comforting to feel that "He's a shortsighted idiot" had been rejected out of hand.
Dear Dr Hutch,

I follow you on Twitter, and noticed that you often complain about road safety, especially the suggestion that some drivers fail to see cyclists. I've been cycling for many years without any incidents. Hi-viz and the like is just a distraction. Staying safe is quite simple. If you position yourself correctly, that is to say you adopt the primary position in the middle of your lane, and ride with confidence, there is no motorist in the world who won't see you.



Francis Hilton, via email



Francis, thank you for your advice. I feel it only fair to warn you that my experiences following a piece I wrote last year about not having had a puncture for nine months does rather suggest that the Gods of Cycling read this column.
Training zones
Your grandfather, if he was a cyclist, would have gone for a ride. He would have kept a scrupulous check on how far it was, and if he kept a diary he would have made a note of this, along with some reference to whether it had been easy, steady, or hard riding. He might have mentioned if he'd made 'evens' - average 20mph or more.If only he'd known what he was missing out on. Zones! One, two and three. And four and five.
All as elastic and incapable of universal definition as they are dynamic and action-packed. Imagine never having the feeling of pride that comes from a training diary entry that reads, "2 hours, 30 min Z1+/Z2-, 30 min Z2++ and 45 min alternating Z2/3 torque and Z3+ with Z4+? spikes." Of course you don't understand it. That's the point. Training zones are cycling's answer to management speak. They are our enabling synergies going forward to empower stakeholders. (Otherwise known as "training makes you fitter".)
Your grandfather would be surprised to learn that Z1 is what he knew as 'easy', Z2 is 'steady', Z3 is 'hard'. He'd also be pretty scathing about it, so it's best you don't tell him or you'll never hear the end of it. There are other zones: Z4 is harder than hard, and Z5 is harder than that.
These are concepts your grandfather was unable to express, which is why his training was so rubbish.If you want to get one over on your mates, just arbitrarily add five to all your zones so that instead of running Z1-Z5 they're Z6-Z10. That way you'll get much fitter, much faster.



This article was first published in the May 2 issue of Cycling Weekly. Read Cycling Weekly magazine on the day of release where ever you are in the world International digital edition, UK digital edition. And if you like us, rate us!
Thank you for reading 20 articles this month* Join now for unlimited access
Enjoy your first month for just £1 / $1 / €1
*Read 5 free articles per month without a subscription
Join now for unlimited access
Try first month for just £1 / $1 / €1
Get The Leadout Newsletter
The latest race content, interviews, features, reviews and expert buying guides, direct to your inbox!
Michael Hutchinson is a writer, journalist and former professional cyclist. As a rider he won multiple national titles in both Britain and Ireland and competed at the World Championships and the Commonwealth Games. He was a three-time Brompton folding-bike World Champion, and once hit 73 mph riding down a hill in Wales. His Dr Hutch columns appears in every issue of Cycling Weekly magazine