Contador considers quitting cycling due to doping scandal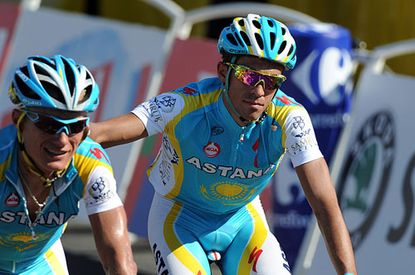 Tour de France winner Alberto Contador is considering quitting cycling due to an erupting scandal centred on his positive doping test for Clenbuterol.
"I am so disappointed with everything that's happening," he told Spain's El Mundo newspaper, "that I'm thinking of leaving cycling, regardless of any decision by the UCI."
A UCI decision could come within a week as the Tour de France organiser ASO is reportedly asking for an outcome prior to its announcement of the 2011 route on October 19.
Contador won this year's race, his third overall win, on July 25. He announced that on September 30 that the UCI informed him on August 24 that he tested positive for Clenbuterol, a drug to help breathing and weight loss. The urine test was taken on the Tour de France's second rest day, July 21. An analysis on September 8 of a backup sample confirmed the presence of Clenbuterol, 50 picograms or 0.05 nanograms.
The UCI's decision will likely see the Spanish federation review the case and possibly issue Contador a ban of up to one year. His defence that he ate contaminated meet will likely fail.
The European Union banned Clenbuterol for animal fattening in 1996 and regularly checks farms to ensure the rules are followed. According to the Associated Press news agency, Clenbuterol showed only once in 83,203 animal tests in 2008 and 2009. 19,431 of those tests were in Spain and none showed Clenbuterol.
Fernando Ramos, a food contamination specialist at Portugal's Coimbra University, does not believe Contador based his argument on the facts.
"It's not impossible but improbable," he said. "In my opinion, it's just a story."
If Contador's story doesn't hold up, he could lose the Tour de France title. Only four years ago, American Floyd Landis lost his win after a test revealed he used testosterone.
Landis earlier this year wrote an e-mail to the head of USA Cycling and detailed alleged doping practices while he raced with Lance Armstrong. The US government has opened an investigation in Los Angeles to examine Landis' claims and question Armstrong's former team-mates.
Contador, 27, raced with Armstrong in 2009 on his way to win his second Tour de France title.
Related links
Tension rises over Contador's clenbuterol case
Thank you for reading 20 articles this month* Join now for unlimited access
Enjoy your first month for just £1 / $1 / €1
*Read 5 free articles per month without a subscription
Join now for unlimited access
Try first month for just £1 / $1 / €1