Contador to use 'Gasquet's kiss' theory to back case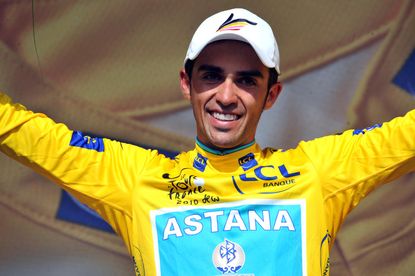 Alberto Contador's claims that he is innocent of all doping charges centre on the same defence as was used by French tennis player Richard Gasquet, one of his lawyers has revealed.
Two years ago tennis player Gasquet was cleared of doping after insisting that he had tested positive for a tiny quantity of cocaine because he had kissed a girl in a disco in Miami. Both the French Tennis Federation and WADA considered that even though this was an unlikely cause for a positive, it was the most probable reason.
According to Contador's lawyer Andy Ramos Gil, writing in Spanish newspaper El Mundo, Contador's argument is essentially the same: that even if eating contaminated beef sounds like an implausible reason for finding tiny traces of a banned substance in his organism, that is the most likely explanation. Equally, like Gasquets said about his cocaine positive, the clenbuterol could have had no effect on his performance because it was present in such tiny quantities.
Contador lined up no less than 13 different medical reports in his defence, all of which backed his theory, and he has also pointed out that similar cases, like that of other road racing pros Alessandro Coló and Li Fuyu, table tennis player Dimitri Ovtcharov and MTBer Rudy Van Houts, all allegedly had their roots in the same problem: contaminated meat.
However, what the lawyer's article in El Mundo does not mention is that all of these positives occurred after the athletes had consumed meat in countries where fattening of livestock via clenbuterol was either permitted or widely overlooked - Ovtcharov and Fiyu in China, Colo and Van Houts in Mexico. In France, where Contador tested positive, use of clenbuterol in animals is banned.
It can be argued that meat testing in Europe is insufficient - there certainly seems to be evidence to suggest that. But why, then, have more clenbuterol cases not appeared? Or have they perhaps not been reported by the WADA laboratories, given the amount that was found in Contador's organism was so small?
The answer to that could be in what Zhao Jian, deputy director of China's Anti-Doping Agency, told the Associated Press in a recent interview.
"If pork meat or liver is heavily contaminated, you can test positive from it, but not every time. That's fact, scientifically proven. You can test positive from contaminated meat."
When Detief Thieme, boss of Germany's other WADA-accredited lab in Kreischa was questioned on the same theory of contaminated meat, he agreed with Jian:
"No doubt about it, that's undisputed, it's a very pressing problem and the faster it's solved the better."
There are various arguments against Contador's defence: that the rules are the rules and Contador was found positive with a banned substance in his system; that there was other indirect possible indications of his doping, such as the alleged presence of plasticizers in his system; that he had links to Operacion Puerto (of which he was later cleared by the UCI, but there is no smoke without a fire); and that he is the latest in a long, long list of Spanish athletes to fall foul of the anti-doping system.
This last issue is also critical. Spain's track record in battling doping is uneven, to say the least. And over the years Spanish cycling has justifiably earned itself a poor reputation internationally. But to reject all Spanish cyclists out of hand the minute there is the remotest suspicion of doping is hardly fair, either.
Contador has now returned home from the Saxo Bank training camp in Mallorca to await the definitive verdict on his suspension from the Spanish Cycling Federation, due on February 9.
Related links
Contador says he will fight on despite provisional ban
UCI awaits final Spanish decision in Contador case
Thank you for reading 20 articles this month* Join now for unlimited access
Enjoy your first month for just £1 / $1 / €1
*Read 5 free articles per month without a subscription
Join now for unlimited access
Try first month for just £1 / $1 / €1