CW Eyewitness: remember the name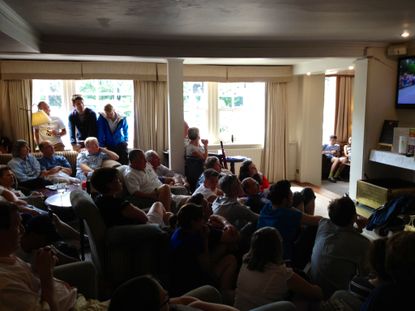 "Who's in the break for Team GB?" I overheard a man ask his wife. "Is it Emma?"
She looked blank. "It's the other one," she said.
Whereas most people lining the road race route on Saturday would have been able to identify Messers Cavendish, Wiggins and Froome, for many picking out the British women in today's event clearly wasn't proving so easy.
Not that it seemed to matter to the 100 or so fans gathered around a small TV in the Burford Bridge hotel at the bottom of Box Hill, many of whom will have sacrificed a good spot on the climb for a better position in front of the screen to see the finish.
Their enthusiasm - undamped by the heavy rain out - was clear to see; a British winner was a possibility, after all. It didn't seem to matter if you knew who Lizzie Armitstead was or not, everyone bar a Dutch family in the room was backing the Brit.
There were cheers, Wimbledon-esque "come on Lizzie" chants and even some sustained clapping. Anything to stop biting the fingernails, I guess.
There was a brief moment of panic among some of the crowd when the TV pictures showed a British rider off the back with a mechanical. Once again it was a case of mistaken identity - the rider in question was indeed Emma Pooley, somewhat belatedly.
As the leading trio rode nearer to the finish, both noise levels and tension rose. Some were shouting encouragement at the screen, others were dishing out tactical advice.
Ultimately it the Briton's day, but the women had given us a fantastic show of aggressive and determined riding, which is likely to elevate both Armitstead's status as well as the profile of women's cycling in this country.
That could be quite handy, especially if you ever get asked to identify who is in the front group of a race.
London 2012: Live text coverage of cycling events
July 28: Men's road race
July 29: Women's road race
London 2012: Latest news
Tickets for Box Hill? You may need another...
Bradley Wiggins' UKSI Olympic bike
Hoy helicoptered in for opening ceremony
Box Hill closed after local riders give security the slip
Boonen and Gilbert train on Box Hill Olympic circuit
Goss fresh for Olympic Games assault
Trott on top: London 2012
Hoy to be GB flag bearer at London 2012 opening ceremony
Millar: I think about Olympics all the time
Cavendish recognises advantage in missed Tour chances ahead of Olympics
Kenny not Hoy selected for London 2012 sprint
German and French Olympic teams sneak in fourth sprinter
Cavendish: GB's best bet for Olympic gold
London 2012: Team info
Men's road race start list
Women's road race start list
Men's time trial start list
Women's time trial start list
Team GB rider profiles
Great Britain track team confirmed
Bronzini leads Italian Olympic cycling team
British Olympic men's road race team announced
Armitstead and Cooke lead GB women's road cycling team
London 2012: Event guides
Olympic Games women's road race: Who will win?
Olympic Games men's road race: Who will win?
Download detailed Olympic road race route map
London 2012 cycling schedule
London 2012: Reports
Men's road race: Vinokourov wins as Cavendish misses out
London 2012: Photos
Men's road race by Phil O'Connor
Men's road race by Graham Watson
Team GB road race training on Box Hill (July 26)
London 2012: Podcasts
Cycling Weekly podcasts on Soundcloud
London 2012: TV schedule
London 2012 BBC TV cycling coverage schedule
London 2012 Eurosport cycling coverage schedule
Thank you for reading 20 articles this month* Join now for unlimited access
Enjoy your first month for just £1 / $1 / €1
*Read 5 free articles per month without a subscription
Join now for unlimited access
Try first month for just £1 / $1 / €1