Cycle to work calculator pushes the right buttons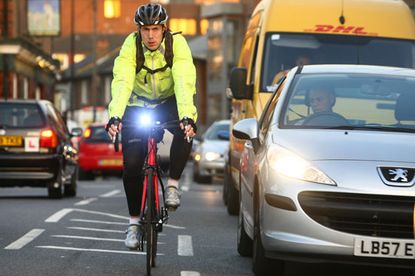 How long does it take from having an idea to that idea making you an associate partner of former President Bill Clinton's Global Initiative campaign?
In the case of 36-year-old London web designer Steve Morgan the answer is: less than a month.
In late June Steve was riding home and started thinking about how much money cycle commuting had saved him. "I had already been trying to convince my colleagues at work to cycle because they had been complaining about lack of money," Steve says. "Then my bike computer went over 17,000 miles and that was just from cycling to work, from Richmond to Chiswick.
"That got me thinking that my bike was only £400, and how much money had it saved me? So I built the website - www.cycletoworkcalculator.com - to calculate the financial benefits of cycle commuting simply to convince my colleagues to bike to work. And once you see the numbers in black and white like that, even I was flabbergasted by just how much you can save."
Once the website was created Steve let it go live, and that's when the real fun began.
"I showed my friends and stuck it on Twitter. The design community found it first of all because the site is quite striking in that sense. A well-known designer called John Hicks - he designed the Firefox logo - tweeted about it, which caused my server to crash because of the interest. So I had to upgrade my server. And I've had to upgrade it again. And it's just gone crazy from there."
In less than a month interest in the site had spread across the globe, from cyclists in France asking for calculations to be possible in euros and kilometres (Steve has obliged) to the Public Office in Sydney publicising it. But the most exciting development came when Steve had an email from New York.
"I couldn't believe it. I thought it was a joke or spam when I got the email from the Clinton Global Initiative but I replied anyway. Then I had a Skype meeting with Richard Rosen who is the CGI's chair of human power. I didn't realise it was going to be a video conversation. The video popped up and I saw they were all in suits sat in a meeting room - I was in our bedroom with the wife's knickers on the bed behind me. It was a nightmare," Steve laughs.
"The CGI is trying to cut global CO2 emissions by 50 per cent by 2050 and they see the calculator as being the hook that gets people interested in riding their bikes. Then it'll be about what happens afterwards which is the most important thing - how they can keep people interested in cycling and where they can drive people after they've captured their initial interest.
"They've even made me an associate partner of the CGI. Normally you can't get involved at that level unless you bring along a load of money. There are the CEOs of General Electric, General Motors, there are Hollywood film stars, and then there's little me who built this website in his bedroom five weeks ago."
And what about those big bucks - is this going to make our man a millionaire? Steve chuckles: "Rosen said to me 'Are you going to be greedy with this or are you going to do it for the good of the world?'" We think, surely if President Clinton is involved there must be a third way?
How it will unfold
"Instead of telling everyone to forget driving and get on their bikes the people at the Clinton Global Initiative realise that's not going to happen," Steve says. "So the first step for the next few years will be to use folding bikes - they've got a folding bike company on board called BigFish bikes.
"CGI is targeting what they're calling the first or last mile - the scheme is titled 'Complete Your Commute'.
They're telling people not to drive, just cycle to the station, fold up your bike while on the train, and use it again when you get off the other side. And they're only suggesting people do that two or three days a week, so it's a very softly-softly approach.
"I've had a few Skype meetings about this. I'm not entirely sure how it'll all work but the scheme will launch on September 21 in New York because that's when they have the CGI annual meeting with world leaders attending. I've sent them examples of how to brand it, but it's all moving pretty fast.
"So what I'm working on now is called a multi-modal commute calculator, where you'll have calculations based on bike and train versus car. It's a bit tricky to get my head round - I'll have to get my dad involved, he's pretty good with sums."
The original version of this article appeared in Cycling Weekly magazine, August 18 2011
Thank you for reading 5 articles this month* Join now for unlimited access
Enjoy your first month for just £1 / $1 / €1
*Read 5 free articles per month without a subscription
Join now for unlimited access
Try first month for just £1 / $1 / €1