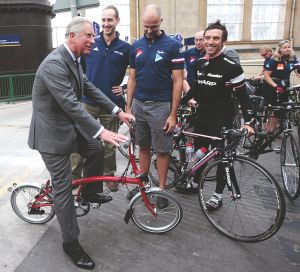 16th October 2010 Words: Matt Lamy
If it isn't enough seeing celebs Jude Law and David Beckham jump on the pedal-powered bandwagon, now the Prince of Wales has been spotted trying a Brompton for size.
The Prince's saddled-up photo-op came in Glasgow as part of his START campaign, promoting sustainable living, and supported by British Cycling.
Over three days, the Prince's tour visited Edinburgh, Manchester and Birmingham, where cyclists were treated to free breakfasts and bike tune-ups. Sadly, the Prince opted to travel from city to city in his bio-fuelled royal train rather than ride.
Meanwhile, British Cycling has launched its Workplaces Employer Programme, aimed at helping businesses adopt cycling. The theory is, if companies positively encourage cycling by creating projects like workplace cycle clubs it will have beneficial side-effects, like reducing a firm's carbon footprint and easing traffic congestion.
Contact: lovecycling@britishcycling.org.uk.
Thank you for reading 20 articles this month* Join now for unlimited access
Enjoy your first month for just £1 / $1 / €1
*Read 5 free articles per month without a subscription
Join now for unlimited access
Try first month for just £1 / $1 / €1