The best cycling windbreaker jackets
Heading through Autumn and into Winter the weather can change at a moment's notice and catch riders out. A good windbreaking, storable jacket can be an essential addition to any jersey pocket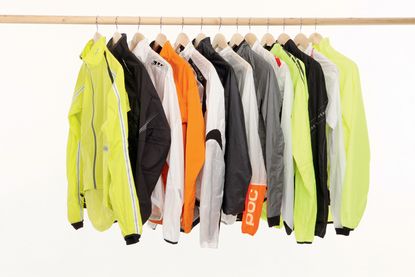 Get The Leadout Newsletter
The latest race content, interviews, features, reviews and expert buying guides, direct to your inbox!
Thank you for signing up to The Pick. You will receive a verification email shortly.
There was a problem. Please refresh the page and try again.
Autumn can be a shock to unprepared riders trying to hold on to the joys of summer riding. From chilly mornings where the sun is slow to rise, to afternoons that can't quite hold onto their heat when the evening draws in, it's all too easy for clothing choices to go awry. This is even more apparent when Winter sets in, and poor clothing choices can ruin your ride.
The good news is that this problem can be easily solved, with a lightweight, stashable windproof jacket. This is a staple item for the cyclist's wardrobe. Something you'll find yourself reaching for all year round, excluding only the very coldest or hottest months. A windbreaker jacket you can easily stow away should offer more protection than a gilet, be lightweight and (hopefully) breathable enough for when effort levels increase and the body starts to get warm.
Because we consider the windbreaker jacket such an important item, we've sourced 15 of the best jackets we could find. They start at around £30, and cover almost every price point up to the highest of £180. There should be something for every wallet.
What to look for
You can trust Cycling Weekly. Our team of experts put in hard miles testing cycling tech and will always share honest, unbiased advice to help you choose. Find out more about how we test.
Protection
Of course, the number one job of a windbreaker jacket is to keep you warm when the temperature drops. All of these jackets are an improvement on no jacket at all, or a gilet, which will only protect your core. Another thing to take note of is the amount of breathability (mesh panels or vents) a jacket has. You don't want to get too warm once your effort level rises.
Stowage potential
Autumn mornings can be rather chilly before the day warms up. In the opposite fashion, a balmy afternoon can lose its heat as the sun drops. Either way having a jacket that folds up tightly, and disappears into a rear jersey pocket can be a real bonus. Some of our test jackets disappear into the smallest pocket, making them ideal for changing conditions on long rides where your pockets may already be quite full.
Fit
The fit of all these jackets can be separated into two categories, race or casual (and we'll point out which each one has if the isn't obvious in the photos). Slim racer types will baulk at flappy arms on a baggy jacket, where as commuters, looking for something more practical may want a more roomy jacket to cover casual clothes.
Fifteen of the best
Proviz Pack'it jacket £32 www.provizsports.com
A fluro bargain at only thirty(ish) quid, the Proviz jacket has a very casual fit (in other words, rather large) and it was a bit too baggy for my liking. The good news though is that it's obviously very visible, and it disappears into a rear pocket. The material did a good job at keeping us warm, although breathability wasn't great. For the price, it's well worth considering as a backup jacket to keep just in case the weather turns nasty before a commute home.
Summary: A baggy jacket that covers your basic protection needs at a bargain price.
Howies Dyfi Active Shell £39 www.howies.co.uk
This is an excellent jacket that's great for many outdoor activities. The cut manages to be casual in style but also well fitted leaving minimal material flapping. It was quite large once folded and it will all but fill up even the biggest rear pockets, but its practicality and versatility make up for that. Very comfortable and well made with a good mix of materials makes this jacket a real winner.
Summary: An excellent jacket that would be a bargain at twice the price. Bravo Howies.
You can see a full review here: Howies Dyfli Active Shell
Madison Pack it jacket £40 www.madison.cc
Madison have become a lot more noticeable since sponsoring a UK pro-team, and since then some of their clothing has come along leaps and bounds, thanks in part to feedback from their professional riders. This bright yellow jacket may not be a very racy colour, but it's undoubtedly a good choice for riding on gloomy days. The fit is casual, and it folds nicely into its own bag. Features are sparse, but there's not much to dislike.
Summary: An easily visible commuting jacket that easily packs into its own mesh bag.
Specialized Windjacket Comp £50 www.specialized.com
A thin material makes for an easily pocketed jacket from the American brand. The colour is an obvious bonus too, as is the price, which is quite competitive. The fit isn't as slim as I expected though; it's quite generous, with baggy arms ruining the appeal. The wind protection was about average, and breathability was okay too. An average jacket for an average price.
Summary: A generous fit ruins the racer appeal, but commuters will like the colour and price.
Endura Equipe compact shell jacket £65 www.endurasport.com
Like Madison, Scottish brand Endura also sponsor a professional team. The relationship is a lot more visible here though, as this slimline jacket is definitely designed with the racer in mind. The long arms and rear end help cover you up when you're down on the drops, and there are a variety of features to keep things interesting. Our favourites being the long comfortable cuffs and bonus rear pocket. It packs up pretty small too!
Summary: Good mix of fit and features make for a solid jacket at a reasonable price
Northwave Breeze Pro jacket £70 www.i-ride.co.uk
The stiff 'Bag for Life' type feel of this jacket's material made it great in terms of wind protection.
The fit was a bit hit and miss, with a great long back and fairly snug body, but with a fairly flappy arm and worst of all, a very tight neck. The material lacked breathability when compared to some excellent competition too so as the effort increased, so did the amount of sweat collected.
Summary: There's potential for great protection from this jacket but it's let down by a poor fit.
Sportful Hot Pack 5 (male/female) £75 www.c3products.com
Long arms with thumb loops and comfortable materials all round made this jacket a firm favourite of ours. It was tight across the shoulders though, so broader riders might benefit from sizing up. The real selling point is how tiny the jacket can be folded into its own rear pocket. Breathability was definitely good, helped by some clever side venting, and wind protection was great too, especially considering the small size it ultimately folds down to.
Summary: A well cut, slim fit jacket that disappears into even the smallest rear jersey pocket. Brilliant.
Pearl izumi Pro barrier lite £80 www.madison.co.uk
The Pro Barrier Lite is simply a good all round jacket. The fit was good. Slim, but not overly so, and not baggy in the places where it can become annoying. The wind protection was good and its packed size was about right too. It lacks any real features to separate it from the competition though, so its pleasure comes from its simplicity, and it will suit riders looking for something that really just gets on with the job.
Summary: No nonsense jacket that gets on with keeping you warm, in lieu of other features.
Café Du Cycliste Madelaine Jacket €120 www.cafeducyclist.com
In terms of quality this jacket was very hard to beat : the materials used are lovely. The fit is a slim 'racer' cut, and nigh on perfect with zero material flapping around and some nice touches like soft cuffs and a cinched in waist that adds to the tailored feel of the jacket. Best of all the wind protection and breathability were great too.
Summary: Smart and stylish in every sense, this jacket shone through as one of the best windbreaker jackets around.
You can see a full review here: Cafe du Cycliste Madelaine Jacket
DHB Turbulence (male/female) £37.99 www.wiggle.co.uk
Aptly named the 'Turbulence' jacket, it does a great job of keeping you warm on the windiest of days. The fit of the jacket is good too, walking the line between casual and slim. The breathability wasn't the best though, which around the body is good, but falls short in the arms where there are no vents to exhaust the heat, and the thick, high neck is comfortable, but a slightly overkill on a thin autumn jacket.
Summary: A 'nearly there' product from DHB. A great jacket that could do with a few tweaks to make it perfect.
POC Essential Wind jacket £125 www.2pure.co.uk
POC are known for producing some lovely bright products, and this Essential jacket, part of their AVIP collection (Attention, Visibility, Interaction and Protection) doesn't let the side down. The fit is race inspired, so its slim, and the materials used are quite satisfying, with good mesh side and underarm panels, although we expect that at this price point. A simple jacket that folds down small and does the job well, but it could be a marmite-type product thanks to the design.
Summary: Whether you love or hate the orange arms, there's no denying this jacket works well.
Nalini Paraffina £75.99 www.chickencycles.co.uk
Nalini are a stylish Italian company, which you might guess from looking at this jacket. It's almost entirely plain black with zero reflective material. The soft finish has a nice feel, although wind protection wasn't the best, and as it also lacks breathability, so a couple of vents wouldn't have gone amiss. The best part about the jacket, the fit, is also less than perfect, let down by sleeves that are slightly too short. A jacket with a lot of potential, but a lot missing too.
Summary: It could be a simple and stylish jacket, but practicality and fit are MIA here.
Rapha Classic Wind Jacket (male/female) £180 www.rapha.cc
We've tested this jacket before against different competition, and we still love it now. Quality is something you're made to pay for with Rapha, and the price is relatively high, although our previous test jackets are still going strong, so we know it will last. The real attraction is its versatility. With the right baselayer it will keep you warm close to zero degrees, and with a summer jersey underneath, cool even up to fifteen.
Summary: Great materials really work, as shown here from Rapha's expensive but quality offering.
Gore Power Active Shell Jacket (male/female) £140 www.goreapparel.co.uk
Gore's Windstopper fabric is about the best material around for keeping you warm against the wind outside but dry from the inside. It's a very light jacket, with an extra breathable material used on the back and rear arms. We hardly noticed we were wearing it, which is always a great compliment to a jacket. Quality is well proven with Gore products so the higher cost is accounted for through many seasons of use. Size is good, and cut on the slimmer side, but not overly so.
Summary: Windstopper does what it says on the tin, and Gore strike gold again.
Lusso Skylon 2XS jacket £40 www.Lusso-clothing.co.uk
All Lusso products are designed, tested and manufactured here in the UK, a claim not many other brands can make. It's pleasing to see then that the jacket is very nicely put together, with the visible stitching looking particularly neat and tidy. This jacket, the Skylon 2XS is about as simple as you can get, with no pockets or vents in sight, and the same thin material used all over. For the price, it's hard to beat.
Summary: It almost makes you proud to be British, well done Lusso on a job well done.
Original article by Chris Catchpole
Thank you for reading 20 articles this month* Join now for unlimited access
Enjoy your first month for just £1 / $1 / €1
*Read 5 free articles per month without a subscription
Join now for unlimited access
Try first month for just £1 / $1 / €1