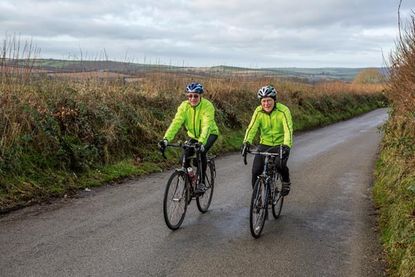 (Image credit: Jesse Wild)
Words Matt Lamy | Photos Jesse Wild
"I had a bike in my teens because I worked on a farm in the middle of Devon and I needed one, but I didn't start cycling again until I was about 45," Colin Knight, now 75, says. "My wife Bev and I had always been very active with swimming or walking, so we would probably go out cycling once a week, and we might do five miles or we might go up to 40 depending on the weather and how we felt. I've kept cycling ever since."
Colin retired 14 years ago and didn't slow down. But then Bev was diagnosed with bowel cancer eight years ago, and died in May 2009. Even now Colin finds it hard to talk about her death. "Bev was only 64 when she died and she was just as fit as I was, but cancer has no respect for things like that," Colin says.
As a member of his parish church Colin received support from the local community, but one friend in particular felt he knew what would help most.
"Most people were telling Colin, do this, do that," his cycling buddy Mike Jones — a youthful 62 year old — says. "But I just rang him up and said. 'What are you doing? Get your arse in gear: I'm coming round in 20 minutes on me bike.' And 20 minutes later we'd go out for a ride. It just lifted his mood.
"But we'd had an idea about cycle touring many years before that. We were cycling down the Camel Trail with a group of families — Colin's wife Bev was with us — and Colin said it would be nice to do the Sustrans trail from Bristol back to Bodmin.
After Bev died I felt we had to do something. Having worked in nursing I know that the first anniversary of anybody's death is always a very difficult and important time, so I said to Colin: 'Why don't we do that bike ride from Bristol back to Bodmin?' He said 'You're serious?' I said yes. That gave him something to focus on."
Pedalling pals
So in May 2010 the pedalling pals covered 240 miles in five days, heading from Bristol to Bodmin via Barnstaple, and raising money for Hospice South-West and Cancer Research in the process. Deaths in Mike's family in 2011 meant they didn't take on a cycling challenge that year, but then last May they upped the ante and decided to take on an epic cycle tour, east to west across the country, from Norwich to Bodmin.
"We did 423 miles in six days," Colin says. "I bought a Ridgeback Panorama touring bike for it, which I was very pleased with, and we must have had 30lb of kit loaded onto each bike. We stayed in Norwich for a couple of nights so we could look at the cathedral and see the city, then we set off.
"The first day was hard. It was partly my fault. I tried to work out a route on B roads because I thought that would be quieter, but we gave that up after the first day because we did 102 miles and with those heavily-laden bikes we ended up a bit numb.
"I remember we were riding up this slight hill with about seven miles to go until our planned finish on that first day. I said to Mike: 'I think my age is kicking in Mike, I'm not going to be able to finish this.' I don't normally eat sweets but I had a Crunchie bar and a bottle of Lucozade on the bike so I decided to have them. It transformed me — I must have been bonking, isn't that what they call it? I couldn't believe what the sugary stuff did to me, almost immediately, and I finished the day without any trouble," Colin says.
"We stayed at bed and breakfasts each night. That first night in Sandy, then Witney, Devizes, Wells, and then Tiverton. We did say we'd take seven days to get back to Bodmin but we actually did it in six. But that last section from Tiverton to Bodmin is very, very hilly, especially on the Devon side. Mike only lives about eight miles from my home, so as we were riding I said: 'Leave your bike at my place and I'll give you a lift home.' But when we got back I was so tired I had to say, 'I'm sorry Mike, I'm afraid I'm going to fall asleep driving.' So he had to get a taxi," Colin chuckles.
"Retrospectively, though, we enjoyed every minute of it."
Endorphins and serotonin
For Mike the tour achieved everything he had wanted. "It was a really good ride. I enjoyed it and Colin enjoyed it as well. That was the important thing: to give him a boost around the anniversary of Bev's death. So these rides always give him something to look forward to and to plan, and I feel that is very important. And of course we raised quite a bit of money for our respective charities.
"We came back with a sore bum and I think I lost a couple of pounds in weight, but it was great. Cycling gives you those endorphins and makes you feel well and it gets the old serotonin going a bit more as well. There have been people that I have known while I worked in the Health Service who I've said: 'Give sport a go, give cycling a go.' And they've gone out on their bikes and for some of them it's been their saviour.
"As you get older you're supposed to get wiser, but I don't know. Colin and I have just got dafter. I think somebody must have forgotten to put the tablets in our cocoa sometimes! We just keep planning stupid things to do — cycling 250 miles aged 60 and 73 is one thing. But then we went and said, bugger it, we're going to do an even longer one two years later! God knows what we're going to do next.
I know Colin wants to do Wales, but we're also thinking about doing the End-to-End. I'm not sure my wife will let me have that much time on the bike," Mike laughs.
Can't stop now
For now, Land's End is safe, with Wales looking like Colin's preferred option. "I always preface everything I say now with 'If I'm still here', but if I'm still here then in May I would like to catch the train to North Wales and cycle back," Colin says. "Bev and I used to love North Wales. I do love the country and I'd love to come down through the border counties.
"The danger as you get older is you become more content and happy with your lot. I suppose that's a good thing. But I still want to have a go at these big challenges each May. Here at home in Cornwall I try to ride 80 miles every week but I often do 100 or more. Cycling has helped me to live with my situation after my wife died. I thought when I started: 'Should I be doing this at my age?' But I just keep wanting to do more."
The Book of Cycling According to Colin
"I think it helps if you have the right bike for the right job. If I'm just going out to do 30 or 40 miles I'll take my Specialized Secteur but I would never do a long ride without my Ridgeback Panorama.
"I've got four bikes: the Secteur, the Panorama, a Genesis Vapour for the trails, and one I just keep for any friends who want to borrow it. I've done 5,000 miles on my Secteur in about 18 months, 1,000 on the Ridgeback and a load more on the Genesis. Obviously not everybody can buy a bike for everything that they want to do, but my bikes are about the only thing I spend any money on.
"Even as I have grown older I haven't noticed my position on the bike changing. I think everybody gets a bit of a twinge in their back even when they are 40, so I occasionally get that but nothing else. The one major problem I have had was on the day to Witney during our last cycle tour. My leg played up terribly — so bad in fact I thought that I might have to get the train home and abandon our ride. But I bought Tubigrip, some ibuprofen and some ointment with the pharmacist's advice and from then it wasn't perfect but it got me home.
"I went to our local bike shop when we got back and they realised this problem had come about since I had started using clipless pedals. So they altered them slightly and it's never come back. I think it was purely a case of adjusting my cleats.
"I have no other aches and pains to speak of. Obviously if I took myself now and compared my body with myself 50 years ago I would probably be quite depressed! But I haven't got anything major to complain about at all."
The Book of Cycling According to Mike
"If you want to keep cycling as you get older it's simple: just do it. Make sure you get the correct bike for what you want to do. Then don't overstrain yourself. For those who are coming back into cycling, just bed into it gently because you don't want to go all out and do 50 miles on your first ride in 15 or 20 years. You'll do more damage than you will do good.
"It's not just about the cycling, it's about diet, it's about doing the right training all year round, get proper professional advice — like we do — and make sure you follow that professional advice. Go to a proper bike shop. We go to a great shop called Pavé Vélo in St Austell. They won't just sell you a bike, they'll ask you questions about what you want to do with it, and they'll make sure the bike is set up properly. If the shop asks you the right questions, and you give them the right answers, then you'll get the right bike.
"Oh and read Cycling Active! One of the things I did after reading CA was to go clipless. Whoah! Going clipless at 61 — that was a brown corduroy trouser job at first! But the benefits of it are just immense. It's invaluable, especially on hills where you can push down and pull up and you know you are getting the full benefits. But again we took advice from Nick and Tom at Pavé Vélo who set our shoes and cleats up for us. It took a bit of getting used to, but I wouldn't go back to flat pedals."
Getting better with age
So, as you get older you have to make certain compromises with your cycling, right? Not according to our determined duo. "No, I don't think so," Colin says. "Pride is the only problem. I still like to get up the same hills in the same gears. I've managed it OK up until now.
"I just want to make the most of what I've got left. I do find with some people my age who don't do what I do, their balance isn't so good. If they're walking over rough ground their balance isn't there. I think cycling gives you confidence in your own physical wellbeing.
"It also allows me to be able to do a lot of work in my garden without getting tired. It just helps the whole of your life. It doesn't have to be cycling — any kind of physical activity would give you many of those same benefits, but I think cycling is the best as it doesn't wear your joints out. "There's no need to make any compromises. Being retired I've got the time. The bike is always all ready to go so I can just head out when I want. I think it's almost a golden age for cycling and I intend to carry on as long as I can," Colin says.
"I went into our local bike shop the other day and the guy in there said to me 'You think you're old? A couple came in here the other evening, the husband was 86 and they had recently cycled over the Rockies.' That shows you."
Mike is similarly upbeat: "Cycling has actually improved me — seriously. I've never been unfit during my life because working in nursing I had seen old people who had to pop a load of pills and I didn't want that. If I'm going to be an old duffer, I'm going to be a fit old duffer. I decided there and then that I was going to cycle long and hard.
"So my fitness and endurance have improved, and obviously all the exercise helps drops your blood pressure right down as well. Cycling has been really, really good for me in every way. It's upped my stamina, upped my strength and I just feel great."
Thank you for reading 10 articles this month* Join now for unlimited access
Enjoy your first month for just £1 / $1 / €1
*Read 5 free articles per month without a subscription
Join now for unlimited access
Try first month for just £1 / $1 / €1
Nigel Wynn worked as associate editor on CyclingWeekly.com, he worked almost single-handedly on the Cycling Weekly website in its early days. His passion for cycling, his writing and his creativity, as well as his hard work and dedication, were the original driving force behind the website's success. Without him, CyclingWeekly.com would certainly not exist on the size and scale that it enjoys today. Nigel sadly passed away, following a brave battle with a cancer-related illness, in 2018. He was a highly valued colleague, and more importantly, n exceptional person to work with - his presence is sorely missed.