Bury St Edmunds Rugby Club ride to remember those killed in plane crash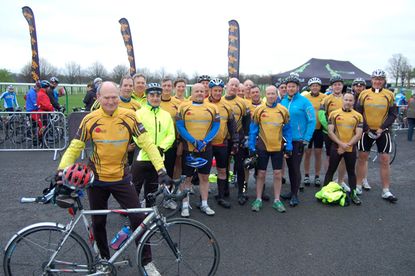 What better way to commemorate the 40th anniversary of a tragedy than with a charity bike ride? More than 80 members of Bury St Edmunds Rugby Club are about to embark on a 320-mile marathon ride back to their Suffolk sports ground. The starting point is Ermenonville near Paris, site of a plane crash in March 1974 in which 18 members of the Club were killed.
Turkish Airlines Flight 981 came down in a forest shortly after taking off from the French capital, killing all 346 people on board. It remains the deadliest plane crash on French soil and the fourth worst in aviation history.
Members of Bury St Edmunds Rugby Club were on board, heading home after seeing England play France. Club chairman Gerry Lowden (pictured with fellow riders) would have been on the doomed flight, but couldn't get time off work to make the trip. "I was second team captain and a number of those who perished were my team members," he explained.
Several of those taking part in the four-day charity ride are relatives of those who died. They will be raising funds both for the Club's charitable organisation, The Haberden Trust, and for St Nicholas Hospice in Bury St Edmunds.
Thank you for reading 10 articles this month* Join now for unlimited access
Enjoy your first month for just £1 / $1 / €1
*Read 5 free articles per month without a subscription
Join now for unlimited access
Try first month for just £1 / $1 / €1