The changing face of bike mechanics
Is the fag smoking, a bit stroppy yet dependable bike mechanic a dying breed — being killed off by hipster upstarts and clinical corporates?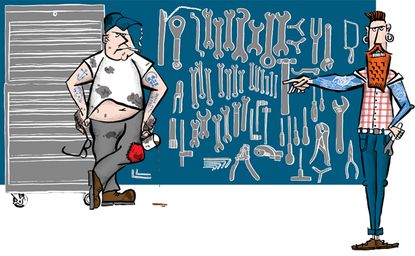 Get The Leadout Newsletter
The latest race content, interviews, features, reviews and expert buying guides, direct to your inbox!
Thank you for signing up to The Pick. You will receive a verification email shortly.
There was a problem. Please refresh the page and try again.
I feel a kick under the sole of my left foot and it calls to mind Ayrton Senna. Legend has it that the great Formula 1 driver knew from the slightest feel of the car if even the most inconsequential nut or bolt was loose. I'm hardly cycling's Ayrton Senna, but still, I'm certain — something doesn't feel right. With each rotation of my left foot, I feel a bigger kick from the pedal; either the spindle of the pedal is damaged or the crank is working loose from the axle at the bottom bracket.
Five minutes later, on a quiet towpath and thankfully not a busy roundabout, there's no more need for doubt or speculation: my crank clatters noisily to the floor. I'm a one-legged bicycle once more. For the second time in my life, I need to pedal one-legged to a bicycle shop. Last time this happened, I was in central Texas, making my way across the USA. A few hundred miles of one-legged pedalling later, I found a hotrod workshop with a willing welder, and before long everything
was back to working order.
>>> How to fix a puncture
This time out, conveniently (under the circumstances) I'm in London, and the task should be somewhat less arduous. Nonetheless, I've good reason to be disappointed. The bicycle is new, only three days old to me, and a joy to ride. It's one more of the refurbished frames that are coming to typify bicycle ownership in East London — as a way to save a few hundred pounds off the price of a new Fuji, Specialized or Bianchi. Despite the bike's newness, I'm not completely surprised at the mishap. Why not? Because, well, let's just say I met the mechanic who built it.
Throwaway society
My own relationship with bicycle repairs is a long one. I started fixing punctures with my grandfather when I was eight years old. Punctures aren't exactly mechanics, but something about removing wheels and tyres helps demystify the barriers that many new cyclists never seem to quite overcome. It still amazes me how many people will pay good money for new tubes to be fitted for them, while at the same time throwing a perfectly good tube into a landfill site. It's a mentality that would leave my grandfather even more troubled in his grave.
>>> Saddle Height: how to get it right, and why it's so important
From puncture-fixing, years of tinkering, jobs as a Saturday lad in Midlands bicycle shops, and more recently taking the industry-standard Cytech qualification, I've developed a fairly broad and useful knowledge of bicycle mechanics. I can replace bearings, do what it takes to remove a seized bottom bracket, set up gears and have trued and built wheels. None of this is to boast, and the reason it's not at all a boast is because the truth is I actually see myself as a rather terrible mechanic. Certainly, my bicycle shop-owning friends think I'm a terrible mechanic. It takes me about twice as long as it should to do most of the tasks above, and I'm always glad to be in the presence of someone with three decades of oil ingrained in their fingertips, and an endless supply of working knowledge of bicycles stored safe between their ears.
As cycling culture continues to grow, the job of the bicycle mechanic — especially in cities — seems to take on an almost glamorous, rugged allure. I'm faced with the frankly terrifying prospect of speaking to practising mechanics who quite clearly know less about bicycles than I do. The good news is London's Cycling Revolution™ has brought with it an endless number of new cyclists who know even less than me and even less than the new mechanics. As a result, most of us
can remain blissfully unaware of just how terribly de-skilled we're all set to become.
Slowly, we have perhaps come to think of bicycles — like all our other commodities — as things to pick straight off the shelf, before riding them until the point at which we call them broken and then expect someone else to deal with them or — worse still — we buy a new one. I've heard contemporary uses of the word 'broken' that have consisted of nothing worse than tyres that need pumping up or a chain that needs oiling.
An anthropology of bicycle mechanics
In my understanding of things, a mechanic should be grizzly, sarcastic, tattooed and smell a little bit of stale cigarettes, possibly worse. He should be missing teeth, or at the very least have crooked teeth. He should not be particularly well-dressed or have a university degree, and — though there are definitely plenty of good female mechanics out there — the image of
a mechanic in my head is certainly
a male.
The modern London bicycle mechanic, on the other hand, is to be found with a full set of very white teeth, sporting a pristine set of tattoos on their forearms, none of which seem to have been acquired with a needle and while drunk. They tend to be wearing a clean set of well-fitting jeans, and are forever holding a spanner or other tool, as if to identify the fact that — despite all knowledge and appearances to the contrary — they are a mechanic who knows what they are doing. Even in this case, there is something quite tender in the young graduate who shuns the idea of careers for the love of the bicycle — it'd just be nice if they also remembered to tighten crank bolts.
>>> Cleats explained: How to set them up correctly
Of course, there's also a middle ground — people who know more about bikes than hair dye, but are also able to hold a conversation and manage manners. The availability of good mechanics, however, and the state of affairs in Britain's workshops in general, means different things to different people. I know that some managers of large bicycle shops admit that the ideal, profitable business model relies on less savvy customers buying a new bicycle every two years. Cash trade-ins can offer an easy incentive to tempt people in to the next purchase, but — to me — nothing could be more at odds with the bond one builds over time with a good bicycle, and even the very idea of bicycles as efficient, reliable machines that can last a lifetime.
Certain large bike retailers now have fleets of vans that they use to drive bicycles out of the city and to faraway warehouses where their mechanics work.
In doing so, they remove the soul of the workshop from the bicycle shop. Because of the efficiencies of this mass model, some big shops will now charge a premium for the in-house, same-day repairs that many independents still offer as standard.
What is to be done?
We customers also have a role to play in this, because websites and large chains that now compete with independent shops rely on our purchases.
An increasing tendency in the bicycle trade is for customers to make their (often high-value) purchases of new bicycles and garb online or with the big bike chains. It's only after that that may visit their local independent in need of adjustments, repairs or parts which the chain store may not offer so near to home or conveniently. These are mostly low cost services and that's where the local shop loses out.
Independents are often the shops who will remove a seized seat tube, repair frames, hub gears and dynamo lights. The problem is that the independent bike shop relies on the bigger spends to help keep things ticking over while many of us, not surprisingly, shop for big ticket deals online and at big city bike superstores.
Sometimes, mechanics and shop owners can seem unfriendly, sometimes even rude. Deep down, though, most of these people have a heart of gold, in my experience; they simply love bicycles.
Many in the trade feel pressured by a market that is squeezing them, and are frustrated by customers who only visit with problems they've been faced with after buying a bike online or from a big bike shop that's not on their doorstep.
Mechanics, new and old, are an important part of the cycling community and our bike shops. As with most things in life, you don't realise what you've got until it's gone. Let's hope it doesn't come to that.
Bikefix, Lamb's Conduit Street, London
Bikefix is one of my friends, or rather, I'm one of its friends. It's odd to become friends with a bike shop — it being only a building full of bikes and tools — but anyone who's spent enough time as a regular of the same shop will probably understand what I mean.
Bikefix is the place I go whenever I need anything doing to my bicycle, be it a new tyre or a frame that needs welding. I first visited to buy a bicycle for my sister, almost 10 years ago, and the owner has since become a good friend. I've watched the shop go through business ups and downs, always surviving because of a keen eye for innovative, original bicycles, and a commitment to repairs that is becoming increasingly hard to find.
Despite all that, it's more than a bicycle shop. I've spent evenings in there, the shutters down, listening to music and drinking beers. When working on a documentary about young people and bicycles, Bikefix was the workshop that let me in to film.
It's provided workshop space to frame-builders getting themselves back on their feet. Another friend of the shop was injured in a car crash and lost sight in one eye and now struggles to balance a bicycle without help. Friends from the shop will go out for rides with her, piloting her tandem. I'll see people all around London and farther afield, and Bikefix is the thing we have in common — it's a community.
There is another way!
Some people are better mechanics than others, but the best only get that way from the many hours of play and practise they put in in a workshop. By the same token, so too can even the least mechanically-minded improve their skills in the workshop — saving money and gaining satisfaction in doing so.
London School of Cycling
A stalwart of the cycling community, Patrick Field waits for enough people to enlist and then runs a workshop once his courses are full. These normally take place at Bikefix, every couple of months. Field is the grandfather of these courses in London and also a natural, patient and passionate teacher; he'll take you from zero knowledge up to a point where you feel comfortable with all the basics of tyres, chains and brakes.
Knowledge is power
The well-known cafe-workshop, Look Mum No Hands! also now runs a course of its own.
Tool libraries
A shop or drop-in that stocks otherwise expensive tools costly to acquire but rarely used. Broken Spoke in Oxford runs such a scheme, as does the London Bike Kitchen in Hackney. Both organisations — and others like them around the country — will give you supervision and advice in how to use the tools correctly.
The internet
Whether a YouTube video or online article, the internet is chock-full of very helpful tips and clear guidance on how to perform even the simplest mechanics. The bible of online bicycle help is www.sheldonbrown.com — the site of Sheldon Brown, a US bicycle enthusiast who died in 2008, but not before amassing an invaluable and much-loved legacy of information.
Facts and stats
The total value of the UK bicycle market is £1.5bn including sales and repairs
In 2010: 2,500 was the number of bicycle shops in the UK
3 Levels of Cytech accreditation. The third and highest level involves set-up of suspensions and hydraulic disc brakes
10,000 hours is the fabled amount of practice it takes to become an expert of something, bicycle mechanics included.
Julian Sayarer is the author of Life Cycles, the story of his 2009 world record for a circumnavigation by bicycle, and an account of people and world politics by bicycle.
Illustrations by Kevin Sharpe
Thank you for reading 20 articles this month* Join now for unlimited access
Enjoy your first month for just £1 / $1 / €1
*Read 5 free articles per month without a subscription
Join now for unlimited access
Try first month for just £1 / $1 / €1
Get The Leadout Newsletter
The latest race content, interviews, features, reviews and expert buying guides, direct to your inbox!