Subscribe to Cycling Weekly Magazine today and get three issues for just £3
And if you subscribe by the 19th of April you'll be in time to receive the Giro d'Italia preview issue!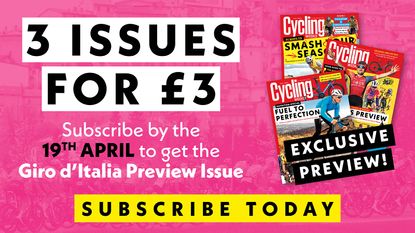 (Image credit: Future)
Nothing beats flicking through a good magazine, especially when that magazine includes an essential preview of the first Grand Tour of 2023.
Take advantage of Cycling Weekly's latest subscription offer before the 19th of April and not only will you receive three issue for just £3, but you'll also be in time to have the magazine's Giro d'Italia preview delivered to your door at the beginning of May!
Whether you want to enjoy all the latest news, analysis and opinion, entertaining features, expert fitness advice and trusted reviews yourself each week, or you are looking for a gift that lasts all year, a subscription to Cycling Weekly delivers something for everyone, every single week of the year.
Subscribe to Cycling Weekly and get 3 issues for just £3
Simon Richardson, editor of Cycling Weekly, says: "Since 1891, Cycling Weekly has been a trusted source of news reporting and entertainment, making it essential to cyclists' lives in the UK and around the globe, inspiring them to ride their bikes. With unrivaled coverage of events from grassroots to pro level, reported by award-winning journalists, plus the latest news, reviews and fitness advice – all enhanced by access to the best experts in the world – we really do have something for everyone."

Whether you fancy treating yourself, or have someone in mind for whom this would make the perfect gift, don't miss the chance to grab this great offer!
Subscribe to Cycling Weekly and get 3 issues for just £3
For all the latest news, interviews, features, tech reviews and much more, don't miss Cycling Weekly magazine, on sale every Thursday.
Thank you for reading 20 articles this month* Join now for unlimited access
Enjoy your first month for just £1 / $1 / €1
*Read 5 free articles per month without a subscription
Join now for unlimited access
Try first month for just £1 / $1 / €1